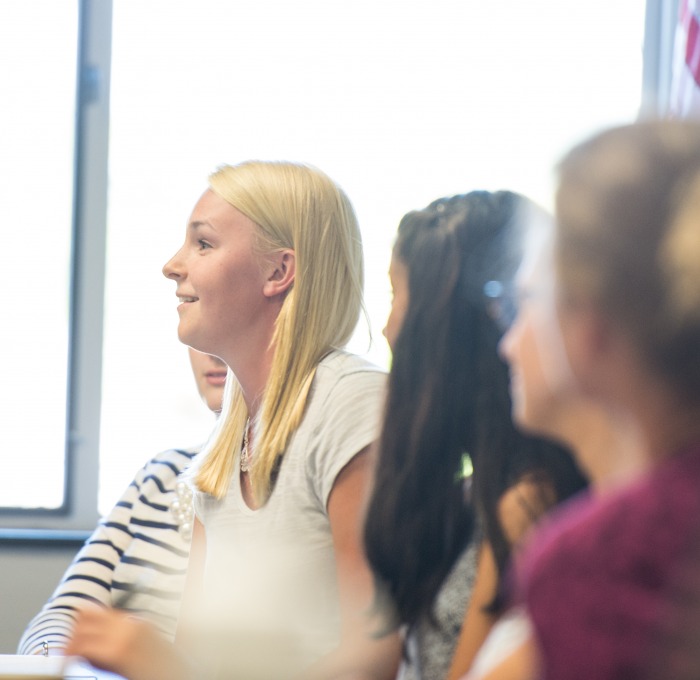 In Short
The university's undergraduate Occupational/Vocational Education degree program provides students with a blend of academic, vocational technical teaching, and elective learning opportunities.
We've got you covered
What will I do?
You will be educated in comprehensive personnel development, which responds to specific occupational updating, professional growth and enhancement, and state-of-the-art information sharing for and with vocational technical educators.
You'll learn through the program's teaching approach, which brings about desired changes in the knowledge, skills, attitudes, and appreciation level of those in training.
Earn your bachelor's degree in occupational/vocational education.
Learn more today.
Program Overview
A significant component of the occupational/vocational education bachelor of science is its availability to students at off-campus vocational technical school sites located across Massachusetts.
Job relevance and valid, reliable, vocational technical practice is attained through participatory planning and affiliation with industry, vocational technical school practitioners, professional associations and representatives of the University.
The program offers up to 12 credits in recognition of the work experiences of the participating students. Candidates may apply for the trade experience credit after completing 80 credits in the program.
Courses are offered at various regional vocational high schools. In addition, many of the required courses are also available online.
Career Opportunities
Career opportunities include but are not limited to:
Vocational Technical Instructor
Cooperative Education Coordinator
Vocational Program Director or Coordinator
These career opportunities have additional requirements, but the bachelor's degree is the minimum degree required for these licensed administrative positions.
Program Highlights
Experiential Opportunities
Internships are a great opportunity to get valuable, real-world experiences before entering a competitive job market.
Read more about: Internships
Take advantage of the opportunity to study abroad and you can do this in one of three ways: short-term faculty-led programs, exchange/direct enroll programs, and outside provider-led programs.
Read more about: Study Abroad
Curriculum and Other Information
Thanks to a generous donor, the School of Graduate, Online, and Continuing Education (SGOCE) is accepting applications for the Dean's Scholarship for Undergraduate Occupational/Vocational Education Students. This scholarship is awarded to freshmen or transfer undergraduate students newly admitted to the Bachelor of Science in Occupational/Vocational Education program at Fitchburg State University. Students must have a minimum of two years of work experience, meet the University's minimum admission requirements, and plan to pursue an advanced career in occupational/vocational education. The one-time award amount is $1,000; it will be awarded in the first year of the program only.
To apply, complete the scholarship application by 11:59 p.m. on August 1, 2022.
Still have questions? We're here to help!
We know you're busy, so we've given you a few different options to conveniently get the answers you need. You can…