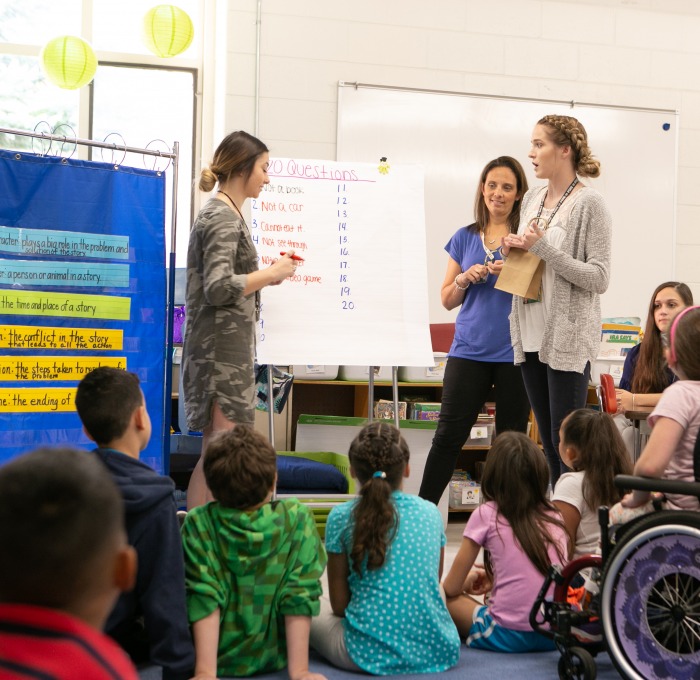 Education Honor Society
Kappa Delta Pi (KDP) - We're proud to have a chapter of the education international honor society right here on campus. A great way to get involved, make friends and prepare for your career. 
Our award winning Chapter of KDP, the International Education Honor Society, provides training and support for a variety of projects that benefit children in the community, as well as teacher candidates. We truly make a difference.
Professional development opportunities
Scholarship grants
Publications
Job search
Many member-related discounts
Lesson plan ideas
Mentoring and helpful hints for teaching
Field Experience (Student Teaching)
One of the main reasons for the success of Fitchburg State University graduates is the strong regional network of pre-practicum, and practicum (student teaching) sites. In all programs, Education majors begin pre-practicum work in their freshman year which increases as they move towards their senior year of a field-based immersion experience followed by a semester of student teaching. This intensive hands-on experience makes for a smooth transition into the field of teaching.
Professional Organization
Student Education Association of Massachusetts (SEAM)
This is the student chapter of the Massachusetts Teachers Association. You do not have to be a licensed teacher to reap the benefits of membership in the Massachusetts Teachers Association ($600 value for just $35) Benefits include:
A million dollar liability coverage  while student teaching
Low interest car loans
Free entrance to the Museum of Science and reduced rates to the Museum of Fine Arts, the Aquarium and other museums and theatres, as well as discounts to some of your favorite stores, restaurants, amusement parks  and other outdoor adventures, and much more!
Teacher discounts at select stores
Student Support
Advising Information
Each student who majors or minors in an Education Department program is assigned an Education Department faculty advisor. If a student is not sure who their advisor is, they should contact Carolyn Hughes at chughes@fitchburgstate.edu.
Commonly Used Forms
You can find all of these forms on the Registrar page under the appropriate categories:
Program Forms

Change of Major Form/Add Major

Student Record Forms
Registration and Course Forms

Special Studies Form
Red Card (Add/Drop/Withdrawal Form)
Relevant Links