Perseverantia features sounds and stories of the Fitchburg State community.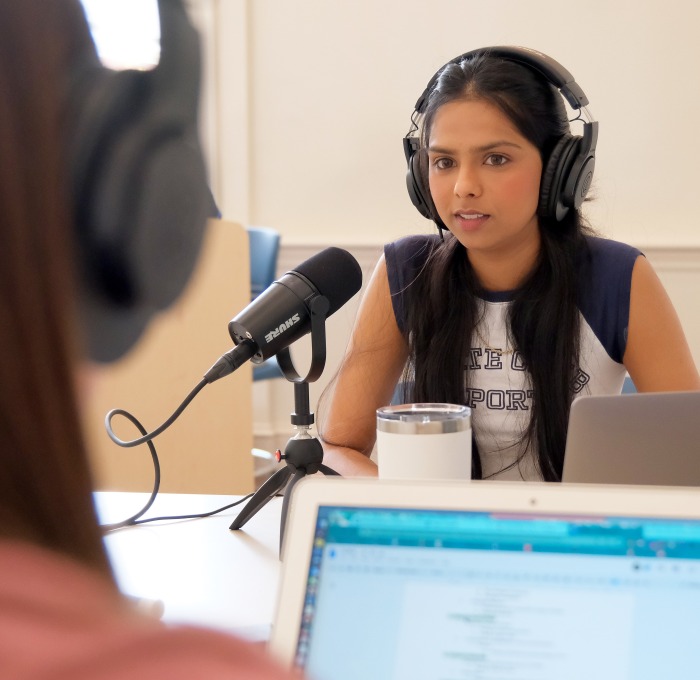 Perseverantia is the Fitchburg State podcast network. Launched with its pilot content, the network features the voices, experiences, and educational and extra-curricular life of the university community, broadly defined. 
The network provides support in recording, editing, production, and dissemination of podcasts produced in classwork or community activities at the university. 
FalconCast
FalconCast is the inaugural series of Perseverantia: the Fitchburg State University Podcast Network, produced by students in Kevin McCarthy's Podcasting class in spring 2023. Students are the heart of Fitchburg State, and in FalconCast they take to the mics to explore overlooked areas of campus life, including student activities, capstone projects, or people on campus whose work goes on behind the scenes. All aspects of FalconCast are student produced, right down to the show's artwork.
Below you will find show notes and more information for each episode. 
Perspectives
Perspectives explores the many voices of Fitchburg State's community. Series feature conversations with students, faculty, and staff in the "Five with a Falcon" segments, or longer-form interviews with alumni. 
Classroom Stories
Students come to Fitchburg State University for academic enrichment and the innovative pedagogy offered in its classrooms. Classroom Stories feature the work of students and learning communities and the exciting explorations in the content of the many disciplines available for study at the university.
Special Series: The Empty Campus
Some stories require multiple episodes to explore their many facets, and Perseverantia's special series explore issues related to campus life, in-depth research and scholarly explorations, or longer narratives drawing from the classrooms and lives of our community. The first Special Series: The Empty Campus, features oral histories about the campus community's experiences during the Covid-19 pandemic.
Getting to the Point
Produced by journalists at Fitchburg State University's student-run newspaper, The Point, this series offers behind-the-scenes and in-depth reporting about newsworthy events on campus or in the community or features longer-form conversations with newsmakers.
We are currently accepting pitches from staff and faculty of Fitchburg State University, with plans to expand these calls soon. Stay tuned also for contexts regarding logo creation, as well as for more news about our theme music and series.
For more information, contact Associate Professor Kate Jewell kjewell1@fitchburgstate.edu and Associate Professor Kevin McCarthy kmccar13@fitchburgstate.edu.
A list of available equipment for podcast producers will be posted soon. This link tree has our website, where to subscribe, and our Instagram. 
Mission and Goals
Perseverantia seeks to apply and disseminate Fitchburg State University's unique combination of expertise in media production and engaging content creation that highlights the academic, social, and community connections and voices of the university and central Massachusetts. By leveraging existing institutional assets in faculty expertise from media production to journalism to the history of university-owned media institutions, as well as placing students at the center of content production, Perseverantia provides a foundation to incubate innovative practices and production in local media with civic and cultural benefits to students, the institution, and wider community. Funded by an Academic Innovation Grant, the pilot year seeks to establish a foundation for the expansion of the network in subsequent academic years.
Build the infrastructure, management and personnel necessary to produce high-quality audio content featuring the work and activities of Fitchburg State University students and community members.
Disseminate produced audio content via a new podcasting channel, featuring several series and types of content, as well as broadcast on WXPL.
Enhance Fitchburg State University's identity of blending enriching liberal arts and scientific inquiry with high-level professional skills and experience while strengthening connections between the institution, the city of Fitchburg, and residents in surrounding communities.
Connect with us and subscribe