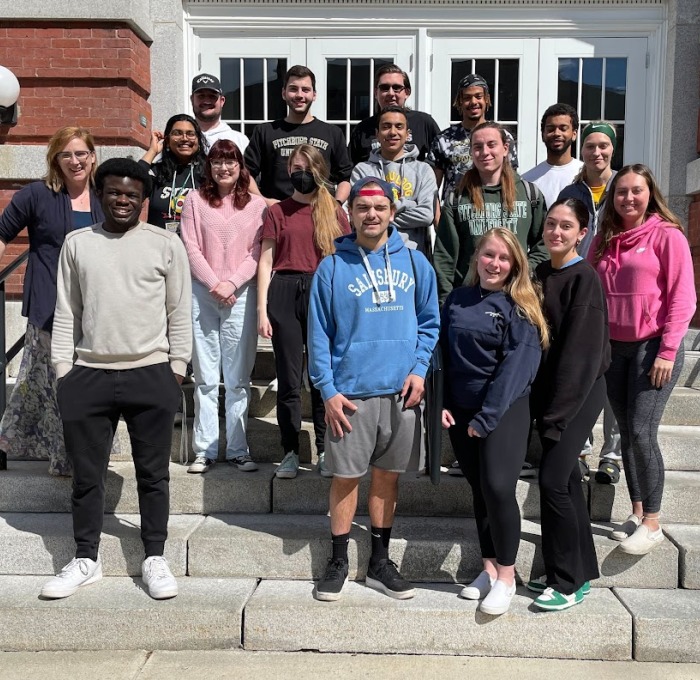 First-year and transfer students may enter the Honors Program. A minor is also available.
Challenge yourself to go farther
This is the time to hone skills that will benefit you in whatever career you pursue.
Take challenging interdisciplinary courses that emphasize proficiency in writing and research, analytical skills, teamwork, and the delivery of presentations. To see some samples of Honors coursework visit:
You'll also attend seminars that offer direct experience in service learning and in the arts. Take courses with other honors students which includes courses that focus on developing skills in critical thinking.
As sophomores and juniors, you'll take an average of one honors course per semester, and then complete your honors work with a two semester honors thesis/project in an area of your choosing.
Honors projects can take many forms, including films and art installations as well as more traditional research theses. Recent projects have focused on a wide range of topics including the productions of short films, screenplays, television programs, fiction and game art portfolios, as well as the study of artificial intelligence technologies for people with disabilities, sustainable building design, renaissance literature, allied bombings in World War II, and teaching methods and policies.
Outside of class, you might take part in other extracurricular activities to experience a rich cultural environment and develop community awareness.
To graduate from the Honors Program, you must have a GPA of at least 3.3. Students who drop below an overall GPA of 3.3 will be given a probationary period to raise their GPA. Students in their final year must have a GPA of at least a 3.3 in order to start their Honors thesis/project.
See the Honors Program FAQs page for more information.
Benefits of the Honors Program
Unique, innovative curriculum and courses with other honors students
Small class sizes and close interaction with professors
Opportunities to attend cultural events and activities
Early class registration privileges
Recognition at graduation as a Massachusetts Commonwealth Scholar
Full honors program students receive a $2000 per year merit scholarship (minors do not receive a scholarship)*
Access to the Honors Common, an exclusive study lounge that includes its own printer
Option to live in Honors Residential Learning Community
*Students that receive the Falcon Scholarship or are in a New England Regional Program major are not eligible, as they are already receiving a scholarship that exceeds the Honors Scholarship amount.
Honors Curriculum
The honors curriculum creates a solid foundation of knowledge and skills in the first year and builds on the base in each of the succeeding years. 
Visit our University Catalog for more information 
Courses include:
| | |
| --- | --- |
| HON 1005 | Introduction to Personal and Social Contexts for Human Behavior |
| HON 1020 | Current Events and Service Learning |
| HON 1070 | Mozart to Modernism |
| HON 1151 | Wellness in Today's World |
| HON 1200 | Honors English II |
| HON 1600 | Biological Issues and Inquiry |
| HON 1700 | Applied Statistics |
We also offer a variety of seminar-style courses and topics courses (varying year-to-year)
| | |
| --- | --- |
| HON 2100 | Honors Seminar in Literature |
| HON 2150 | Honors Seminar in Humanities: Contemporary Issues |
| HON 2225 | Honors Seminar in History |
| HON 2250 | Honors Seminar in Environmental Science |
| HON XXX | Topics Courses in Honors |
|   | Honors Thesis/Project |
| HON 4990 | Honors Thesis/Project I |
| HON 4991 | Honors Thesis/Project II |
How do I join?
When applying to Fitchburg State, check the "honors program" box to apply to the program.
The minimum criteria for consideration into the Fitchburg State Honors Program are a 3.5 high school Grade Point Average or expressed interest. SATs are not required for consideration into the Honors Program. However, it is highly encouraged to send them in if a student scores a 1200 or higher. Other factors like extracurricular activities and volunteer work, as well as the quality of a Fitchburg State application essay and recommendation letters, are also weighed heavily.
Additional Requirements
All students in the honors program will demonstrate proficiency in a world language. Languages include Spanish, French, Italian, Latin, ASL, and Japanese. Other languages may be considered on a provisional basis.
Contact Information
Dr. Catherine Buell, Honors Coordinator
Dr. Emma Downs, Assistant Honors Coordinator