Our students participate in academic internships each year. It's a great opportunity to get valuable, real-world experiences before entering a competitive job market.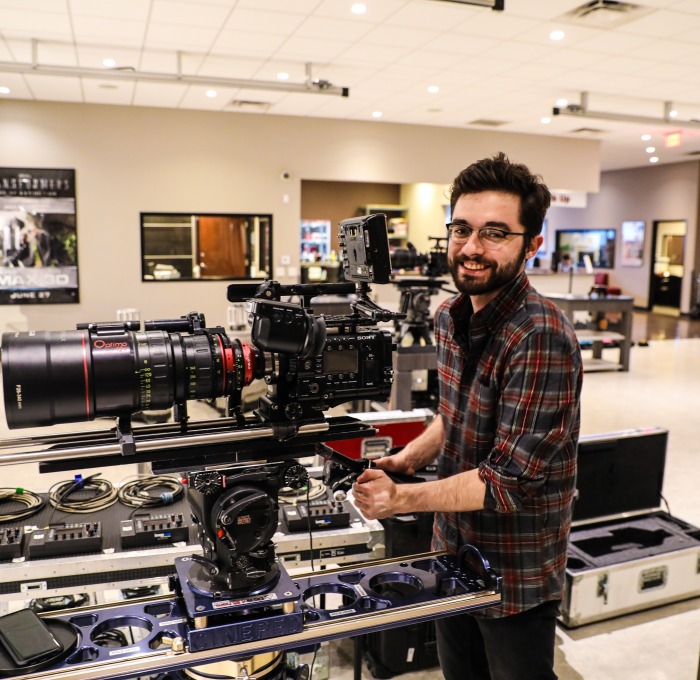 The aim of every internship at Fitchburg State University is to connect students with meaningful, real-world experience through valuable, applied learning. Depending on the academic program, internships are available to all undergraduate and graduate students either for academic credit or as non-credit experiences, herein referred to as "experience internships."
Internship Program Manual - Undergraduate and Graduate
See the internship manual above for everything you need to know about internships including information for international students, academic credit, funding, and academic department internship opportunities. Sample forms are in the manual but individual forms like the Internship Contractual Agreement and evaluation forms can be downloaded below.
Forms
Internships Defined
An internship is a practical work experience in a student's chosen major/field of study. Learning objectives, established with a faculty member, guide the student through their internship. A representative from the internship site and a faculty member from Fitchburg State work together to monitor the internship and the intern's progress.
Benefits of Completing an Internship
Internships are an important feature of the student educational and career development process. Internships allow students to apply knowledge and skills learned in the classroom to real-world contexts and to build additional marketable skills desired by employers. They also provide an opportunity for students to explore various fields to determine whether those fields align with their career goals.
Internships for academic credit allow undergraduate students to apply credited work at the internship site toward their university degrees.
All undergraduate students at Fitchburg state are eligible to participate in an internship. Graduate students should refer to their program requirements in the catalog to determine if their program offers an internship option.
Internship Objectives
While each academic department may have specific goals for their interns, the overall objective of the internship is to:
Develop career-readiness competencies that will prepare students for a successful transition to the workplace.
Develop an understanding of fields of career interest, including skills and responsibilities of professionals within the field.
Cultivate a professional network within a student's career/field of interest.
Further clarify a student's values, interests, strengths and skills.
Help a student connect and articulate their academic knowledge and skills, including their liberal arts background, to the world of work.
Demonstrate openness, inclusiveness and the ability to interact respectfully with all people and to understand individuals' differences.
Further develop the skills necessary to become lifelong learners and civic and global leaders.
For graduate students, in addition to the above, they will advance their knowledge in a specific field, deepen their connections to peers and leaders in their community of practice, and broaden their ability to contribute professionally to their chosen field.
As part of an internship, students can expect to:
Work with their academic departments and/or the Career Services and Advising Center (CSA) to search and apply for internship opportunities.
Receive support during the application and interview process.
Receive guidance and preparation support before starting their internship.
Receive continued support and communication from academic departments and/or CSA throughout the internship experience.
Receive opportunities to develop skills to enhance their marketability.
Receive supervision and guidance from the internship site during the internship, in addition to providing regular communication with the student's faculty supervisor. This communication may include a mid-term evaluation, a final evaluation, and onsite visits.
Students pursuing internships are expected to:
Maintain communication with their academic advisors and CSA throughout the process.
Complete a pre/post evaluation of their internship experience.
Different Types of Internships
Experiential learning is a hallmark of a Fitchburg State education.
The campus Strategic Plan notes that "Experiential learning opportunities… will be available to all undergraduate students, and this learning-by-doing will extend classroom learning to 'real-life' business and industry, as well as non-profit settings, preparing Fitchburg State graduates to be career-ready, civically engaged learners and leaders."
Internships are one type of experiential learning opportunity, and the university makes available three types of internship experiences for undergraduate students:
Required for-credit internships: integrated into some academic majors.
Optional (but recommended) for-credit internships: possible within certain undergraduate academic programs. For Graduate Students, Optional for-credit internships are available for some programs. Please review the University Catalog to determine if your program offers an optional for-credit graduate internship.
"Experience Internships": non-credit experiences managed through CSA.
The university also provides assistance with Curricular Practical Training (CPT) internships at the graduate and undergraduate level for international students with F-1 visas.
Academic Credit vs. Experience Internships for Undergraduate Students
Students in all majors with the minimum GPA requirement can complete an internship, whether for academic credit or not.
If students wish to complete an internship for academic credit (required or optional), they must begin by reaching out to their department internship coordinator or advisor.
Students seeking to complete an internship for academic credit will require supplemental materials, specified by their academic department (see Appendices).
All students pursuing an internship (required, optional, or non-credit) will receive CSA support to complete an internship during Fall, Spring, or Summer semesters.
Where Do I Start?
The first step for undergraduate students interested in an internship is to decide whether to pursue a for-credit or an experience (non-credit) internship.
If you are undecided about which internship option to pursue, you can make an appointment with Career Services and Advising (CSA). An advisor there will walk you through options and next steps to reach your goal of completing an internship experience that is a good fit for your specific academic and/or professional goals.
If you wish to apply academic credit for your internship, begin by talking to your faculty advisor about your options and then in the academic department where the Internship Coordinator will guide you through next steps.
Graduate students interested in pursuing a graduate-level internship should visit the Graduate Catalog to determine which programs allow internship options.