Get involved in the community, and be a part of more than 85+ diverse, student-run clubs and organizations.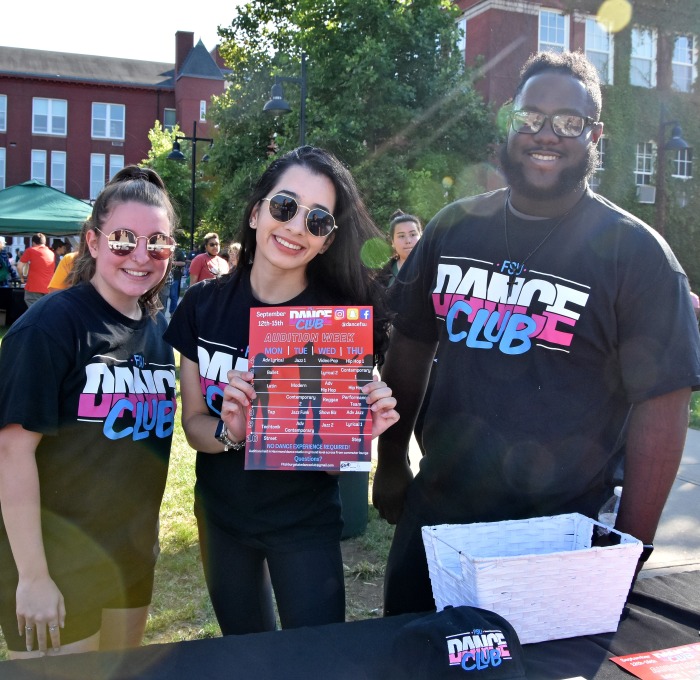 Get Involved
College is one of the most memorable times of your life. The key to a successful career is balance, and there are many ways for you to write your own story.
Be a leader, get involved with fraternities and sororities, musical programs, academic honor societies and special interest groups of all kinds. You're guaranteed to find one that meets your needs and interests.
Recognized Student Organizations
There's something for everyone, from academic clubs like biology and math, to special interests such as anime, MASSPIRG, and ski/snowboarding. No matter your interest, you're encouraged to participate and find your place.
Greek Life
Our campus is home to three national fraternities and three national sororities. Getting involved in an organization has many benefits including giving back to the community, being a philanthropist, and having a nationwide network of alumni to connect with.
Privileges of Recognized Student Organizations
The following are some of the benefits and privileges that are extended to all registered Fitchburg State student clubs and organizations in good standing with both the University and Office of Student Development. A failure to maintain recognition through formal registration may result in suspension of any or all of these benefits and privileges.
To reserve all on-campus facilities through the Office of Student Development
To be listed and publicized as an officially recognized club or organization through the Office of Student Development
To have approved events listed on the campus calendar and other campus publications
To have authorized publicity posted in approved posting areas
To apply for storage or office space in the Hammond Building
To use the Fitchburg State name as part of the club or organization name
To apply for and receive funding through the Student Government Association (see Student Organization Finance section)
To be assigned a university mailing address as well as a mailbox in the SGA office
To gain access to club or organization web space
To participate in club and organization fairs
To have an advisor
To receive help, advice, and assistance from the Office of Student Development
To have access to lists from which you can print labels for students, staff, or faculty
The right to solicit (fundraise) on campus
The use of SGA services
To sponsor programs and activities
Access to the discipline systems
Use of the Financial Services office services
Responsibilities of Student Organizations
All clubs and organizations must submit the following at the start of each academic year:
A Student Club and Organization Registration Form
A copy of the current constitution
Completed hazing compliance forms
All forms must be updated when new officers are elected or a new advisor is chosen. A current constitution must be on file with the Office of Student Development.
Clubs and organizations must have the following:
Fitchburg State undergraduate students as its members
Full-time undergraduate students in good academic standing as its officers
A statement of purpose, which is in accordance with the mission of the University
Additionally, all clubs and organizations must follow these guidelines:
All federal, state and local laws must be followed.
All clubs and organizations must attend the mandatory SGA and Office of Student Development sponsored Club and Organization Training, held each September. This is open to all members of executive boards, and is required for all presidents and treasurers
Club Senate meets twice a month (1st and 3rd Tuesday of each month) at 4pm. It is mandatory for the vice president from each club and organization to attend every meeting. Each person can only represent one (1) club or organization even if they belong to several different groups.
Financial Services must be used for the administration of all university-approved funds and funds raised both on and off campus.
Membership must not practice any physically or psychologically abusive behaviors, either intentionally or unintentionally.
A full-time faculty or staff member must act as advisor. Their role will be mutually determined by the group and advisor and must be consistent with the expectations outlined here.
The mailbox in the SGA office must be checked regularly to ensure that all official correspondence is received and answered.
The act of recognition implies that a club or organization obligates itself to abide by all the rules and regulations of the University pertaining to student clubs and organizations. These rules and regulations are specified throughout the Student Handbook and other University publications.
Members and officers agree to comply with all rules and regulations of the University and recognize that violation of any university policies or interference with university functions is grounds for disciplinary action for both the organization and its members.
Recognition or the ability to use the name "Fitchburg State" does not imply or indicate Fitchburg State's sponsorship or approval of the activities of the organization.
I couldn't be more thankful for the friends and connections I've made. Greek Life and Dance Club have brought me some of my closest friendships that I know will last a lifetime. It's gone by so quickly, but I'm ready and prepared for the next chapter of my life.
Sofia Tarmey '23
Interdisciplinary Studies, BS
Questions? Get in touch!
The Office of Student Development engages students through interactive learning, diversified events and activities, leadership experiences, volunteerism, and employment opportunities.
Hammond Hall G13