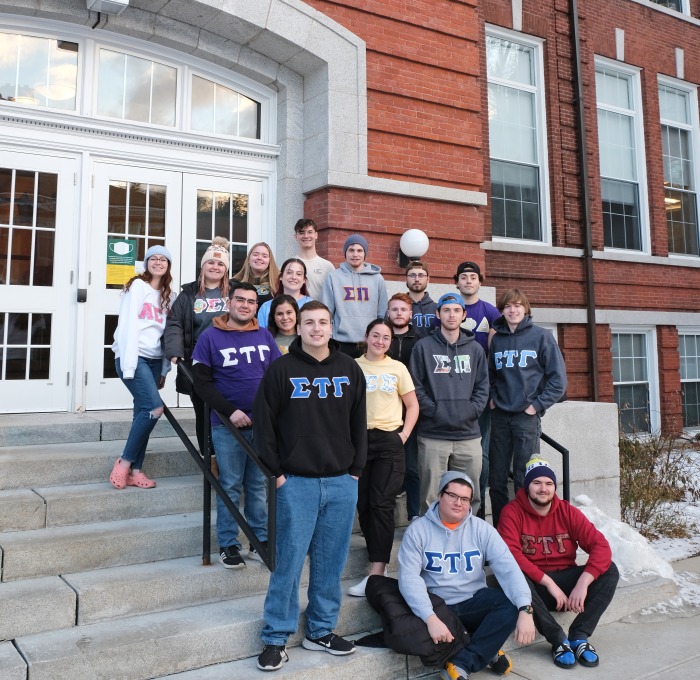 Fitchburg State University is home to three national fraternities and three national sororities on campus. The fraternities are governed by the Interfraternity Council (IFC) and the sororities are governed by the Panhellenic Council. All six organizations are governed by Greek Council. Students involved in fraternities and sororities are active in many other clubs and organizations on campus, displaying tremendous leadership roles.
Joining a fraternity/sorority is about learning about yourself, being a leader, giving back to the community, and making lifelong friendships.
Check out  some pictures from recent Greek Life events.
Order of Omega
The Order of Omega is an honor society which recognizes particularly meritorious men and women in the undergraduate Greek community.
Alpha Phi Delta
Colors: Tyrian Purple and White
Motto: Faciamus
Philanthropies: Wounded Warrior Project and Cystic Fibrosis Foundation (Local)
Alpha Phi Delta is a National fraternity rooted in Italian heritage with Brothers ranging from the likes of Frank Sinatra to Vincent D'Onofrio. We're proudly the most recently Chartered fraternity on the Fitchburg State University campus and hold all of our brothers new and old in the highest regard. We're devoted to improving our campus, Fitchburg's community and through devotion and dedication the world as a whole. 
Follow Alpha Phi Delta on Instagram: @alphaphidelta_fsu
Alpha Sigma Tau
Colors: Emerald Green and Gold
Motto: Active, Self-reliant, Trustworthy
Symbol: Anchor
Philanthropies: Dress for Success, Girls Who Code, RAIIN (Local)
Since 1899, Alpha Sigma Tau has provided women with the community, skills, and empowerment they need to excel in life. Today, we are a global network of women committed to creating a safe place for women to grow, feel safe and supported, and enrich the lives of those around us.
Follow Alpha Sigma Tau on Instagram: @AST_FSU
Phi Sigma Sigma
Colors: King blue and gold
Motto: Diokete Hupsala; "Aim High"
Mascot: Sphinx
Philanthropies: The Kids in Need Foundation, The Jimmy Fund (Local)
Phi Sigma Sigma was the first ever non-sectarian sorority, embracing any and all backgrounds and holding true to our three core values: 1. Inclusiveness, 2. Lifelong Learning and 3. Leadership Through Service. We support our national philanthropy, Kids in Need Foundation, and local philanthropy, Jimmy Fund, through various fundraising events on and around the campus. Since 1992 when Phi Sigma Sigma was founded here at Fitchburg State, our motives perpetuate the advancement of womanhood and strengthen our bond as sisters.
Follow Phi Sigma Sigma on Instagram: @PhiSigmaSigmaFSU
Sigma Pi
Colors: Purple, White, and Gold
Motto: Progress, man's distinctive mark alone,
Not God's, and not the beasts';
God is, they are.
Man partly is and wholly hopes to be.
Mascot: Owl
Philanthropies: Donate Life, Amazing Day Foundation, ACE Project
Sigma Pi Fraternity is among the most prestigious men's collegiate organizations in North America, with more than 120 active chapters and colonies in the United States and Canada. With over 100,000 alumni and 5,700 undergraduates; our men strive for excellence by living our core values to promote fellowship, develop character and leadership, advance heightened moral awareness, enable academic achievement, and inspire service. At Fitchburg State University, Sigma Pi has been instilling these values in our members for over 25 years and has seen its alumni move on to brilliant endeavors. Sigma Pi is not a fraternity for a year or college career, Sigma Pi is for life. 
Follow Sigma Pi on Instagram: @sigmapi_fitchburgstate
Sigma Sigma Sigma
Colors: Royal Purple and White 
Motto: Faithful unto Death 
Mascot: Sailboat 
Philanthropies: Robbie Page Memorial Fund, Tri Sigma Foundation and March of Dimes, Breast Cancer Research (Local)
The sorority of Sigma Sigma Sigma was founded on April 20, 1898 at Longwood University in Farmville, Virginia. This sorority was colonized at Fitchburg State University in 1995 serving as a place of sisterhood for nearly 25 years. The sisters of Sigma Sigma Sigma are women of character who believe in the 5 core values of faith, hope, wisdom, power and love. The local philanthropy of Sigma Sigma Sigma at Fitchburg State University is Making Strides Against Breast Cancer. Join Sigma Sigma Sigma and immerse yourself in opportunities to grow as a woman, friend, leader and beyond. 
Follow Sigma Sigma Sigma on Instagram: @trisigmafsu 
Sigma Tau Gamma
Colors: Azure Blue, White, Gold 
Motto: A Path Of Principles
Mascot: Knight 
Philanthropies: Special Olympics, American Cancer Society 
Sigma Tau Gamma is a Nationally recognized Fraternity founded in 1920. Our chapter at Fitchburg State was founded in 1991 and was the first nationally recognized Fraternity on campus.  Our purpose is to create generations of noble men through our principles and our strong foundation of brotherhood. Our founding fathers saw all men as social creatures, we endeavor to build all men to the best they can be.  Our members are involved all over campus and display our principles in everyday life. Throughout the year we host events to fundraise money for our national philanthropy, Special Olympics, and our local philanthropy, The American Cancer Society.  With over 25 years of brotherhood, we are a group of men who always have each other's backs and strive to be the best we can be.
Follow Sigma Tau Gamma on Instagram: @sigtau_fsu
Mission Statement
Greek Council's mission is to create a strong sense of self and leadership through academic achievements, involvement in campus and community life, while creating lifelong friendships.