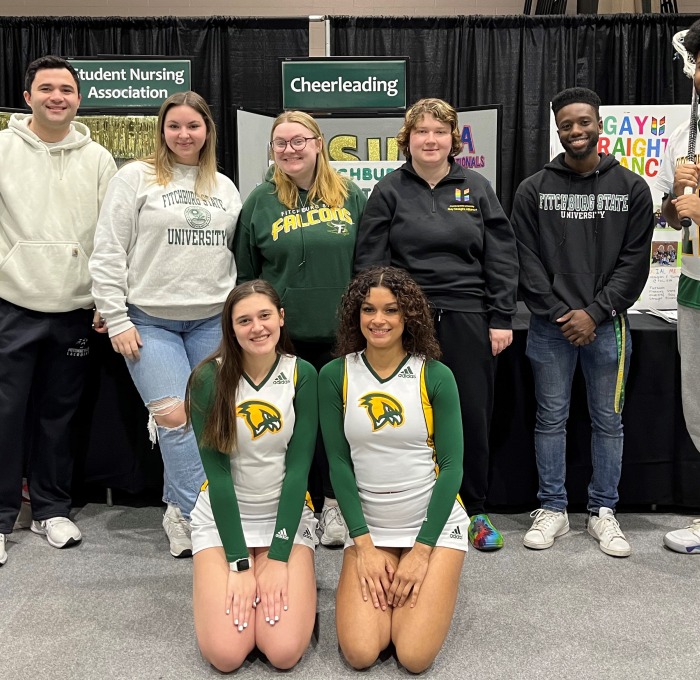 Investing in Fitchburg State
Giving to Fitchburg State University is an investment in the future of the university, ensuring its place as a vibrant institution of public higher education and a thriving economic and cultural contributor to North Worcester County. Your support affects virtually every facet of campus life, from a wide range of athletic and co-curricular activities, to other important priorities such as faculty development, library and technology resources, capital improvements and campus beautification.
But most importantly, your support enables students from a multitude of backgrounds to get a high quality, affordable education, assuring their success as they become the leaders of tomorrow.
Annual contributions to the Fitchburg State University Foundation, Inc. are essential to our progress. The Foundation provides support for financial aid, faculty research, student activities, and projects that have not received endowed support.
Whether your gift is large or small, whether it is inspired by gratitude, scholarly interest, or community philanthropy, your generosity makes a difference at Fitchburg State every single day.
What to Support
Annual fund gifts impact every aspect of a Fitchburg State education, every day and all year long. These gifts support the work of students and faculty inside classrooms and labs, on athletic fields and in performance halls, in the library and on internships and in study abroad opportunities.
Each annual fund contribution is an investment in Fitchburg State's core academic mission and enriches the Fitchburg State experience for both students and faculty.
For nearly three decades, the annual fund has given Fitchburg State University the private edge in public education. By generating much-needed funds for some of the university's greatest needs, the annual fund has been the critical difference in Fitchburg State's ability to provide high-quality, affordable undergraduate and graduate education.
 
Gifts to the annual fund allow the university:
To make a Fitchburg State education accessible to all qualified students, regardless of income
To recruit and retain talented faculty
To enrich the learning environment and community of the campus
To foster intellectual, social and ethical development among its students
Virtually no aspect of Fitchburg State University has been untouched by the annual fund
This would not be possible without the generous support we receive from our alumni, parents and friends. The good news is it doesn't take a huge donation to make a huge impact on the lives of our students. Taken all together, annual fund gifts are a significant source of support for the university.
The FUND is an endowed fund, with earnings to be used to fill in gaps for students with financial need. Your donation will allow students to access emergency funds that can make the difference between them staying in school and leaving. Did you know that sometimes that difference may be as little as $200? What may seem like a small amount to you or me can sometimes seem like the final obstacle for a student struggling to pay their way.
In response to the global pandemic, we established the Student Emergency Fund. This fund addresses immediate student need such as travel, housing, lost student wages, food insecurity and more. This fund provides the university with the flexibility and resources necessary to address student hardships as they arise.
 
Make a difference in our students' lives through scholarships.
You can select an area that you are most passionate about such as business, nursing, criminal justice. The possibilities are endless. 
 
Are you passionate about field hockey? Or maybe you love the Black Student Union (BSU)? What about Greek life? You can designate your gift anywhere on campus.
How to Give
Every gift, no matter the size, will make a profound impact on the students of Fitchburg State. There are a variety of ways to make a charitable contribution.
Fitchburg State University accepts VISA, MasterCard, Discover, and American Express. To make a contribution by credit card over the telephone, please contact the Office of Development at 978.665.4555. You can also make your gift online.
Gifts can be made payable to Fitchburg State University Foundation, Inc. and mailed to:
Fitchburg State University Foundation, Inc.
160 Pearl St.
Fitchburg, MA 01420
If you wish to restrict your gift to a particular fund, please specify on the memo line of the check.
You may be able to double or triple your gift to Fitchburg State through your employer's matching gift program. Companies that participate in these programs will provide their employees with matching gift forms to complete and include with their contribution or pledge form.
Gifts of appreciated securities are a tax effective way to support Fitchburg State University. When you donate appreciated stock to Fitchburg State, you can avoid capital gain taxes that you would be responsible for if you sold the asset. Additionally, if you have owned the securities for more than one year, you can also receive an income tax charitable deduction for the fair market value. These benefits make donating appreciated securities a favorable alternative to giving cash.
Land or other real estate may be given to the university as an outright gift or used as an asset within a charitable trust. Personal property, such as artwork or rare books, can also be contributed. Since it is sometime difficult to determine the university's needs for donated personal property, each case will be reviewed individually.
Planned gifts benefit both the donor and the university. These gifts, which can be planned through your financial advisors and the university staff, provide significant benefits including tax deductions, avoidance of capital gains taxes and increased income. They include: 
Bequests
Life Insurance
Charitable Gift Annuities
Gifts from a Retirement Plan
Charitable Lead Trust
Retained Life Estate
Charitable Remainder Trust
See Planned Giving for more details. Contact the Development Office at 978.665.4555 or by email alumni@fitchburgstate.edu with any questions.
Giving FAQs
Fitchburg State University's program for building lifetime loyalty and raising maximum dollars for the annual fund.
 
The Fitchburg State Annual Fund is comprised of unrestricted current use for the university and current use restricted revenue for stated university priorities, regardless of size.
Fitchburg State offers each student transformational learning opportunities and campus experiences that lead to personal growth. Tuition only covers a small portion of what it costs to educate a falcon, so annual gifts from alumni, parents, friends, faculty, staff and students are essential to help fill the gap. Gifts to the university support student financial support that attracts worthy students, provides a foundation for co-curricular activity and sustains the university's reputation as a top regional university.
Absolutely! While Fitchburg State enjoys putting your gift toward the greatest need or the university's current priority, we believe you should be able to support what matters most to you.
Absolutely! Regardless of the size of your gift, your participation as an annual giving donor directly impacts our students. Your gift of any amount is a vote of confidence that shows you support your alma mater.
Yes, any gift to the Fitchburg State University Foundation, a 501(c)(3) charitable organization, is fully tax deductible to the extent allowed by law. Gifts of stock, mutual funds or other appreciated securities have special tax benefits.
Tribute gifts are a wonderful way to show you care. When making a gift, you can make your gift in honor or memory of someone by filling out the tribute information.
The Fitchburg State Foundation was started in 1978 to encourage voluntary gifts for scholarships and enrichment programs.
Planned gifts can be planned through your financial advisors and the university staff and provide significant benefits including tax deductions, avoidance of capital gains taxes and increased income.
Report on giving reflects gifts made to the Fitchburg State University Foundation, Inc. between July 1 and June 30.