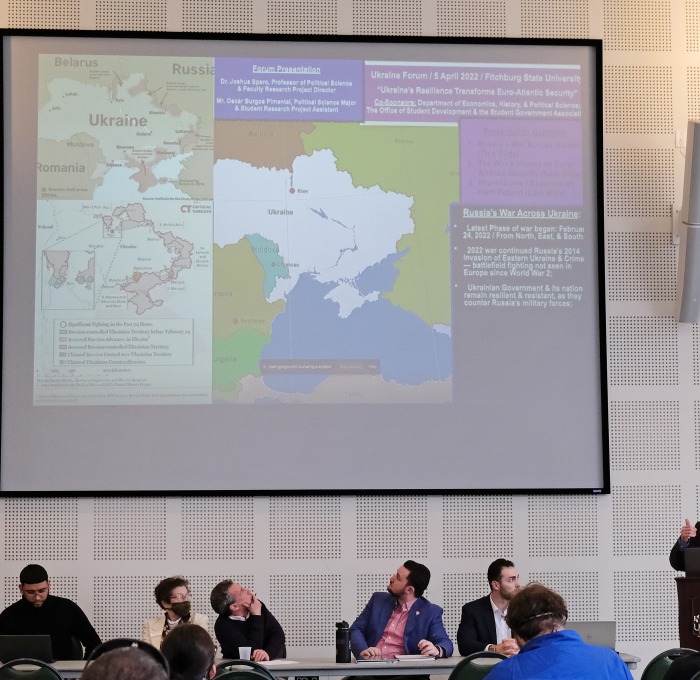 In Short
A degree in History prepares you to understand the present through knowledge of the past while shaping up for a career in a wide range of fields, from teaching, public history, law, public policy, and much more.
We've got you covered
What will I do?
Choose from a wide variety of course offerings rivaling much larger universities while benefitting from a low student-to-faculty ratio
Develop analytical, research, and writing skills that prepare you for multiple careers
Participate in active learning simulations where you'll be assigned historical roles in major events and will collaborate and compete with others to advance your objective
Shaping the next generation of sharp political minds
Recent graduates of the history program on the steps of Miller Hall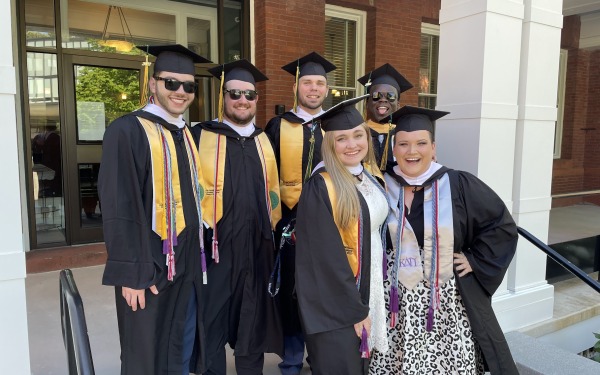 Program Overview
If you're interested in an education that prepares you broadly for any profession that relies on critical thinking, communication, and analysis, Fitchburg State University has the program you need. A degree in History prepares you to understand the present through knowledge of the past and to leverage your skills for careers in a wide range of fields, from teaching and public history to law, public policy and many more.
Because it is impossible to understand the present without some knowledge of the past, history serves as a cornerstone for any liberal arts or pre-professional program. Course offerings range from the ancient worlds of Europe, Asia and the Americas to the modern United States and the world in a global culture. History majors gain proficiency in reading, writing and critical thinking through coursework that emphasizes research methods and interpretive skills.
I've conducted all sorts of research for writers, directors, and artists on films and television shows, developed a short animated pitch with the development team, participated in story trusts, performed scratch voice acting for storyboards, and all sorts of fun things.
Autumn Olson, '20
Production Assistant at Skydance Animation
Get Involved
From opportunities like
Moot Court
and Model UN, to the Washington Center Internship Program, there's plenty of ways to get involved in campus activities. Get involved in the undergraduate research symposium and expand your learning through interdisciplinary collaboration with other majors.
Read more about: Extracurricular Learning
Attain real world experience through internships with government agencies, non-governmental or international organizations, either through our close connection with The Washington Center (Washington, DC) career building program, or other placements locally or regionally that our faculty Internship Coordinator helps you arrange.
Read more about: Internships
Faculty-led study abroad course opportunities increase student life-transforming experiences, as do student/faculty cooperative research projects.
Read more about: Study Abroad
Curriculum and Other Information
Historical Knowledge
Graduates with a baccalaureate in history understand the diversity of human experience in the past, as well as the nature of the historical enterprise. They acquire the ability to explain developments in U.S. and world history and their significance; become familiar with different approaches to and methods of historical study; and understand the challenge of weighing multiple perspectives and evaluating the merits of competing interpretations.
Historical Reasoning and Research
Graduates with a baccalaureate in history understand the nature of historical interpretation, the variety of historical sources, and the structure of historical arguments. They are able to pose a significant research question about the past; locate, explain, evaluate, and utilize information from and about the past to answer a research question; and utilize primary and secondary source evidence to support a historical argument.
Communication
Graduates with a baccalaureate in history develop diverse communication skills, including reading to extract and construct meaning from text and non-textual sources; writing persuasive and evidence-based arguments; and creating oral, multimedia, and digital presentations.
Summary Statement
Through each of these three areas, students taking history courses obtain training in problem solving through the analysis of data and literary and artistic evidence to put forth and evaluate arguments, practice effective skills of communication in expressing ideas, obtain knowledge of citizenship at the local, national and global levels, confront ethical issues in historical reasoning and research, and understand context that produces artistic works.
Business – research and analysis, marketing
Digital archives
Editing
Graduate School
Government and public policy
Library science
Non-profit organizations
Teaching in middle and high schools (public and private)
Professional writing
Public history
Fitchburg State University is a member in good standing of the Association for Advancing Quality in Educator Preparation (AAQEP), a national accrediting organization recognized by the Council for Higher Education Accreditation. Fitchburg State University is working toward accreditation of its educator preparation programs under the AAQEP standards with an anticipated quality assurance review in Fall 2023.