In Short
A degree in History prepares you to understand the present through knowledge of the past while shaping up for a career in a wide range of fields, from teaching, public history, law, public policy, and much more.
We've got you covered
What will I do?
Choose from a wide variety of course offerings rivaling much larger universities while benefitting from a low student-to-faculty ratio
Develop analytical, research, and writing skills that prepare you for multiple careers
Participate in active learning simulations where you'll be assigned historical roles in major events and will collaborate and compete with others to advance your objective
What we're working on
We're shaping the next generation of sharp political minds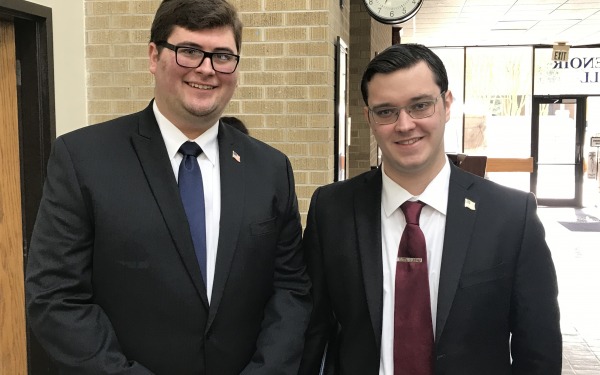 Program Overview
If you're interested in an education that prepares you broadly for any profession that relies on critical thinking, communication, and analysis, Fitchburg State University has the program you need. A degree in History prepares you to understand the present through knowledge of the past and to leverage your skills for careers in a wide range of fields, from teaching and public history to law, public policy and many more.
Because it is impossible to understand the present without some knowledge of the past, history serves as a cornerstone for any liberal arts or pre-professional program. Course offerings range from the ancient worlds of Europe, Asia and the Americas to the modern United States and the world in a global culture. History majors gain proficiency in reading, writing and critical thinking through coursework that emphasizes research methods and interpretive skills.
With the guidance of some great professors I achieved a lot in three years. On the road to my BA in history, I interned in Washington, D.C., presented original research on industrial Fitchburg, and studied abroad in Russia.
Ralph Hogan, '11
Get Involved
From opportunities like
Moot Court
and Model UN, to the Washington Center Internship Program, there's plenty of ways to get involved in campus activities. Get involved in the undergraduate research symposium and expand your learning through interdisciplinary collaboration with other majors.
Read more about: Extracurricular Learning
Attain real world experience through internships with government agencies, non-governmental or international organizations, either through our close connection with The Washington Center (Washington, DC) career building program, or other placements locally or regionally that our faculty Internship Coordinator helps you arrange.
Read more about: Internships
Faculty-led study abroad course opportunities increase student life-transforming experiences, as do student/faculty cooperative research projects.
Read more about: Study Abroad
Curriculum and Other Information
Business – research and analysis, marketing
Digital archives
Editing
Graduate School
Government and public policy
Library science
Non-profit organizations
Teaching in middle and high schools (public and private)
Professional writing
Public history