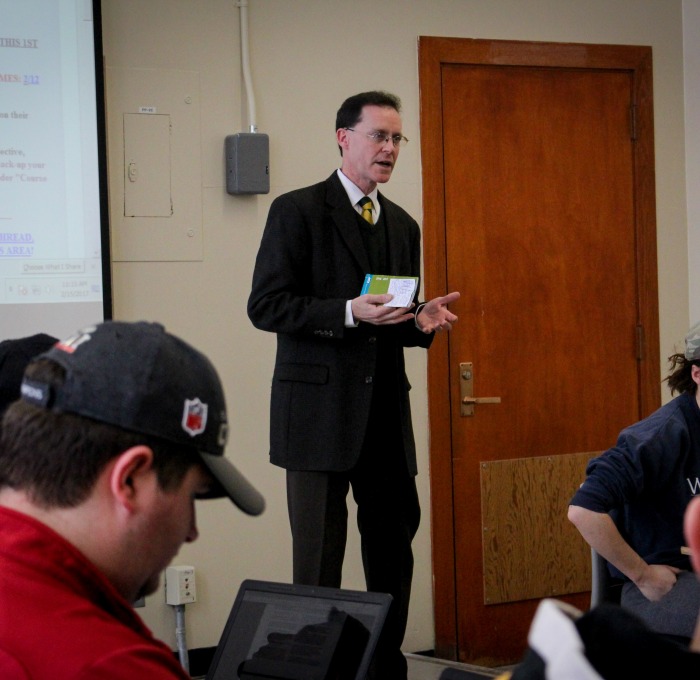 In Short
Pursue this concentration and gain the skill set to become a middle or high school history teacher.
Program Overview
Students within our history major can pursue initial licensure as middle and high school history teachers. This program provides you with both a broad introduction to middle and high school teaching and specific instruction in the theory, research and practice of secondary history and social studies teaching. You will engage in field-based experiences in the school setting supervised by our faculty through on-site pre-practicum experiences coupled with each teaching course and a formal teaching practicum as the capstone experience.

If pursuing this option you will have to fulfill the degree requirements for the history Concentration in Initial Licensure (5-12) and the minor in Middle and Secondary Education (5-12). The requirements are inclusive of the History Major, the Middle and Secondary Education Minor (5-12), and advanced coursework for licensure.
Alumni of our program teach at local schools like Longsjo Middle School, Sizer School, Grafton High School, Gardner High/Gardner Public Schools, Groton Dunstable Regional High School, Cambridge Matignon School, and Nashoba Regional High School.
I apply the skills I learned each day to engage students who are just learning English as a second, and at times, a third language. The education at Fitchburg State for history teachers is unparalleled in class size, cost, and the care, respect, and development that is offered.
Kerry McManus '22
History teacher in the Lynn Public Schools
Experiential Opportunities
The purpose of the student teaching practicum/internship is to provide candidates who have reached the teacher candidacy stage of their academic programs with hands-on experience in an approved school setting.  
Read more about: Practicum
Faculty-led study abroad course opportunities increase student life-transforming experiences, as do student/faculty cooperative research projects.
Read more about: Study Abroad
Curriculum and Other Information