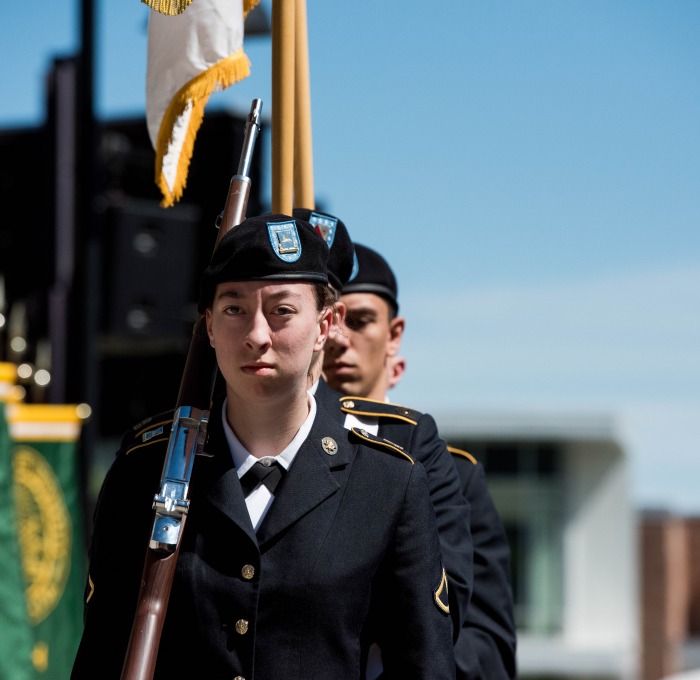 The United States Army and Air Force partner with Fitchburg State University to instruct a leadership training program on the university campus that is designed to train, educate, and develop leaders who will be commissioned as officers in the United States Army or Air Force. The leadership training program is the Reserve Officer Training Corps (ROTC) Program.
The ROTC program consists of classes on military science, leadership labs, physical fitness, teamwork, and practical exercises designed to teach both the theory and the practice of leadership. ROTC events are integrated into the university schedule.
All who are interested in this program are welcome to interview. Enrollment and participation in ROTC is free. ROTC scholarships available for 2, 3, or 4 years. However, ROTC is not for everyone. Enrolling in ROTC means a commitment to academic excellence, a commitment to physical fitness, a commitment to teamwork and selfless service, and a commitment to defend our country.
ROTC is the gateway to future success as an officer and leader in careers such as cyber and network defense, learning to fly and being a leader in army aviation, medical and nursing, military police, military intelligence, learning to lead at ground level in the infantry, cavalry, artillery, and more.

You will learn to be an integral part of something greater than yourself. Learn to Lead, Develop, and Achieve. Make a commitment to Life, Liberty, the pursuit of Happiness; and to defend our Country. 
ROTC Programs and Scholarships
2 year program is for those unable to complete the normal four-year curriculum before graduation. 4 years program integrates with the normal baccalaureate degree program.
Learn more about the basic and advanced courses and their enrollment criteria. 
Learn more about our SMP and Green to Gold programs and all the ROTC scholarships available. 
Army External Links 
Army ROTC Home Page
U.S. Army Home Page
Baystate Battalion ROTC Facebook Page
ROTC Can Lead to Army Cyber Command
Army Cyber Command is made up of elite warriors who defend Army networks and provide full-spectrum cyber capabilities to the United States Army and our Nation.
U.S. Army Cyber Command is the Army Cyber component of United States Cyber Command. We operate and defend Army networks and deliver cyberspace effects against adversaries to defend our Nation.
The Army's cyber force is engaged in the real-world cyberspace fight today, against near-peer adversaries, Islamic State (ISIS), and other global cyber threats. We defend military networks, secure Army weapons platforms, and help protect critical U.S. infrastructure. Traditional boundaries no longer exist and anonymous attacks can occur at near-light speed over fiber optic networks.
Qualified Army Officers, with college degrees in technology, are wanted to lead in the United States Army Cyber Corps.
How to Register for Army ROTC Classes
ROTC is not for everyone, but that's kind of the point
ROTC is one of the best leadership courses in the country. The instruction you receive in Army ROTC will center around the Army's Leadership Development Program which focuses on knowledge, skills, and abilities gained through education, training, and experience. You will be provided the tools that will help you succeed in any competitive environment.

Worcester Polytechnic Institute (WPI) in Worcester is the host institution of the Army ROTC Program Bay State Battalion and includes a well-diversified student body with over 90 Cadets from WPI and the Worcester area colleges, Fitchburg State University and UMASS Lowell. Training and classes are held at WPI, Fitchburg State University and UMASS Lowell.
Find out why it has been called, "The Best Leadership Course in America!" 
For more information contact our Enrollment Officer, Mr. Darryl Gill at dlgill@wpi.edu or 508.831.5268. He will get you started in the program and answer any questions, and provide information on ROTC Scholarships, Summer Internships, and Summer Training.  
Register for Army ROTC at Fitchburg State:
Once you are accepted as a Fitchburg State student, you will be granted access to Web4 (Self-Service Banner) online portal. 
View the instruction page on how to register for classes and obtain a permission number if necessary.
Then you will register for the appropriate ROTC class prior to the Fitchburg State semester's add/drop deadline.
Click the appropriate class year from the drop-down menu below to see what courses to register for. 
Air Force External Links
Air Force (AFROTC), the Department of Air Force Aerospace Studies at Worcester Polytechnic Institute offers education and training to become commissioned officers in the United States Air Force or Space Force through its Air Force Reserve Officers Training Corps (AFROTC) program to all qualified Fitchburg State University students. 
For further details, qualifications, and information on scholarship opportunities for the Air Force ROTC, please contact AFROTC Detachment 340, Worcester Polytechnic Institute, 37 Institute Road, Worcester, MA 01609, 508.831.5747, afrotc@wpi.edu
ROTC Courses
Fall semester: 
 MILS 1100 Foundations of Leadership 
Spring semester:  
MILS 1200 Basic Leadership 
Fall semester:  
MILS 2100 Individual Leadership Studies 
Spring semester: 
MILS 2250 Leadership and Teamwork
Fall semester:  
MILS 3150 Leadership and Problem Solving 
Spring semester:  
MILS 3200 Leadership and Ethics
Fall semester:  
MILS 4100 Leadership and Management 
Spring semester:  
MILS 4250 Leadership and Officership 
Questions? Get in Touch!
Army Enrollment Officer
, Darryl Gill, Department of Military Science, WPI Army ROTC, Bay State Battalion, 508.831.5268, 
armyrotc@wpi.edu
Air Force
Detachment 340, Worcester Polytechnic Institute, 37 Institute Road, Worcester, MA 01609, 508.831.5747,
afrotc@wpi.edu
We are here for all of your questions. Let us know how we can help.
Anthony Student Service Center 102