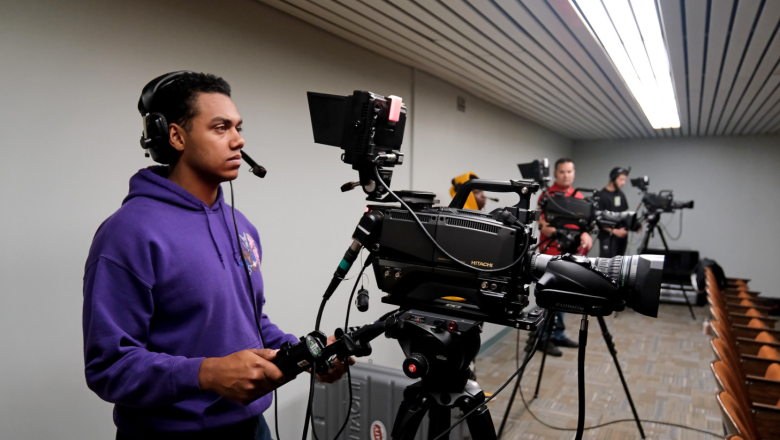 Fitchburg State University student filmmaker Isaiah Manuel took first place in the recent Student Media Summit, where he competed against students from 14 institutions of higher education.
In addition to networking opportunities, the summit included a "pitch contest" where student filmmakers had two minutes to articulate their vision for a narrative or documentary film project. 
Manuel, a junior from Leominster, submitted a proposal for his documentary "Thrown Away," about where Massachusetts' trash goes once it is shipped out of state. It was one of 77 submissions to the contest, from which 14 were selected for oral pitches at the summit. From that pool, he won the $1,000 cash prize, with additional funds for equipment rental to produce the film.
"I was surprised, especially because most of the other projects were narrative films," Manuel said. "It was a great experience."
The annual contest is organized by the Massachusetts Production Coalition's Education Consortium. In addition to Fitchburg State, participating colleges included Bentley University, Boston University, Bridgewater State University, Emerson College, Endicott College, Lasell University, Lesley University, Massachusetts College of Art & Design, Middlesex Community College, Northeastern University, Suffolk University, Tufts University, and Wheaton College.
Manuel's project spawned from his curiosity about the trains full of trash he saw being shipped on the tracks from Leominster. With long-held interests in photography and trains, the documentary film project started to take shape in his mind.
"I took (Associate Professor) Kevin McCarthy's documentary development class last spring, and I spent the whole semester learning about something I really wanted to know more about," Manuel said.
His research included finding out that vast quantities of waste produced in Massachusetts is shipped to a landfill in Uniontown, Ala., where more than half the population lives below the property line, and that raised additional questions in his mind about societal habits toward waste and recycling, and how those attitudes have an impact extending far beyond the trash cans in our driveways. 
Manuel said he hopes to pursue a career in film or television. This fall, he has enjoyed McCarthy's multi-camera television production class that is taught in collaboration with Fitchburg Access Television (FATV). The class includes work in the FATV studios downtown, and additional hours as a member of the production crew in community settings, including scholastic sports and election coverage. 
"It's been really interesting," Manuel said. "It's what I look forward to doing for my career."