In Short
Meets the needs of individuals who are seeking a master's degree as well as Wilson Language Training Level I and Level II certification.
We've got you covered
What will I do?
Complete a capstone course on the implementation of industry-recognized best practices
Meet the Knowledge and Practice Standards for Teachers of Reading set forth by the International Dyslexia Association (IDA)
What we're working on
We're preparing tomorrow's Wilson-certified educators.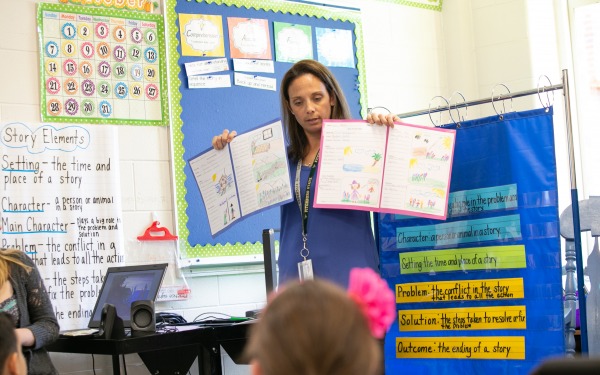 Overall employment of special education teachers is projected to grow 8 percent from 2016 to 2026, about as fast as the average for all occupations. School enrollment and the demand for special education services should drive employment growth.*
Maximize your options for employment as a dyslexia specialist -- learn more about our Master of Education in Special Education, Guided Studies, Dyslexia Specialist Concentration.
Degree Overview
Students complete four required courses, including a capstone course on implementation of best practices, and 27 credits in three goal areas with content meeting the Knowledge and Practice Standards for Teachers of Reading set forth by the International Dyslexia Association (IDA). Three courses are associated with Wilson Reading Level I Certification, three courses are associated with Wilson Reading Level II Certification, and the three courses in the Foundations of Literacy goal area have been selected to meet IDA standards.
---
Career Opportunities
Title I or reading teacher
Literacy coach
Private tutor
Special education reading specialist
---
Total Credits
39 credits
---
Time Frame
While you can complete the program in as few as 2 years, you have 6 years to complete the program.
All of the courses for this program that are offered through Fitchburg State are available online.
For Wilson Language Training information and questions related to Wilson course availability or content, please contact the Wilson Language Training customer service center at 1.800.899.8454 or email them at info@wilsonlanguage.com.
*Bureau of Labor Statistics, U.S. Department of Labor, Occupational Outlook Handbook, Special Education Teachers, on the Internet (visited April 9, 2018).
Degrees and Other Information
Students who wish to register for graduate credit (for Wilson courses) must have satisfied all course requirements (completed the course) as outlined in the approved course syllabi. Students must register no more than 60 days after the class has ended. Please note that students will only be able to register for classes from the 1st to the 15th of each month.
Note: This program is not designed for students seeking a teaching license.
Candidates develop an understanding of language processes (phonological, morphological, orthographic, semantic, syntactic, and discourse) and how they impact the development of reading and writing.
Candidates are able to identify language-based learning disabilities, such as dyslexia and determine the need for intensive, multisensory instruction with the Wilson Reading System.
Candidates develop proficiency in the elements of instruction necessary for students with a language-based learning disability: direct, explicit, systematic, structured, sequential, integrated, multisensory, synthetic, analytical, diagnostic, prescriptive, mastery/automaticity, cumulative, metacognitive, and emotionally sound.
Candidates develop proficiency in the key components of Wilson Reading System: alphabetic knowledge, rapid naming skills/word retrieval, sound-symbol relationships, word identification, accuracy, automaticity, phonology, morphology, orthography, fluency, vocabulary, and comprehension.
Candidates develop the skills and knowledge to effectively deliver instructional techniques, demonstrating explicit teaching, modeling, guided practice, and consistent review in lessons.
Candidates accurately teach the structure of the English language and appropriately pace students through the curriculum, developing mastery of material taught and designing lessons that focus on accuracy, automaticity, fluency and comprehension.
Candidates diagnostically plan and deliver lessons, addressing and understanding specific areas of weakness that impact the ability to learn to read and write.
Candidates are able to incorporate both formative and summative assessments to determine appropriate progression through the Wilson Reading System.
Completed applications are reviewed on a rolling admission basis. Admissions requirements are as follows:
Official transcript of a Bachelor's degree from a regionally accredited institution
Three letters of recommendation
Professional resume
Official transcripts of graduate level course work from a regionally accredited institution (if applicable)
Graduate application and fee
An essay, no more than one page in length, in response to one of the following questions:

Tell us about a positive situation in which you helped a person and made a significant difference in that person's life.
What are the most important factors in establishing a long-term working relationship with students, friends, etc.?
Tell us about a significant event that involved you in a teaching or helping mode.

Describe the situation as it occurred at the time.
What did you do in that particular situation?
How did you feel about the situation at the time you were experiencing it?
How do you feel about the situation now?
What would you change, if anything?
Still have questions? We're here to help!
We know you're busy, so we've given you a few different options to conveniently get the answers you need. You can…