In Short
Designed for those with a bachelor's degree in technology education or vocational education and want increased awareness and knowledge of current issues and trends in occupational education.
We've got you covered
What will I do?
Develop your professional competencies in relation to your career goals in occupational education
Conduct an advanced study of the principles and practices of educational research
What we're working on
We're educating participants in comprehensive personnel development, responding to occupational updating, professional growth and enhancement, and state-of-the-art information sharing.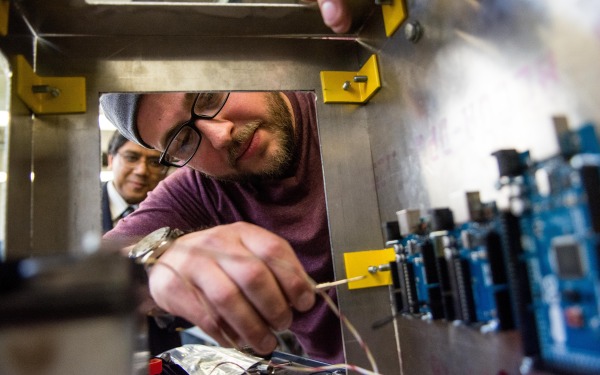 Earn your master's degree in as little as three years. Learn more about our
M.Ed. in Occupational Education.
Degree Overview
The MEd in Occupational Education degree consists of 36 credits to be completed in a suggested sequence within six years. The course sequence has been designed to ensure quality and provide flexibility to serve the variety of student interests and professional needs. A program advisor assists each student with the planned sequence, and advises the selection electives (12 semester hours) to meet individual goals and interests.
Program Prerequisite
Standard certification or vocational teacher approval
Program Highlights
Accredited by the Massachusetts Department of Elementary and Secondary Education (MA DOE).
---
Career Opportunities
Career opportunities include but are not limited to:
Vocational Technical Instructor
Cooperative Education Coordinator
Vocational Program Director or Coordinator
---
Total Credits
36 credits
---

Time Frame
While you can complete the program in as few as three years, you have six years to complete the program. 
Curriculum and Other Information
Candidates completing a Master of Education in Occupational Education, upon graduation are expected to have achieved the following outcomes: 
Students will have a familiarity of the leaders, organizations and movements that have contributed to the development of occupational education in the United States. Knowledge of the philosophies of past and present, along with the issues and problems that have affected occupational education will serve them in their decision-making responsibilities. 
Graduates will apply recent readings, reports, products and research as tools to analyze strategies for strengthening the delivery of occupational education within a variety of settings. 
Graduates will be able to demonstrate how educational supervision is a carefully structured leadership with responsibilities related to the improvement of instruction. In the context of a supervisory role, graduates will be able to examine in-service training, inspection, staff guidance, research and evaluation of personnel and curriculum concerns. 
Graduates will have received instruction relating to the development and evaluation of written achievement tests and concepts relative to basic descriptive statistics and parametric techniques.
Graduates will have a familiarity of federal and state laws pertaining to occupational education. Particular attention will be applied to the legislative process as it relates to current school law and to the judicial process in its interpretation of school law.
Graduates will be able to plan research, write research reports and interpret statistical occupational education data.
Graduates will recognize the teacher as an innovative designer of strategies for planning curriculum. Graduates will have reviewed and examined the process of designing and accessing model curriculum projects in occupational education.
Graduates will be able to examine the basic accounting systems, state laws pertaining to finance, federal funding and laws and procedures regarding funding application approval. Graduates also have knowledge on central reimbursements from federal and state levels that affect education. 
 
Completed applications are reviewed on a rolling admission basis. Admissions requirements are as follows:
An official transcript of a bachelor's degree from a regionally accredited institution
Three letters of recommendation
Professional resume
Official transcripts of graduate level course work from a regionally accredited institution (if applicable)
Graduate application and fee
An essay, no more than one page in length, in response to one of the following questions:

Tell us about a positive situation in which you helped a person and made a significant difference in that person's life.
What are the most important factors in establishing a long-term working relationship with students, friends, etc.?
Tell us about a significant event that involved you in a teaching or helping mode.

Describe the situation as it occurred at the time.
What did you do in that particular situation?
How did you feel about the situation at the time you were experiencing it?
How do you feel about the situation now?
What would you change, if anything?
Still have questions? We're here to help!
We know you're busy, so we've given you a few different options to conveniently get the answers you need. You can…