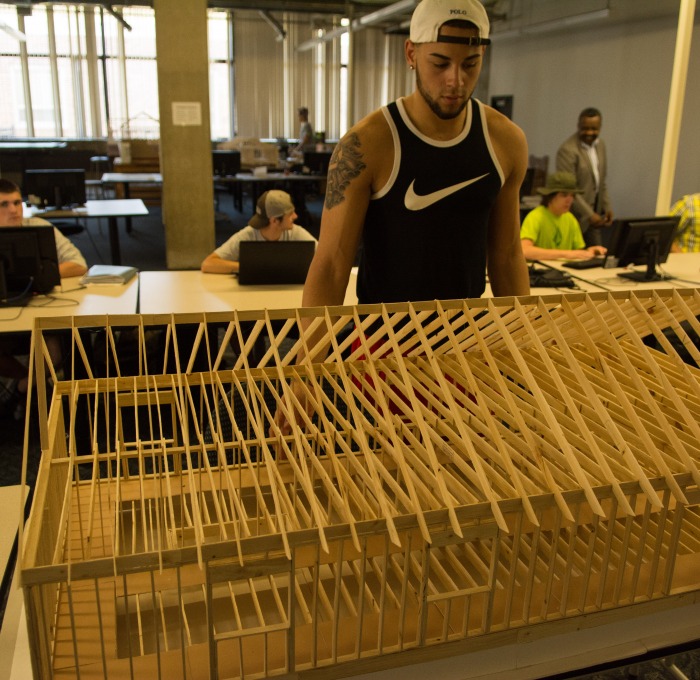 In Short
The Construction Management major provides you with the skills necessary to prepare construction documents, cost estimates, project schedules, perform site inspections, manage resources, and work with local, state, and federal regulatory agencies.
To educate students by providing a comprehensive curriculum to meet the needs of the construction industry.
To promote professional opportunities and pursue life-long learning through continuing education and advanced degree in construction management and related fields.
To develop individuals who are innovative and collaborative in problem solving, have high ethical standards, and are responsible for a sustainable future.
Program Overview
The Construction Management major prepares you with knowledge and skills essential for construction management practice. You're exposed to a planned sequence of courses preparing you to assume effective roles in construction project management and implementation, including the ability to prepare construction documents, cost estimates, and project schedules; perform site inspections; manage resources; and work with local, state, and federal regulatory agencies.
The mission of the program is to prepare students to succeed in the construction management profession by providing them with essential technical, managerial, and communication skills and practical experiences. 
Check out the Burg Blog to see Columbia Construction present.
Experiential Opportunities
Internships are a great opportunity to get valuable, real-world experiences before entering a competitive job market.
Read more about: Internships
Faculty-led study abroad course opportunities also increase student life-transforming experiences, as do student/faculty cooperative research projects.
Read more about: Study Abroad
Curriculum and Other Information
Graduates of the program will be:
Able to identify, formulate, and solve broadly defined technical or scientific problems by applying knowledge of mathematics and science and/or technical topics to areas relevant to the construction management discipline.
Able to formulate or design a system, process, procedure, or program to meet desired needs.
Able to develop and conduct experiments or test hypotheses, analyze and interpret data and use scientific judgment to draw conclusions
Able to communicate effectively with a range of audiences
Able to understand ethical and professional responsibilities and the impact of technical and/or scientific solutions in global, economic, environmental, and societal contexts.
Able to function effectively on teams that establish goals, plan tasks, meet deadlines, and analyze risk and uncertainty.
Apply surveying techniques for construction layout and control
Able to create a construction project safety plan, cost estimation, project schedules, and construction project documents
Able to analyze methods, materials, and equipment used in the construction project and make professional decisions based on ethical and legal perspectives
Demonstrate the knowledge of project delivery methods and design, build and manage construction projects
You'll be able to work in construction management firms, architecture and consulting firms, construction companies, and government sectors in various roles, such as project manager, project engineer, site superintendent, estimator, and scheduler, among others.