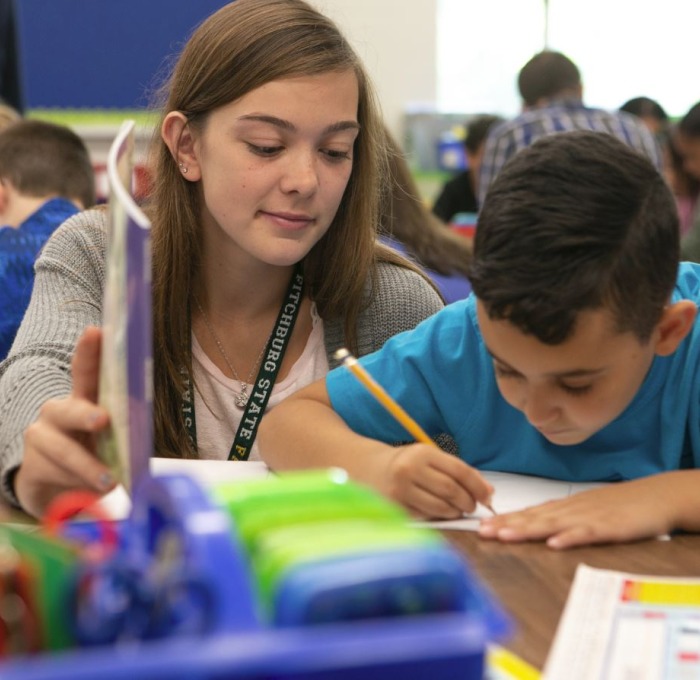 In Short
Designed for those individuals who have completed an appropriate baccalaureate degree, but without an initial license who wish to acquire the competencies and requirements for the initial license in early childhood education in grades PreK-2.
We've got you covered
What will I do?
Develop as a reflective, student-centered educator
Effectively articulate and apply educational theory and research in the field of education
Become a teacher with our initial licensure M.Ed. program
in Early Childhood Education. Learn more today.
Request Information

Career Opportunities
Once a candidate has obtained this degree and has been endorsed by the University for initial licensure, they are eligible to teach in the Commonwealth of Massachusetts as a Teacher of Young Children. They may engage professionally in child and family care, both public and private.
Program Highlights
---
Total Credits
42 credits
---
Time Frame
While you can complete the program in as few as 2.5 years, you have 6 years to complete the program.
Degree and Other Information
Completed applications are reviewed on a rolling admission basis. Admissions requirements are as follows:
An official transcript of a bachelor's degree from a regionally accredited institution
Passing scores for the Communication and Literacy subtest of the Massachusetts Test of Educator Licensure (MTEL)
Three letters of recommendation
Professional resume
Official transcripts of graduate level course work from a regionally accredited institution (if applicable)
Graduate application and fee
An essay, no more than one page in length, in response to one of the following questions:

Tell us about a positive situation in which you helped a person and made a significant difference in that person's life.
What are the most important factors in establishing a long-term working relationship with students, friends, etc.?
Tell us about a significant event that involved you in a teaching or helping mode.

Describe the situation as it occurred at the time.
What did you do in that particular situation?
How did you feel about the situation at the time you were experiencing it?
How do you feel about the situation now?
What would you change, if anything?
Still have questions? We're here to help!
We know you're busy, so we've given you a few different options to conveniently get the answers you need. You can…