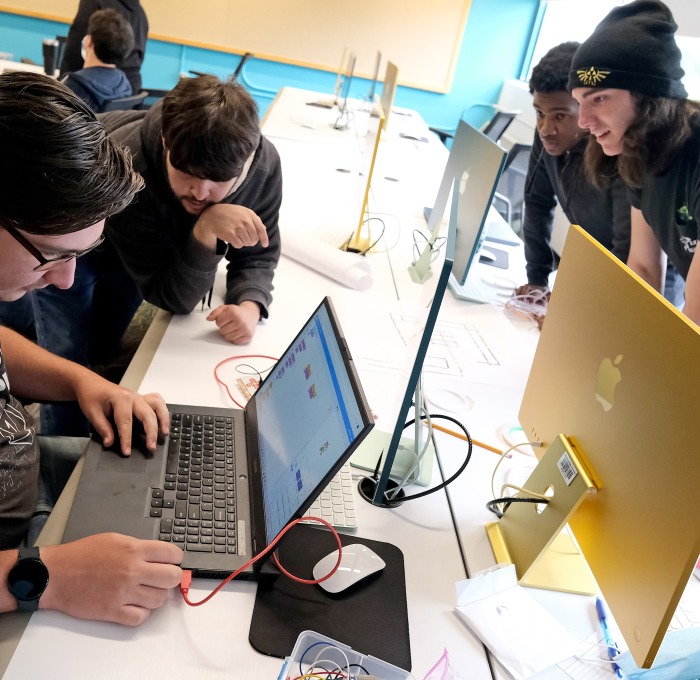 In Short
With the Digital Media Innovation degree you will develop a wide range of new digital skills that span social media, multimedia storytelling, information design, data and digital media studies, coding, and more to meet the needs of a flexible and changing global economy.
We've got you covered
What will I do?
Integrate academic work with community engagement to produce tangible, engaging, audience-aware products 
Produce engaging digital narratives using emerging tools, such as 3D printing, 360 degree video, augmented reality and creative multimedia coding
Evaluate and critique the impacts of data on society and how data can be used to address issues such as social justice and inequality
Program Overview
The Digital Media Innovation (DMI) major offers students an innovative and adaptive pathway model that provides cutting-edge digital skills through hands-on experiential learning. The pathways offer opportunities to study digital storytelling, culture, and societal applications of data and its ultimate goal is to have students activate their learned digital skills by way of experiential projects throughout their coursework and especially in their capstone course. Additionally, these hands-on projects demonstrate the way that digital technology and computing are changing social and cultural systems in commerce, the law, the arts, and the broader human experience. 
This major is designed to creatively explore digital multimedia in a way that can be applied to a wide variety of careers and across a large cross-section of disciplinary practices. New digital tools continue to reshape industries across the globe. The DMI program culminates in a capstone project that demonstrates the changing ways we construct narratives using data and make technologies and practices that reconsider the human experience in a digital age. The capstone project is geared around student scholarship and professional development, providing an opportunity to develop professional portfolio pieces that will assist students in their careers.
This degree is typically awarded as a Bachelor of Science (BS). The Bachelor of Arts (BA) will be awarded if a student has demonstrated advanced intermediate proficiency in a world language.
Experiential Opportunities
Each year students are given the opportunity to submit original work to be juried and possibly selected for our honors art exhibition, VISIONS. This is a showcase of the year's best student work. VISIONS involves a gallery exhibition and a film/video screening.
Read more about: Visions
Communications Media Internships
Students also work beyond the traditional classroom. Opportunities include professional capstone projects and internships. 
Read more about: Internships
Curriculum and Other Information
Students who complete this program will be able to:
Engage in concepts related to the humanities, contingent with critical thinking abilities, including - but not limited to - historiography, digital recreations of texts, interpolating messages between disciplines, and technologically-enhanced textual analysis

Integrate and assess digitally driven research goals, methods, and media with discipline-specific inquiry
Assess information and information technologies critically

Integrate academic work with community engagement to produce tangible, engaging, audience-aware products.

Produce engaging digital narratives using emerging tools (such as 3D printing, 360 degree video, augmented reality and creative multimedia coding)
Create social media strategies for outreach and content generation
Collaborate respectfully with diverse others to respond to community needs and assets through the process

Evaluate and critique the impacts of data on society and how data can be used to address issues such as social justice and inequality

Explain the impact of data on their personal life, field of study, and future career
Create, collect, and analyze data for a variety of purposes
Design and create data visualizations

Analyze complex problems and apply learning to take responsible action in contemporary global contexts
Adapt and apply skills, abilities, theories, or methodologies gained in one situation to new situations to solve difficult problems or explore complex issues in original ways
Digital content creators such as journalists, editors, or specialists
Social/digital media managers
Community engagement managers
Digital content management
Entry-level web developers
Media positions in tech companies
Digital media startups
Data and analytics
Digital project managers
Multimedia producers
News product development 
Still emerging jobs such as Digital Data Detective, Personal Memory Curator, and Augmented Reality Journey Builder