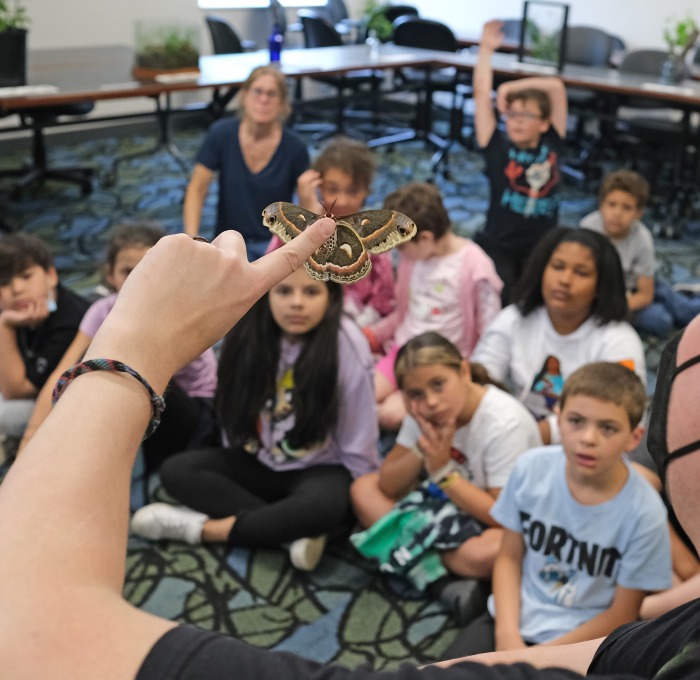 In Short
Develop skills and competencies to foster the growth and development of young children, infancy to 8 years.
We've got you covered
What will I do?
Describe, understand and apply child development principles and research to design environments, curriculum, and programming for young children.
Create warm, nurturing, stimulating, respectful, and supportive environments for young children.
Design high-quality, developmentally-appropriate, and engaging curriculum for diverse young children with and without disabilities.
Demonstrate knowledge of observation, documentation, and assessment, including its purpose and use in supporting individual child growth and learning.
Engage families in the development and support of learning goals for young children.
Participate as a professional in the field of Early Childhood Education (ECE), including upholding NAEYC ethical and professional standards.
Engage in continuous, collaborative, and reflective learning to inform practice.
Understand the role of teamwork, community engagement and the development of collaboration to foster positive outcomes for young children.
Support diverse learners from infancy to age 8. Learn more today.
Program Overview
This program carefully integrates theory, research, and practice with applied experiences in real-world settings. With connections to specialized special education coursework, students develop increased capacity to support diverse learners.
This program is aligned with the National Association for the Education of Young Children (NAEYC) standards and the Massachusetts Department of Early Education and Care (EEC) Core Competencies. Graduates will find career opportunities in a range of early education and community-based settings such as child care centers, family child care providers, and out-of-school time programming. After completion of this degree, students can apply for certification through the State Department of Early Education and Care (EEC) as Lead Teacher, Infant-Toddler Teacher, and Director Level 1.
Transfer Information
If you're transferring from Quinsigamond Community College, check out our articulation agreement (PDF) and see the approved transfer equivalencies and your best options for course selection.
Highlights
Affordable pathway to degree attainment
Course formats to support working professionals
2+2 transfer opportunity for associate in arts early education degree
Advance teacher and lead teacher certification (EEC)
Meaningful, engaging, immediately applicable course content (in your current employment setting)
Coursework aligned to QRIS standards
Fitchburg State University is a member in good standing of the Association for Advancing Quality in Educator Preparation (AAQEP), a national accrediting organization recognized by the Council for Higher Education Accreditation. Fitchburg State University is working toward accreditation of its educator preparation programs under the AAQEP standards with an anticipated quality assurance review in Fall 2023.
Delivery
Face-to-face and online courses offered in the evenings with some day courses during the summer.
Experiential Opportunities
The purpose of the student teaching practicum/internship is to provide candidates who have reached the teacher candidacy stage of their academic programs with hands-on experience in an approved school setting.    
Read more about: Practicum
Take advantage of the opportunity to study abroad and you can do this in one of three ways: short-term faculty-led programs, exchange/direct enroll programs, and outside provider-led programs.
Read more about: Study Abroad
Curriculum and Other Information
Standard 1.  Promoting Child Development and Learning  
Candidates prepared in early childhood degree programs are grounded in a child development knowledge base. They use their understanding of young children's characteristics and needs, and of multiple interacting influences on children's development and learning, to create environments that are healthy, respectful, supportive, and challenging for each child.
Standard 2.  Building Family and Community Relationships
Candidates prepared in early childhood degree programs understand that successful early childhood education depends upon partnerships with children's families and communities. They know about, understand, and value the importance and complex characteristics of children's families and communities. They use this understanding to create respectful, reciprocal relationships that support and empower families, and to involve all families in their children's development and learning.
Standard 3. Observing, Documenting, and Assessing to Support Young Children and Families
Candidates prepared in early childhood degree programs understand that child observation, documentation, and other forms of assessment are central to the practice of all early childhood professionals. They know about and understand the goals, benefits, and uses of assessment. They know about and use systematic observations, documentation, and other effective assessment strategies in a responsible way, in partnership with families and other professionals, to positively influence the development of every child.
Standard 4.  Using Developmentally Effective Approaches
Candidates prepared in early childhood degree programs understand that teaching and learning with young children is a complex enterprise, and its details vary depending on children's ages, characteristics, and the settings within which teaching and learning occur. They understand and use positive relationships and supportive interactions as the foundation for their work with young children and families. Candidates know, understand, and use a wide array of developmentally appropriate approaches, instructional strategies, and tools to connect with children and families and positively influence each child's development and learning.
Standard 5.  Using Content Knowledge to Build Meaningful Curriculum
Candidates prepared in early childhood degree programs use their knowledge of academic disciplines to design, implement, and evaluate experiences that promote positive development and learning for each and every young child. Candidates understand the importance of developmental domains and academic (or content) disciplines in early childhood curriculum. They know the essential concepts, inquiry tools, and structure of content areas, including academic subjects, and can identify resources to deepen their understanding. Candidates use their own knowledge and other resources to design, implement, and evaluate meaningful, challenging curriculum that promotes comprehensive developmental and learning outcomes for every young child. 
Standard 6: Becoming a Professional
Candidates prepared in early childhood degree programs identify and conduct themselves as members of the early childhood profession. They know and use ethical guidelines and other professional standards related to early childhood practice. They are continuous, collaborative learners who demonstrate knowledgeable, reflective and critical perspectives on their work, making informed decisions that integrate knowledge from a variety of sources. They are informed advocates for sound educational practices and policies.
Director Level 1
Early Educator
Early Intervention Specialist
Infant-Toddler Teacher
Lead Teacher
Out-of-School Time Program Teacher
Still have questions? We're here to help!
We know you're busy, so we've given you a few different options to conveniently get the answers you need. You can…