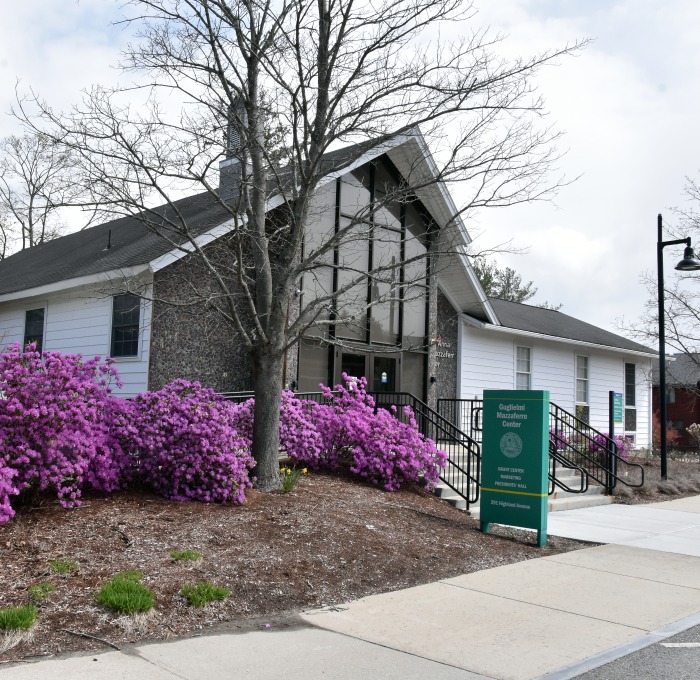 The Grant Center operates under the auspices of the Alumni and Development Office and is responsible for the identification and procurement of federal, state and private external funding to supplement existing academic resources and to enhance program development and sponsored research at the university. The Grant Center also coordinates efforts on Corporate and Community Engagement, working with others to create and support an integrated corporate and community relations strategy that aligns with the University's mission and priorities.
Business, Community, and University Partnerships
Collaborating with Fitchburg State benefits your business, the community, and the region.
Some of our Community Partnerships include:
Career and volunteer resources to recruit today's top talent
Experienced speakers for special events 
Research and academic competitions 
State-of-the-art meeting and event facilities. Meeting and function spaces for 8 to 800.
Customized trainings including: 

Leadership development 
Change Management 
Diversity in the workplace 
Microaggressions in the workplace 

Professional degree programs (online, in-person, and hybrid). Year-round programming options.
Certification programs 
Serve on Academic Advisory Committees 
Participate in community-based research 
Engage with our alumni. Connect with 46,000 alumni.
Workforce recruitment (undergraduate and graduate level)
Student internships 
Participate in student career development (employer panels, informational interviews, guest speakers) 
Enroll in Handshake our online platform accessing the next generation of talent
Community Research and Consulting Group Collaborate with faculty and staff on projects that solve real problems, answer practical questions, or provide much-needed data. Experience  working with community partners including: 
Social service agencies 
Non-profits 
Businesses 
Governmental agencies 
For more information or to discuss a project contact Will Cortezia, wcortezi@fitchburgstate.edu or 978.665.3675. 
Providing courses, workshops and institutes for an array of professional  development opportunities. 
Large variety of certificate and degree programs 
One-day workshop offerings 
Customized industry-specific training 
Online, hybrid, and in-person modes of learning 
Instructors include full-time faculty as well as industry experts
Off-site training and/or meeting spaces available on our state-of-the-art campus 
Contact us by email at cps@fitchburgstate.edu or phone at 978.665.3636. 
The School of Graduate, Online and Continuing Education in collaboration with Career Services is hosting a series of corporate, small business, non-profit and municipal-based drop-in chat sessions designed to answer regional partner questions about:
Internships
Job fairs and other on campus recruiting events
Professional development
Workforce development
Grant opportunities
Undergraduate degree completion for your staff
Graduate education opportunities (master's and certificates)
Inviting faculty to speak to your staff
Inviting your staff to speak on university panels 
Research collaborations
Participating in university academic advisory boards
It's easy!  
Drop-in anytime during our chat time 3:30 - 4:30 p.m. on the following Thursdays. 
Once registered, a Zoom meeting link will be emailed to you. 
Time: 3:30 - 4:30 p.m.
You may "drop-in" virtually at any time during this open session. There is no formal format to this event- we're here to help you!  You can jump in quickly for a few minutes, get your question answered and be on your way or stop in for a longer visit and get general information about all the ways Fitchburg State can partner with your organization. 
"Thank you for providing a platform for local organizations to connect with your institution. It was a wonderful meeting and I'm grateful for the extensive resources you've provided." --Pathways for Change
Questions?  Email us at partnership@fitchburgstate.edu or call the Center for Professional Studies at 978. 665.3636. 
Corporate and Community Engagement Work Group
The Corporate and Community Engagement Work Group will create and support an integrated corporate and community relations strategy that aligns with the university's mission and priorities. Through established frameworks, the group will foster campus-wide communication, collaboration and coordination to build mutually beneficial community and corporate partnerships. 
Fitchburg State University's Corporate and Community Engagement Work Group expands the possibilities for students, faculty, community and corporate stakeholders through active and meaningful partnerships. Through strategic outreach and collaboration, we focus on building community and corporate partnerships that advance common goals, and promote economic growth and social mobility in the region. This work establishes Fitchburg State as a regional leader in innovative, public-private partnerships that improve education, meet workforce needs, and develop civic-minded leaders equipped to address the future's critical challenges and opportunities. 
To realize this vision the Corporate and Community Engagement Work Group will embrace the following values.
Foster a climate of trust, respect, transparency, and inclusivity to deepen meaningful partnerships among the university and its communities;
Advance knowledge, economic prosperity, and social justice for our students, staff, and faculty by seeking out corporate and community partnerships that support black and indigenous people of color, the LGBTQIA+ community, and other under-represented groups;
Provide opportunities for students to participate in community-engaged experiences to prepare them to be engaged citizens within the community and region;
Foster collaboration and coordination that advances Fitchburg State as a premier University partner, resulting in increased student recruiting, experiential learning opportunities, more opportunities, and support for faculty research, expansion of existing and identification of new markets for workforce development and Fitchburg State programs, greater visibility for the University, and strategic investments;
Elevate cross-campus discussions of community, corporate, and foundation relations activities and facilitate industry-facing units to build a deeper understanding of university strengths and work smarter to determine capabilities to serve industry partners best;
Facilitate a strong, comprehensive university community, corporate, and foundation relations network that provides an environment that extends beyond the campus that encourages students, faculty, and staff to examine diverse issues with corporate partners;
Encourage and support faculty and student scholarship that is community-focused and designed to help the city and region address critical challenges or opportunities.
Inventory
Responsible for creating and maintaining  a corporate and community agency partnership inventory and database
Members: Megan Boyd (Lead), Lindsay Carpenter Connors, Tanya Crowley, Andrew Goodwin, Jeanette Robichaud
Communications
Responsible for creating and disseminating information on the workgroup's initiatives and progress.
Members: Brian Schremser (Lead), Will Cortezia, Jen Hanselman, Becky Copper Glenz, Nancy Murray, Jeanette Robichaud
Partnership Development
Responsible for identifying current and potential University partners .
Members: Susan Beddes (lead), John Crawley, Joseph Ferguson, Sara Levine, Lisa Moison, Olivia Rossetti, Renee Scapparone, A.J. Tourigny
Alumni Engagement
Responsible for developing identifying and establishing corporate relationships through Fitchburg State alumni and connecting those alumni to the University
Members: Tanya Crowley (Lead), Becky Copper Glenz, Olivia Rosetti, John Crawley
Education
Responsible for cultivating current and potential educational partners to enhance opportunities for students from preschool through higher education. 
Members: Will Cortezia, Andrew Goodwin, Sara Levine, Olivia Rosetti, Renee Scapparone, Regina Wironen

The knowledge I'm learning can be applied to many different things.
NASA-funded internship yielded credits
Questions? Get in Touch!
The Grant Center is responsible for the identification and procurement of federal, state and private external funding to supplement existing academic resources and to enhance program development and sponsored research at the university.
Guglielmi Mazzaferro 106