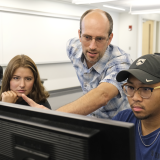 The knowledge I'm learning can be applied to many different things.
Jun Basan '22 and Kate Messer '25 spent their summer analyzing the surface of Mars. Through a NASA-funded research project led by Professor Reid Parsons of the Earth and Geographic Sciences Department, Basan and Messer earned college credit as well as stipends for the work.
Parsons, who has done extensive research on Martian climate, trained the students to use specialized software to analyze high-resolution imagery of the planet's surface. "We're trying to understand the past climate of Mars using satellite images and computer models," he said. 
Specifically, the project is exploring the formation and evolution of ice sheets on Mars with an eye toward understanding its climate history. 
Basan said it was a no-brainer when Parsons approached him last year about participating in the summer research project. "It helps me get some more experience and it gets my foot in the field," said Basan, who will graduate in December. 
Basan said he hopes to pursue a career at the Pentagon, and looks forward to applying the geographic information system mapping skills he used this summer. "My focus this year was getting to use the tools," he said. "The knowledge I'm learning can be applied to many different things." 
Messer transferred to Fitchburg State this spring and was assigned Professor Parsons as an advisor. He mentioned the internship opportunity during one of their early meetings. "I was super into it," she said.
Messer, studying environmental and Earth science with a minor in geographic information systems, saw the internship as an opportunity to learn new tools and techniques that she can apply in other fields. "It's pretty limitless," she said.
The NASA grant funding Parsons' current project will span three years.
"The big thing for me is to get students involved in the research," Parsons said. "To get students involved in high-level research as undergraduates is a great opportunity for them. We can offer students a stipend, and because it's an internship they get credit as well. It's a win-win."