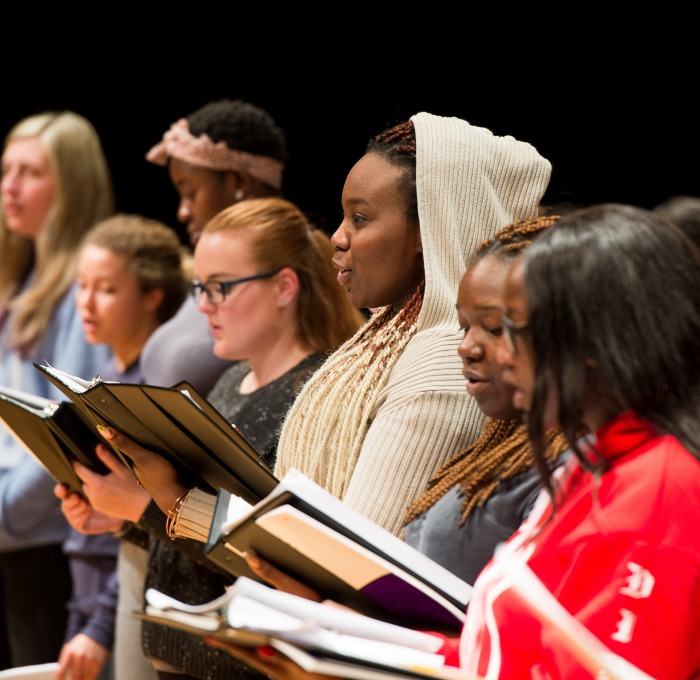 In Short
The Fine and Performing Arts concentration provides you with a strong interdisciplinary grounding in music, studio art, and/or theater.
We've got you covered
What will I do?
Take command of your own educational goals and design your own program in the arts.
Focus on performance, and design your own program that combines music and theatre.
Combine your arts fields to design a capstone project that relates directly to the kind of work you want to do when you graduate, and serves as a springboard for your future.
Program Overview
The Interdisciplinary Studies concentration in Fine and Performing Arts allows you to design your own major in the arts, by combining courses in visual art, music, and/or theater in a package that meets your own specific interests and career goals. The program gives you the creative and conceptual tools to integrate different arts disciplines in order to address the contemporary issues and changing frontiers of knowledge in an increasingly global society.
Experiential Opportunities
Perform in one of the many musical ensembles: Concert Band, Jazz Band, Choir, Chamber Choir, and Community Orchestra. Work as an actor or crew in one of the student-performed and produced plays that are put on each year under the supervision of Theatre faculty. Exhibit your own artwork in the annual student ARTeries show in Hammond Gallery. Go to the Fitchburg Art Museum for free with your student ID, and meet with artists and museum professionals. Create a Capstone project that reflects your personal artistic vision and professional goals, applying insights across arts disciplines to an original creative project.
Internships are a great opportunity to get valuable, real-world experiences before entering a competitive job market.
Read more about: Internships
Faculty-led study abroad course opportunities also increase student life-transforming experiences, as do student/faculty cooperative research projects.
Read more about: Study Abroad
Curriculum and Other Information
Graduate studies in line with individualized curriculum (master of arts in education, master of fine arts in art, graphic design, or theatre, etc.).
Work in arts management in a regional cultural institution.
Success in today's rapidly changing workplace requires individual initiative, flexible "outside-the-box" thinking, and an ability to define one's own professional goals; the individualized interdisciplinary studies degree challenges you to do exactly that.