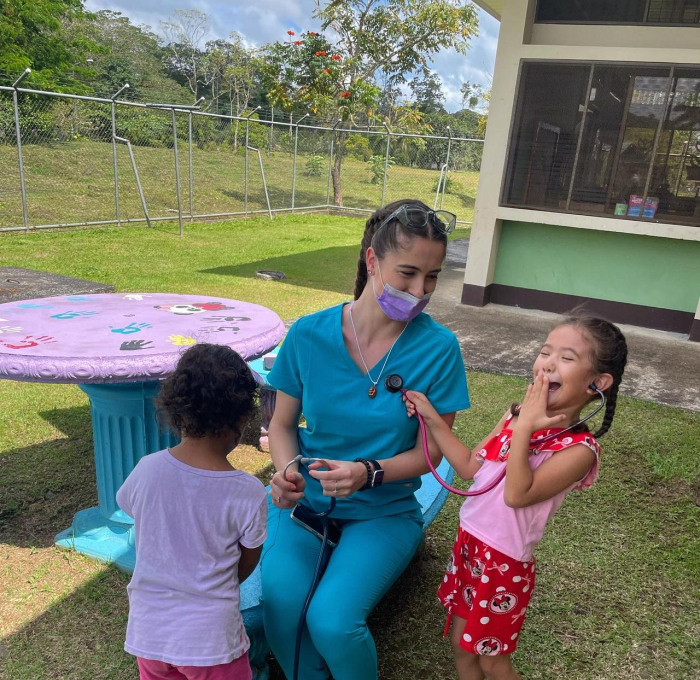 In Short
The certificate is designed for healthcare providers or any individual needing medical communication skills in Spanish and intercultural abilities for medical purposes. This certificate focuses on listening, speaking, reading, and writing set around different medical settings.
Certificate Overview
Currently, there is a deficit of healthcare workers with Spanish skills in the United States. Our nine-credit certificate is open to undergraduates, graduates, professionals, and community members interested in developing their linguistic abilities in Spanish. Students can focus on language and cultural skills through tailored courses designed to improve service in different medical scenarios. The certificate will help them communicate with Spanish speakers and strengthen their intermediate language abilities in a specialized area while translating medical documents used in nursing courses and hospitals, among other high-impact activities.
The certificate helps our students accomplish the social mission of Fitchburg State University by combining the liberal arts and sciences and professional programs. In addition, it prepares students for a global society through a curricular innovation that brings together academic programs and the community. Hence, through our Medical Spanish Certificate, our university exercises the cultural diversity our region needs to enhance personal and community health in and outside our campus.
Our certificate also includes an optional study abroad option in Salamanca, Spain.
For more information, please contact the Humanities Department by email at humanities@fitchburgstate.edu or by phone 978.665.3276.
Curriculum and Other Information
Students who complete the Medical Spanish Certificate will have language and intercultural communication skills in the following areas: 
Greetings and patient information                                                                                     
Describe people and conditions
Identifying location
Testing patient orientation
Evaluating patient's pain and comfortability
Discussing colds and influenza symptoms
Evaluating vital signs
Conducting a medical registration interview
Taking family history
Giving medical instructions
Describing and acquiring information on medical incidents 
Body parts
Discussing allergic reactions
Describing symptoms of specific diseases
Conducting discharge-planning
Educating about asthma
Identifying cultural behaviors that can interfere with or alter medical outcomes