Join Professor Josh Spero on this exciting Spring Break 2023 trip.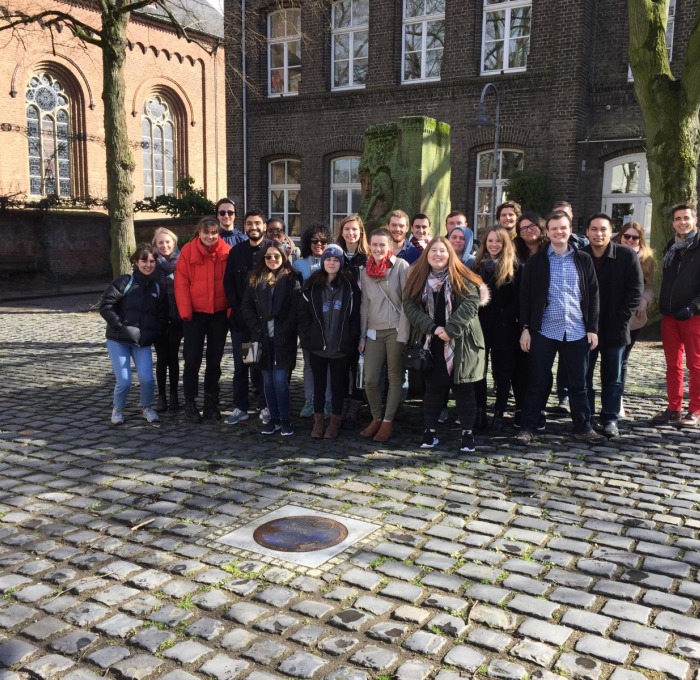 March 3 - March 12, 2023 - Spring Break 2023
This program is now waitlisted. Students are still encouraged to apply!
Total Program Cost: $2,500
This program is non-refundable
Students should apply for the Global Ambassador Scholarship in October 2022 on Academic Works and will find out what/if they received the scholarship before the first payment due date of November 7, 2022.
First payment due November 7, 2022 = $833
Second payment due December 5, 2022 = $833
Third payment due January 12, 2023 = $833
POLS or HIST 2110: Europe Today
3 Credits  
LAS Attributes: AIA, CTW, GDC, HI, or IHIP
Take this 3 credit course that introduces major themes in contemporary European history, politics and economics before traveling to see some of the most significant places in the world. During the spring break's March 2023 trip, you will travel to three European countries; the Netherlands, Germany and Poland with Professor Spero and your classmates. You will meet and engage informally with collegial German and Polish university students. Together, we'll experience incredible cultures and societies with this window into the heart of Europe, as we walk centuries-old cobblestone streets and witness some of the most extraordinary architecture and cities internationally.
Our course and its spring break's European trip expand our partnership with European and other international students and faculty at Rhine-Waal University, our exchange partner in Germany (Kleve and Kamp Lintfort Campuses), as well as our emerging partnership with the University of Warsaw in Poland. Students from both countries participate in workshops with us on US-European relations and continue advancing our cooperative university-to-university research project to enhance our "US-European Transatlantic Relationship."
We will also decompress a lot with Europe's wonderful café culture for ample time to relax and sightsee, in addition to our touring such significant, historic, and monumental European sites as:
Amsterdam and the International Court of Justice/The Hague (both in the Netherlands);
Rhine-Waal University and its Kleve/Kamp Lintfort cities (in Northwest Rhineland / Germany);
University of Warsaw, its government and palatial architecture, old town and Warsaw Ghetto (in Northern Poland);
And, finally, via train from Warsaw to Kraków (Southern Poland), the latter with its Wawel Castle, and our excursions to the famous Wieliczka Salt Mine and the important Auschwitz-Birkenau Memorial and Museum.
Students from all majors and years should apply.
For more information please email Professor Joshua Spero jspero@fitchburgstate.edu or the Office of International Education inthelp@fitchburgstate.edu.
There have been a lot of decisions in my life that have changed my direction completely. My choice to go on this trip to Europe is probably one of the most influential decisions I have ever made.
Hannah Pollan
Political Science Major / International Relations Concentrator, Class of 2020
Questions? Let us know!
The Office of International Education provides assistance to international students and students studying abroad.
Hammond Hall 316