We are so glad to see you have returned to the nest! Welcome back!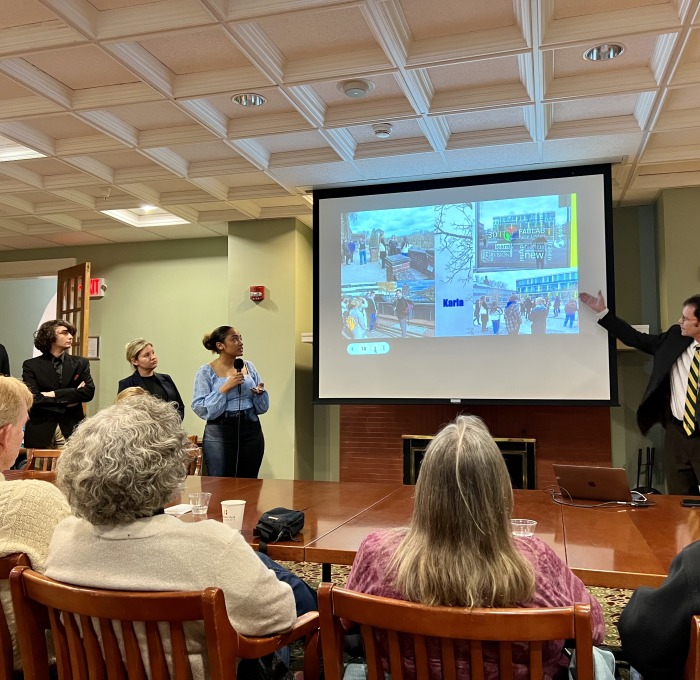 Above Karla Taveras Guerra talks about her study abroad experience during the Heart of Europe Program in 2023.
See the Study Abroad Experience Guide (PDF) to get started on your resume and cover letter. Send your documents to the careercenter@fitchburgstate.edu for a review or set up a one-on-one meeting with an advisor.
Enjoy this presentation on lessons from abroad
Now that you are back, there are many ways that you can leverage your experiences abroad professionally, academically and personally! This unique experience really sets you apart from your peers, and we want you to develop some strategies to use your time abroad to your best advantage.
Do you have work study hours available? Contact the International Office (inthelp@fitchburgstate.edu) or Assistant Director of Study Abroad, Nicole Salerno, at (nsalerno@fitchburgstate.edu) about opportunities to work in our office throughout the school year.

It is a great opportunity to talk about your time abroad with your peers. If you used a provider to study abroad, inquire about becoming an ambassador for them. 

World Integrated Nations (WIN) is the student club on campus that is filled with study abroad alum, and students who are interested in the global community. Stop by a meeting to see if it interests you. 

Send your photos and a testimonial to inthelp@fitchburgstate.edu or Tell Us Your Story. We would love to showcase your experience. All photos you see on our website or marketing materials are actual Fitchburg State students who studied abroad. (Disclaimer: if you send us photos, we will most likely use them on campus.)
Now let's talk about the skills you've gained while studying abroad
A little bit of thoughtful planning will help you develop a narrative that can be used for any interview situation; whether a position in your chosen field of study or graduate school. Stand out and make yourself and your study abroad experience unique. Learn how to talk about your experience effectively. 
Put your study abroad experience in your resume' or e-portfolio. This is the first step to highlighting your time abroad. There are a number of ways one can highlight this on a resume', simply create a section titled "Study Abroad" and put the dates, university name and location in that section. You could also cite the class/classes you took while abroad, it is up to you.

Now comes the creative portion. Your degree gave you the technical skills you need for that interview which most of the applicants will have. But you will have some very exciting transferable skills that employers value.
What skills are we talking about? And how can you distinguish yourself in an interview situation?
Ability to identify, set and achieve goals - you set a goal of studying abroad, and met it! That wasn't easy! You had to persevere.
Flexibility and adaptability - Remember all those times you had to be flexible and patient while you were abroad because they "did things differently?"
Communication - While you were abroad, you had many opportunities to communicate with people in a language other than your own. 
Global mindedness - you have a passport, and have traveled through international airports, as well as other countries where you were exposed to different cultures, and a great deal of diversity. You have also developed a heightened sensitivity to your American identity. 
Independence - Studying abroad requires you to step outside your comfort zone, and rely on yourself. 
Leadership skills - Remember that time your group of friends got lost and you found your way back to the main street? 
Ability to view the world from a unique perspective - make your experience and learnings from your semester abroad stand out!