Join Professors Jon Amakawa and Jeff Warmouth on this exploration of the contemporary art forms: video games, Anime and Manga.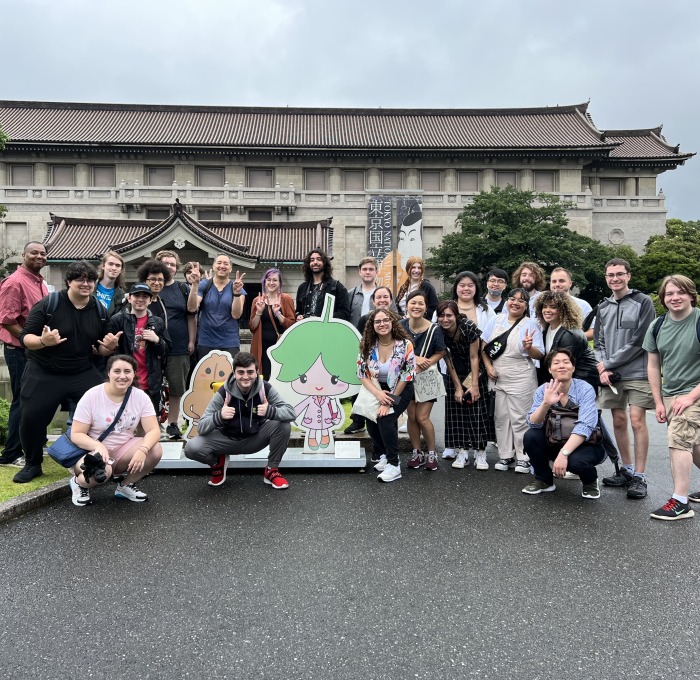 May - June 2025
Game 2001: Game and Arts 
3 credits
This course explores contemporary arts and culture in Japan with an emphasis on the three pillars of Japan's modern culture: video games, Anime, and Manga.
These contemporary art forms will be examined in the context of the country's tradition of design, visual arts, and culture, in order to gain a better understanding of Japanese Game Art Aesthetics. For example, during the course, students explore Edo period Ukiyo-e wood block prints and shoin architecture as well as the evolution of modern manga from its roots in the Edo period with the publishing of Hokusai's Manga.
The course culminates in a study abroad program to Japan in May 2025.
Course Counts for: Global Diversity Non-Western (GDAN)
Total Estimated Price: TBD
Students should apply for the Global Ambassador Scholarship in October 2024 on Academic Works and will find out what/if they received the scholarship before the first payment due date.
PAYMENTS ARE NON-REFUNDABLE.
First Payment: TBD
Second Payment: TBD
Third Payment: TBD
*Price subject to change
Sample Itinerary ** Subject to change
Accommodations will be confirmed closer to program
Students will be in Tokyo for 5 days and Kyoto for 6 days. Students will be filled with cultural, academic, and recreational activities. Free days will also be available for students to explore.
Depart from Boston
Arrive in Tokyo in afternoon: ISA Health and Safety Orientation for Japan
Welcome to Tokyo event
Day trip to Kamakura
Tokyo: Shibuya and Harajuku, Odaiba and Academic Visits
Free day (Exploring Tokyo)
Travel to Narai| Matsumoto Castle
Nakasendo Hike| Travel to Kyoto
Cultural activities (Nishiki Market Walking tour)
Free day (Exploring Kyoto)
Cultural and Academic Activities
Free day (Visit Kyoto Manga Museum)
Farewell to Japan| Visit Space Station and Osaka Dotonbori
Depart from Tokyo to Boston
One of the best experiences in my life hands down.
2023 Summer Arts and Game Design Student
I would recommend this program to anyone looking to travel abroad with knowledgeable guides to help
you experience the culture of the country that you wouldn't otherwise get if you were to go by yourself.
2023 Summer Arts and Game Design Student
Questions? Get in touch!
The Office of International Education provides assistance to international students and students studying abroad.
Hammond Hall 316