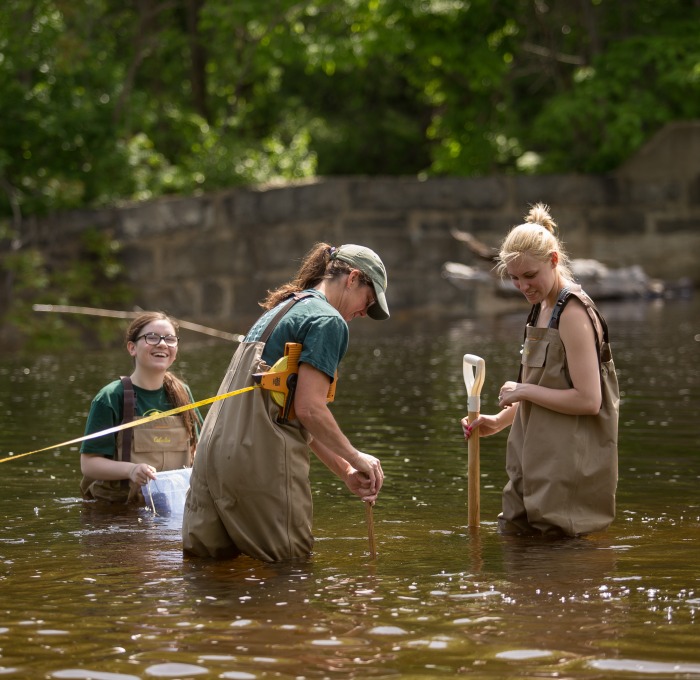 In Short
The Environmental Biology concentration offers a rigorous program of study in science related to the environment.
Program Overview
Students in the Environmental Biology concentration gain the disciplinary knowledge and technical skills necessary for a wide range of careers in the field, including:
Ecology skills in experimental design, data analysis, and fieldwork
Lab skills useful in environmental careers (for example, microbiology techniques and chemical safety) 
Earth sciences (for example, geology and climate change)
Technology applied to geographic sciences (for example, GIS and remote sensing)
It took me years to find the career path that fit my dreams and aspirations, and I finally found it in a bog at Fitchburg State University.
Eddie Vo, '12
Experiential Opportunities
Internships are a great opportunity to get valuable, real-world experiences before entering a competitive job market.
Read more about: Internships
Faculty-led study abroad course opportunities also increase student life-transforming experiences, as do student/faculty cooperative research projects.
Read more about: Study Abroad
Curriculum and Other Information
This concentration includes the requirements of the Bachelor of Science in biology with the following exceptions:
One of the six biology electives is Conservation Biology (BIOL 3100).
In addition to General Physics I and II, students will take one course from each of the two clusters with a GEOG designation. At least one course will come from the cluster consisting of Geology (GEOG 2100), Oceanography (GEOG 2500), or Environmental Hydrogeology (GEOG 4600), and at least one course will come from the cluster consisting of Remote Sensing of the Environment (GEOG 4500), Computer Cartography (GEOG 3120), Geographic Information Systems (GEOG 4000), Urban Geography (GEOG 4400), and Computer Applications in Geoscience (GEOG 2400).
Qualified students are encouraged to replace one of the six biology electives with an internship of 3-6 credits in an environmental area (BIOL 4950).
While the MATH requirements are the same as for any biology major, Applied Statistics (MATH 1700) is encouraged.
Students are strongly encouraged to pursue a minor in earth systems science or in geographic science and technology, or in chemistry to complement the environmental biology concentration.
Environmental Protection with State agencies (Leominster Conservation Agent, Department of Conservation and Recreation, US Park Service)
Non-profits (MA Audubon)
Environmental consulting (Oxbow Associates, doing wetland protection and surveys for endangered species)
A few graduates are doing research in graduate school