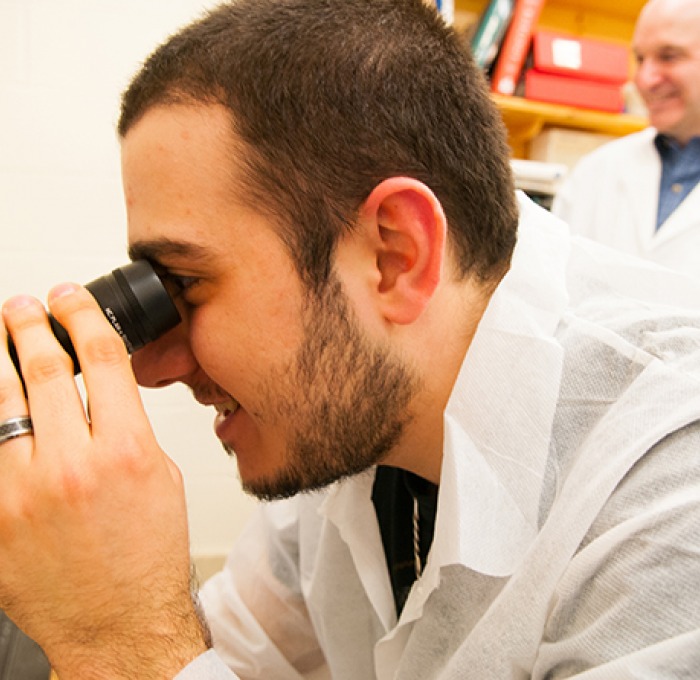 In Short
Fitchburg State University and the Lake Erie College of Osteopathic Medicine (LECOM) offer early acceptance programs for students looking to be accepted into medical school and dental school.
Program Overview
Guarantee your acceptance to medical school at the Lake Erie College of Osteopathic Medicine (LECOM) with one of the following programs:
LECOM schools reserve up to fifteen seats a year for Fitchburg State University students. You'll complete a four-year degree on our campus before moving to the LECOM location that offers your program.
Who is Lake Erie College?
Lake Erie College of Osteopathic Medicine is a private institution with a main campus in Erie, PA that includes a location at Seton Hill in Greensburg, PA, and a branch campus in Bradenton, FL.
Programs leading to the Doctor of Osteopathic Medicine degree are located in Erie, Seton Hill, and Bradenton.
The Doctor of Pharmacy programs are located at both the Erie, PA and Bradenton, FL campuses, or may be earned through a Distance Education Pathway.
The Doctor of Dental Medicine program is located at the Bradenton, FL campus, with fourth-year, dental outreach offices in Erie, PA and DeFuniak Springs, FL.
About the Program
The LECOM Early Acceptance Program has two phases:
Phase I consists of four years of undergraduate education at Fitchburg State University.
Phase II is the graduate training within the desired program.
Apply as a high school senior, or during your first two years of study at Fitchburg State. Students interviewing successfully are granted provisional acceptance into the program.
Curriculum and Other Information
Combined Critical Reading and Math SAT Score of 1240 or better, or
An ACT score of 26 or better, and
An unweighted high school GPA of 3.5 or better
Students who score between 1200-1239 on their SATs may qualify if their GPA is at least a 3.6.
All transfer students must be enrolled prior to starting their third year of undergraduate education.
Transfer to the 3+4 Track in Pharmacy Track is not permitted.
All transfer students interested in the EAP must be accepted for participation in the EAP by both LECOM and the Affiliated Institution.
Students transferring from an institution that has a LECOM EAP affiliation must be approved by the Affiliated Institution to be part of Phase I.
SAT requirement may be waived for Community College transfers who have not taken SAT prior to entering college.  However, they must meet the minimum GPA requirement.