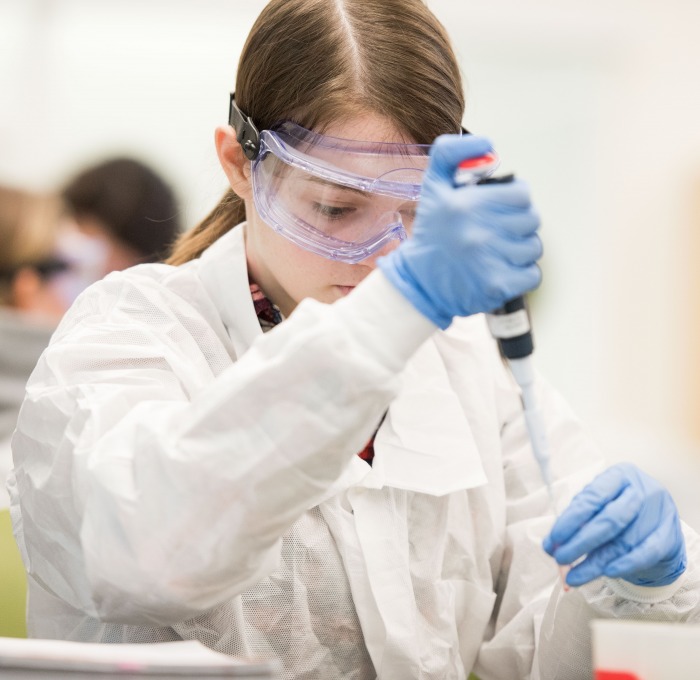 In Short
The Biology major offers a bachelor of arts or science with core biology courses including student laboratory work so that you'll develop the skills of scientific inquiry. You'll develop scientific literacy through reading, writing, testing hypotheses, and quantitative analysis.
Biology is the study of life, in all its forms and contexts. To quote E.O. Wilson, biology is itself "living, changing, evolving." The program in biology emulates this view by teaching foundational principles and exploring contemporary thinking about the nature of life. All students follow a general program of study through a sequence of core courses, electives and a capstone course. In the capstone course, students apply their understanding of the process of scientific inquiry to semester-long research projects. In addition to the major course of study, students may also elect to pursue one of several tracks or concentrations within the major for a more focused course of study in contemporary, specialized fields. The department also offers minors in biology and chemistry, teaches courses in laboratory science for students in all other majors, and sponsors a post baccalaureate program for those who already hold a bachelor's degree and wish to become a teacher of biology in secondary education.
Other Programs
My biology degree from Fitchburg State has not only provided me with the education required to compete in a constantly changing industry, it provided me with the skill set to be successful.
Shaun Grier, '01
Experiential Opportunities
The purpose of the student teaching practicum/internship is to provide candidates who have reached the teacher candidacy stage of their academic programs with hands-on experience in an approved school setting. (Required for Teacher Education track; optional for all others)
Read more about: Internship
Faculty-led study abroad course opportunities also increase student life-transforming experiences, as do student/faculty cooperative research projects.
Read more about: Study Abroad
Curriculum and Other Information
Students earning a biology degree have recently entered a wide range of careers including:
biotech and pharmaceutical industries
graduate schools and health-related careers in medicine, pharmacy, and dentistry
graduate schools in ecology and environmental science, or work with state environmental agencies and zoos
high school teachers of biology and chemistry