The study of science-based academics necessary to understand the concepts inherent in sports science courses.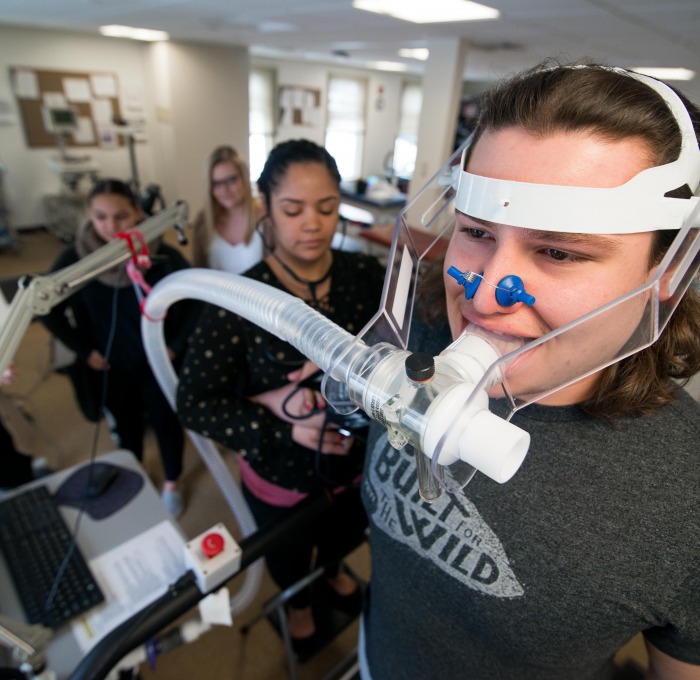 This science background is necessary to understand the concepts inherent in EXSS courses like exercise physiology, functional anatomy, cardiovascular and electrophysiology, biomechanics of sport, and many others.

If you want to continue on to graduate school in exercise science, physical therapy or similar advanced degree programs, you'll find additional coursework like organic chemistry, physics and calculus to be  commonly required.
Learn about our Health Professions Meta Advising and Mentorship Program
Majors and Concentrations
Prepares you for employment in the health promotion industry as well as for health-related graduate programs.
Ensures a solid foundation in the various disciplines that comprise this multidisciplinary field of study.
Prepares you to work with athletes as a strength and conditioning coach. 
The Exercise and Sports Science (EXSS) major is both multi and interdisciplinary.
It is multidisciplinary in that it is the integration of anatomy, physiology, physics, psychology, and learning theory to describe and explain responses and adaptation to exercise and training and applies that knowledge to enhance physical potential for health, for sport, and in rehabilitation.
It is interdisciplinary in that it draws from biology and business administration to provide a foundation in these disciplines to support exercise science applications as well as to enhance career preparedness.
---
Minors
---
Course Rotation, Plan of Study, and University Catalog
---
Policies and Information
---
Meet Our Faculty
This is the perfect place to spread yourself out; participating in extracurricular activities, academics, sports, anything and everything allows you to succeed here!
Benjamin Sacramone '23
Exercise Science, BS
Facility and Equipment Information
The Exercise Science Laboratory is primarily for teaching, where students can gain hands-on-experience utilizing a variety of basic high tech instruments that are commonly used for research and in clinical settings. The Exercise Science lab is where students in the major take courses such as exercise physiology, functional anatomy, biomechanics, motor learning, and exercise testing and prescription. Associated with the laboratory is a well-equipped fitness center where students interested in the fitness industry may obtain valuable practical experience. We will provide an opportunity for student and faculty research utilizing a variety of basic equipment to answer questions related with the exercise sciences.
Questions? Get in touch!
Please reach out with any questions you might have, either though the contact information below or by contacting the department chair, 
Dr. Danielle Wigmore
, 978.665.3250.
The Exercise and Sports Science Department offers a major in Exercise and Sports Science.
155 North Street