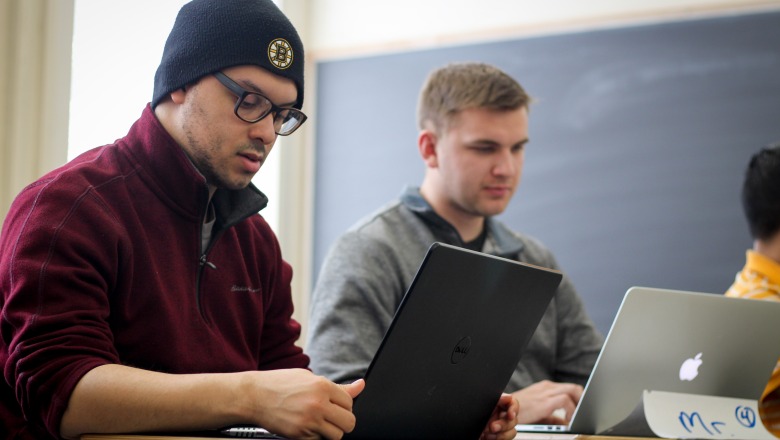 For its dedicated practitioners, the work of teaching students is an evolution. Beginning last summer, 20 members of the Fitchburg State faculty in two cohorts have committed to improving their practice as part of an academy.
This faculty academy's work is built around themes raised in "The Pedagogy of Real Talk: Engaging, Teaching, and Connecting With Students At-Promise" by Dr. Paul G. Hernandez, a nationally recognized educator and consultant who has presented at Fitchburg State.
"The pedagogy helps us connect better with students, so that 'at risk' students are less 'at risk,' and more 'at promise,'" said Professor Sean C. Goodlett from the university's Economics, History and Political Science Department. 
"A big part of what we do is make ourselves vulnerable with students, so we have more opportunities to establish connections," Goodlett said. Hernandez's pedagogy then invites faculty to frame their lessons in terms relatable to students.
Professor Eric Budd, also from the Economics, History and Political Science Department, said an openness with students fosters connection. "That openness gives us a better sense of who they are," he said.
"It's showing our humanity and recognizing the humanity of our students and what they bring to our classrooms," said Professor Jonathan Harvey of the Humanities Department.
"It's also letting students know that if we have a bad day, that will affect how we present ourselves to the class," said Professor Kisha G. Tracy of the English Studies Department. "Those kinds of things exist. Moreover, in teaching and learning circles there's the 'expertise gap.' As faculty, we forget what it's like to be a beginner in those circles. Through this work, we're trying to address that gap." 
It's for this reason that, in his book, Hernandez calls for faculty to adopt "the beginner's mindset."
The academy includes week-long professional development workshops, with participating faculty members meeting in a group and discussing their practice and how to improve. Both cohorts of faculty include recent hires as well as veterans of the institution, united by a desire to improve student outcomes in their courses.
"This has reinvigorated my passion for teaching," said Professor Jeff Godin of the Exercise and Sports Science Department, who said he had begun to feel like he could do a better job in the classroom. "Hearing Paul speak to the faculty reinvigorated that fire in me, and just being part of this group and hearing everyone's ideas has renewed my passion for teaching."
Assistant Professor Scott Tyner, from the Education Department, has found participation in the academy inspiring. "I'm happy to be part of a group of smart, creative people who are not afraid to disrupt the status quo," he said. "I saw a community of folks here who were ready to do that."
Associate Professor Wendy Keyser from the English Studies Department said she responded to the training's emphasis on "real talk," where instructors are invited to tell stories from their own lives and draw stories from personal experiences as students, along with thinking intentionally about creating lessons that are tied to the curriculum yet will resonate with what faculty learn about students' lives and experiences.
The faculty members' shared work has already affected their practice, members of the first cohort agreed. "I'm grateful that after spending time together, we've got a product that's been shared and we will have something to show for it," said Associate Professor Danette Day from the Education Department. "I know I have this community behind me. They're there even when they're not there."
Professor Tracy, who said she is hoping work from the academy can be shared in scholarly publications, agreed. "I'm already seeing more students willing to come to me for help early, and more willing to stay after class and share what's going on with them. I saw community in the classroom build faster. Thank goodness we had this pedagogy this year. I'm not sure what my classes would have looked like being in Zoom if I hadn't had this experience."
Professor Christopher Picone from the Biology/Chemistry Department is in the second cohort of the academy. He was inspired to join the effort by his peers in the first cohort. "Teaching can be a lonely profession," he said. "I was attracted to the testimonies of those who did the academy last year, telling us about the benefits of bouncing ideas off other faculty with honest feedback. I was also interested in getting out of my silo and interacting with faculty from other departments," he said. 
"In addition, in biology we have had a dramatic and wonderful increase in the number of typically-underrepresented students over the last 5-10 years," Professor Picone continued. "But as a white male over 50, I sometimes struggle to connect with my students as easily as I used to. So I was hoping the Academy would provide some new tools to cultivate real connections, which leads to better teaching and learning, and the academy did."
Associate Professor Benjamin Levy of the Mathematics Department said he was "hooked" on Hernandez's philosophy after reading his book. "I have always tried to connect with my students in ways that go beyond the material, so I found it really interesting how Paul essentially formalized this approach," Levy said. "This program provided me with the motivation and tools to do it in a more intentional, structured, and meaningful way."
Professor Levy said he also enjoyed engaging his colleagues from across campus in meaningful dialogue about teaching. "The opportunity to share ideas and hear about similar struggles is always reassuring and helpful," he said. "It's also really interesting seeing different teaching styles in various disciplines. This program provides a great resource to help faculty connect with their students in ways that will ultimately motivate them to be successful in the classroom. Our student population could greatly benefit from the training faculty receive and I hope to see participation grow over time."
Assistant Professor Kori Ryan from the Behavioral Sciences Department said she was inspired to take part in the second cohort of the faculty academy because of her belief in bettering her own practice and supporting a culture of student-readiness and support on campus. "The pedagogy of 'real talk' and the structure of the faculty academy spoke deeply to my goals and mission as faculty and frankly, as a person," she said. 
Professor Ryan said she looks forward to implementing what she's learned and discussed when classes resume this fall. "The academy has also encouraged me to speak more openly about my strengths and struggles as a professor with my colleagues," she said. "The mix of expertise and vulnerability, and the opportunity to learn from some really astounding teachers has been one of the best experiences I've had at Fitchburg State. I am really excited about being involved in a community that honors and respects the role of students' lives in the classroom, and incorporates that into learning."
Assistant Professor Jescah Apamo-Gannon from the Education Department found out about the academy as a first-year faculty member and was eager to join its second cohort this summer. "In my years as an immigrant student and parent of first-generation immigrant children, I have found that the American education system has excellent characteristics that are not everywhere else in the world," she said. "However, looking at school outcome data, demographic gaps continue to be increasingly apparent because issues related to educational equity, diversity, and exclusion are still present. I saw this as a great opportunity to be a part of an initiative where I hoped to learn and contribute to a mission that is so dear to me, student success.
"Every day, as an educator, I feel honored for the opportunity to meet my students' diverse educational and learning needs," Professor Apamo-Gannon continued. "Exploring such issues in research and practice and evaluating their validity and relevance in my teaching is an area I am passionate about."
She added that the skills in engaging students and professional development from working with colleagues will be beneficial.
"It was so encouraging to be in a room with multiple faculty who had the same goal of increasing their strategies in connecting with students and building trust," she said. "My goal is to continue to be an educator who promotes and fosters a learning environment where all learners feel accepted and heard. I plan to build upon the insights I gained to hopefully work with my department, the university, and local groups to cultivate more student success pathways. I am looking forward to the fall semester where I will have the opportunity to implement some of the strategies I learned."