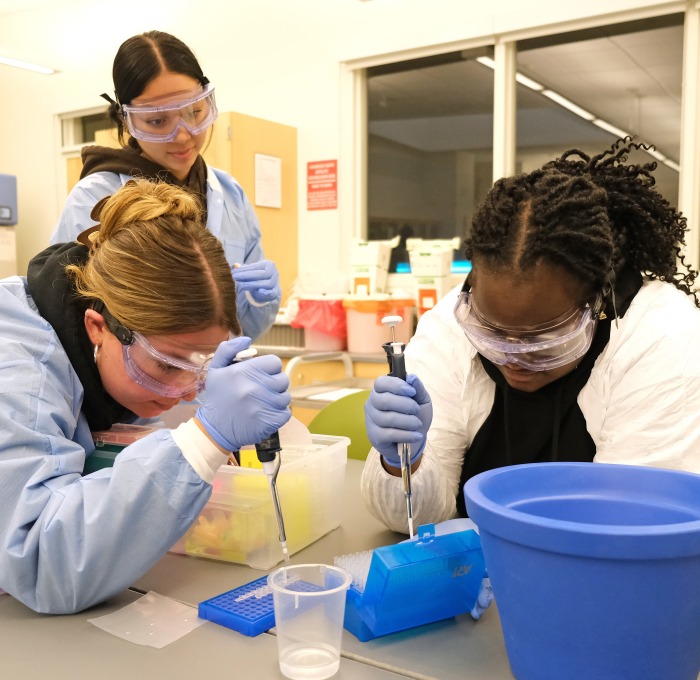 In Short
The Health Professions Meta Advising and Mentorship Program advises students interested in pursuing postgraduate studies in various health professions such as medicine, dentistry, veterinary medicine, optometry, chiropractic medicine, physician assistant, physical therapy, occupational therapy, podiatric medicine, athletic training, and other allied health professions.
Program Overview
The Health Professions include any career that is focused on the physical or mental well-being of their patients or clients. We continue to see an increasing demand for health professionals, both those involved with direct patient care and those who serve in technical or laboratory operations. Examples of health professionals include, but are not limited to: doctors, physician's assistants, nurses, dentists, physical therapists, trainers, laboratory technicians, EMTs, and counselors.
Although you can apply to health programs from any major as long as you have the right prerequisite classes, Fitchburg State offers a B.S. in Biology with a Health Sciences Concentration or a B.S. in Exercise and Sports Science with a Clinical Exercise Physiology Concentration. These majors provide most of the classes required by graduate health programs.
Health Professions Advisors
The diversity of professions means that you can become a healthcare professional from a variety of majors here at Fitchburg State! In addition to your academic advisor within your department, you will also have access to Health Professions Advisors\who will provide resources, provide curricular advice depending on the route you take and their entry-level requirements, and facilitate sessions where you can meet with others who are also preparing for similar career goals.
The Health Profession Advisors…
Hold weekly drop-in advising office hours.
Coordinate activities, such as visiting speakers, field trips, and group advising.
Maintain the current Health Professions Blackboard page with updates for each profession as well as supplemental information (scholarships, interview tips, etc.).
Assist students with finding pathways to earn patient hours.
Coordinate test prep & application support through various workshops.
Students who are interested in pursuing graduate work in the health professions will have access to a Blackboard page where information on program requirements, volunteer opportunities, program informational sessions, and other announcements are made.
Dr. Ron Krieser
Biology and Chemistry Department
Antonucci Science Complex, Room 338
Phone: 978.665.3619
Email: rkrieser@fitchburgstate.edu
Dr. Monica Maldari
Exercise and Sports Science Department
EXSS Building, 155 North Street, Room 103
Phone: 978.665.4483
Email: mmaldar1@fitchburgstate.edu
Academic Preparation and Support
Students will meet with their advisors and are expected to consult the websites of the particular health professional schools they are interested in to determine the specific requirements for admission. This is the responsibility of the student. The information provided here and elsewhere is only intended as a general guide.
To complete the academic preparation at Fitchburg State, the following courses are recommended:
General Biology I and II: BIOL 1800-1900
Anatomy and Physiology I and II: BIOL 1200-1300
General Chemistry I and II: CHEM 1300-1400
Organic Chemistry I and II: CHEM 2000-2100*
Mathematics (Applied Statistics): MATH 1700
General Physics: PHYS 2300-2400
General Psychology: PSY 1100
Introduction to Sociology: SOC 1100
English Writing I and II: ENGL 1100-1200
*These courses are needed for pharmacy, medical, dental, and veterinary medicine programs. 
Academic preparation varies depending on your program of interest but generally includes a minimum of two semesters each of general biology, general chemistry, organic chemistry, biochemistry, general physics, and English. Additional advanced biology electives, such as cell biology, genetics, developmental biology, and microbiology are strongly recommended. Careful planning is of utmost importance to complete the required coursework in a timely manner with an excellent grade point average.
Embedded Tutoring
We are committed to supporting your academic growth, and tutoring is available for any course through the ACT. Through the Health Professions Meta Advising and Mentorship Program, we also offer embedded tutoring in key pre-requisite health profession courses in biology, chemistry, mathematics, and nursing!  The embedded tutors are linked to specific course sections, paired with faculty members, and support both individual and group academic support sessions.  
2023-2024 courses with embedded tutoring:
General Biology
General Chemistry I and II
Chemistry for the Health Sciences
Anatomy & Physiology I and II
Precalculus
Calculus I
Physics
Pathopharmacology
Special Opportunities at Fitchburg State: Get into medical, dental , pharmacy, or physical therapy school - Early!
Fitchburg State has special arrangements with Lake Erie College of Osteopathic Medicine (LECOM) in Pennsylvania, Florida, and New York where students meeting their criteria of GPA and SAT scores can apply while in high school and up to the end of their sophomore year at Fitchburg State. If accepted, they must maintain a certain GPA and course load at Fitchburg State and then will automatically be enrolled in their medical school when they graduate. 
We have additional articulation agreements with Husson University in Maine for  their Doctor of Pharmacy (Pharm.D.) program.
Fitchburg State also has agreements with MCPHS University in Worcester, MA and Husson University in Maine to allow students to earn a bachelor's degree from Fitchburg State and Doctor of Physical Therapy (DPT) from Husson University and save a full year of school as the first year of their graduate degree counts as their senior year of the bachelor's degree. 
Curriculum and Other Information
While it is recommended that students follow the BS biology/health sciences program, pre-health professional students can major in any of the available majors at Fitchburg State University. However, since many of the courses are required courses for the biology major, it is likely the student will choose to major in Biology. Careful planning is required to complete the required coursework in a timely manner with an excellent grade point average.
The B.S. in Biology with Health Sciences Concentration or B.S. in Exercise and Sports Science with a Clinical Exercise Physiology Concentration are specially designed for preparing students for admission to postgraduate programs in the health professions.