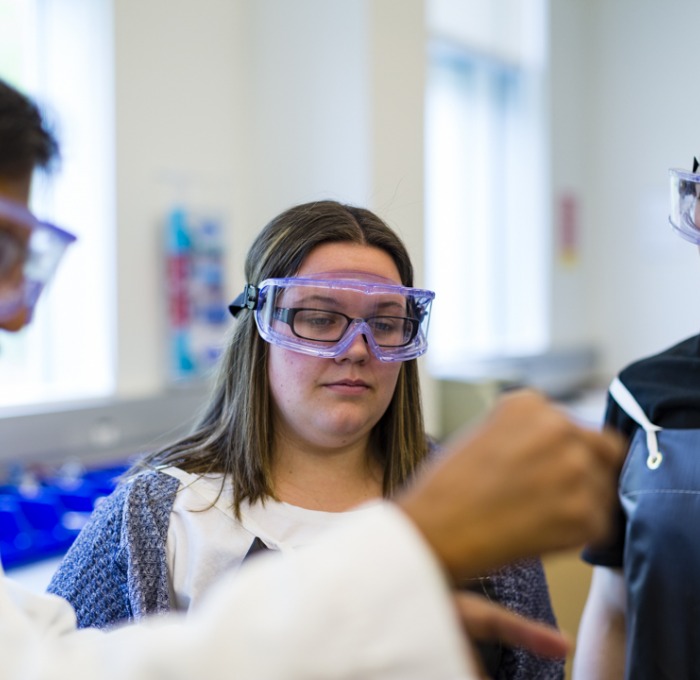 In Short
Chemistry is one of the fields in the forefront of the current technology revolution and, as such, it plays a crucial role in solving many of the problems faced by today's society.
Program Overview
Chemists work in all facets of life including the development of new drugs for treatment of diseases such as cancer, AIDS, and heart diseases; the creation of better methods for the production of food, clothing and shelter; and the discovery of environment-friendly energy sources. They also work on solving problems such as acid rain, ozone depletion and climate change.
Facilities
Chemistry occupies the third floor of the laboratory wing of the new Antonucci Science Complex.
The laboratories include:
General Chemistry Teaching Lab (308)
Organic Chemistry Lab (304)
Chemistry for the Health Sciences Lab (303)
Instrumentation Lab (306)
NMR Lab (302)
Faculty/Student Research Labs (307 and 309)
Laptop computers with the following software: Spartan, Stella, and Data Studio.
Instrumentation includes the following:
Anasazi FT-NMR Spectrophotometer with 2D-NMR capabilities
Agilent Gas Chromatograph – Mass Spectrometer with MS-MS capabilities
Buck Scientific Gas Chromatographs (4)
Perkin-Elmer Spectrum 65 FT-IR Spectrophotometer
Agilent High Performance Liquid Chromatograph (HPLC)
Agilent Ultra Performance Liquid Chromatograph (UPLC)
Thermo-Fischer Atomic Absorption Spectrophotometer
GENESYS UV-Visible Spectrophotometers (8)
Thermo Scientific Evolution 201 UV-Visible Spectrophotometer
Gamry Instruments Potentiostat/Galvanostat
Check out the Burg Blog to see more of what's happening in our department.
The chemistry program at Fitchburg provided me with a solid understanding of the fundamentals, while the close interaction with faculty allowed me to develop comprehension of advanced topics. Having ample access to the laboratory equipment and facilities also played a key role in developing my ability to conduct sound scientific work.
Daniel Montville, Ph.D., B.S. Chemistry, '00
Experiential Opportunities
Internships are a great opportunity to get valuable, real-world experiences before entering a competitive job market.
Read more about: Internships
Faculty-led study abroad course opportunities increase student life-transforming experiences, as do student/faculty cooperative research projects.
Read more about: Study Abroad
Curriculum and Other Information
Disciplinary knowledge
Students should understand and be able to apply their understanding of all chemistry sub-disciplines and use appropriate laboratory skills and instrumentation to solve problems. These areas of knowledge include:
Basic chemical concepts such as stoichiometry, states of matter, atomic structure, molecular structure and bonding, thermodynamics, equilibria, and kinetics.

Foundational knowledge and skills in analytical chemistry, biochemistry, inorganic chemistry, organic chemistry, and physical chemistry.

Foundational laboratory skills including synthesis of molecules, measurement of chemical properties, determination of structures, use of modern instrumentation and computational modeling.
Lab skills
Students should be able to demonstrate and apply foundational laboratory skills. The areas of skills include:
Basic laboratory skills such as keeping a notebook, use of electronic balances and volumetric glassware, preparation of solutions, chemical measurements using pH electrodes and spectrophotometers.

Prepare solutions, record data correctly, and perform chemical synthesis and analysis of compounds, as well as use standard laboratory equipment and programs to solve problems.
Safety
Students should be able to demonstrate and apply their understanding of the concepts of safe lab practices, and be able to evaluate and assess safety risks associated with laboratory experiences.  Students must be able to:
Carry out responsible disposal techniques

Comply with safety regulations

Properly use personal protective equipment to minimize exposure to hazards

Recognize chemical and physical hazards in laboratories, assess the risks from these hazards, know how to minimize the risks, and prepare for emergencies.

Understand the categories of hazards associated with chemicals (health, physical, and environmental)

Use Safety Data Sheets (SDSs) and other standard printed and online safety reference
Communication skills
Students should be able to present information in a clear and organized manner, write well-organized and concise reports in a scientifically appropriate style, and use relevant technology in their communications.
The Bachelor of Science degree programs in chemistry are available for students who intend to pursue graduate studies, secondary school teaching, or a professional career in the chemical, pharmaceutical, biotechnology or related industry. The programs provide a strong background in the modern areas of chemistry including biochemistry with emphasis on hands-on laboratory work. They also provide the opportunity for exceptionally talented students to conduct independent research under the guidance of the faculty. The degree programs will also prepare students for further education in health sciences such as medicine, dentistry, pharmacy, veterinary medicine, optometry and other health professions provided they take other prerequisite courses.