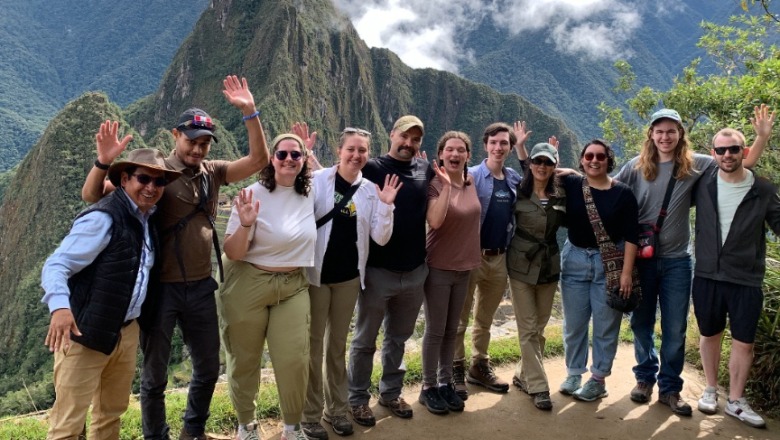 Fitchburg State University students and faculty are traveling across the globe this summer, enjoying life-changing experiences through scholarship-funded, credit-bearing expeditions.
Within days of the end of the Spring 2023 semester, students and faculty were disembarking for global destinations, including 14 students who traveled to Verona, Italy with Professor Monica Maldari of the Exercise and Sports Science Department. While in Verona, the students are taking Maldari's course on the Mediterranean diet and lifestyle (see photos on the university's Instagram page).
In addition, Professor Juane Huang of the Earth and Geographic Sciences Department led a group of students to Peru as part of a course in which they studied the intersection of social, political and environmental issues affecting the country (again, see photos from the trip on the university's Instagram page). While there, they visited Machu Picchu and toured a recycling plant and biodiesel conversion facilities that are helping to mitigate the impacts of tourism on the area. 
Many of the students enrolled in these courses received financial support to help fund their travels through Fitchburg State's Global Ambassador Scholarship program.
"Studying abroad is a powerful experience and we are honored that we are able to connect students with these life-changing opportunities," University President Richard S. Lapidus said. "Our Office of International Education works closely with faculty from across the campus to facilitate these programs that deepen student learning in profound and lasting ways."
A dozen students recently arrived in Japan with Associate Professor Jon Amakawa of the Communications Media Department connected to a course on arts and game design (as part of a partnership with UMass Lowell). Another group of students will travel to Spain in July with Associate Professor Felicia Farron-Davis and Assistant Professor Scott Tyner of the Education Department for a course on facilitating English language instruction.
Earlier this year, students traveled to the Netherlands, Germany and Poland with Professor Joshua Spero of the Economics, History and Political Science Department to study the Heart of Europe, while another group traveled to Milan, Italy with Professor Renee Scapparone of the Business Administration Department as part of a class on luxury brand management.
Learn about Fitchburg State's study abroad opportunities at fitchburgstate.edu/academics/undergraduate-academics/study-abroad, which include faculty-led programs as well as those offered through partner agencies.