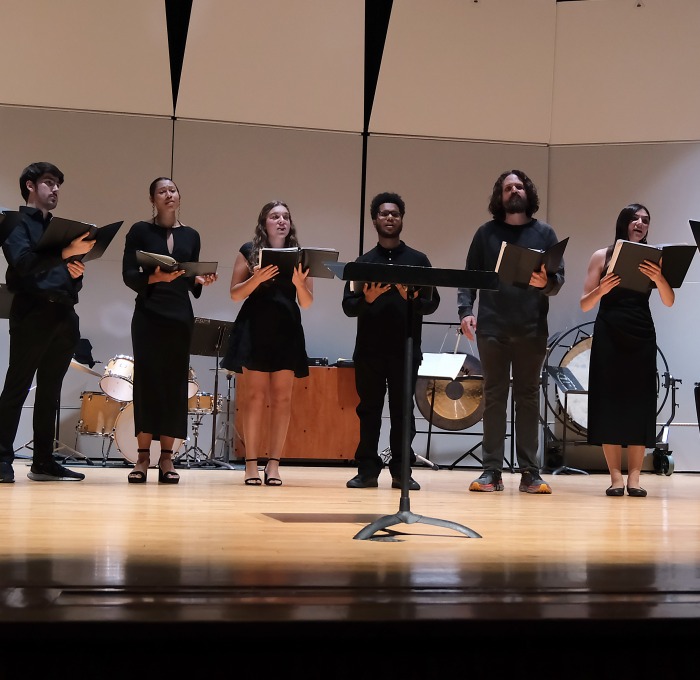 Fitchburg State Choirs welcome all students to be choral singers at Fitchburg State University. We are dedicated to creating a warm community of musical excitement and excellence, performing a wide variety of choral music from many genres, periods, and traditions. No matter your level of musical experience, there is a place for you in the Fitchburg State Choirs.
Concert Choir
Concert Choir is a large non-auditioned choral ensemble open to all members of the Fitchburg State community. This group is a reflection of the diverse talents and interests represented here on campus, and performs in two major concerts each year.

Rehearsals: Monday and Wednesday, 3:30 p.m. - 4:45 p.m., Weston Auditorium
Chamber Choir
Chamber Choir is the premiere choral ensemble at Fitchburg State, open to all students by audition each semester. The Chamber Choir focuses on a cappella music from a wide array of periods and traditions. This ensemble performs in two major concerts each year, as well as a wide variety of performances on and off campus. Singers interested in auditioning for Chamber Choir should contact Dr. Jonathan Harvey at jharvey8@fitchburgstate.edu.

Rehearsals: Monday and Wednesday, 2 p.m. - 3:15 p.m., Weston Auditorium 
To Join
Please contact the Registrar's Office to enroll in Concert Choir (MUSC 2320). Chamber Choir (MUSC 2330) is open to students by audition and approval of the instructor.
Stay in touch with the Fitchburg State Choirs!

@FitchburgStateChoirs on Instagram
@FitchburgChoirs on Twitter
Joining the choir helped me fall in love with music in a way I didn't know was possible. With the help of Dr. Harvey and other choir members, I have become a much better singer than I thought I could ever be.
Juan Pablo Casilla Nicodemus '23
Concert and Chamber Choir Performances
Choir helped me find my voice again, and it has been a space where I've felt I belong. Chamber Choir in particular has shaped my voice in a way I never thought I would achieve.
Kaylyn Violette '25
Contact us
If you have any questions, please contact our Director of Choirs, Jonathan Harvey.