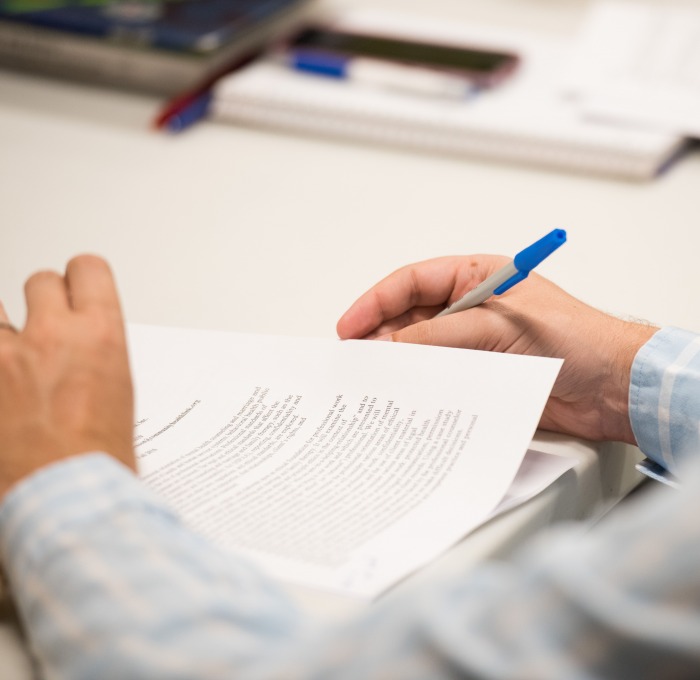 In Short
Provides you with the business skills and management knowledge necessary to become leaders in management.
We've got you covered
What will I do?
Develop strong analytical skills and informed decision making for professional environments 
Learn social responsibility and sensitivity to cultural diversity as it relates to the broadening world market
What we're working on
We're building the next generation of successful community leaders.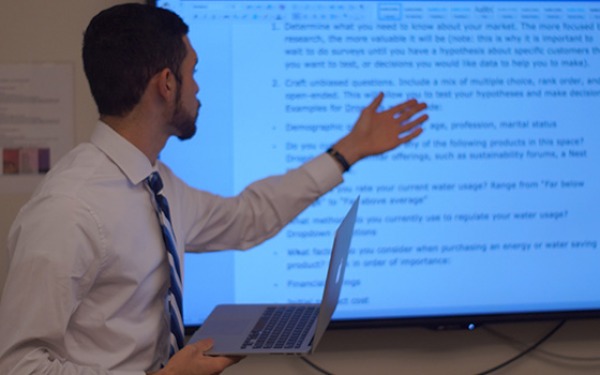 Get your career on track with a Fitchburg State MBA. Expand your options for employment in the business world -- learn more about our Master of Business Administration, management concentration.
Program Overview
The on-campus MBA program offers both on-campus and 15-week online courses.

If you're enrolled in the MBA program and have a GPA of 3.00 or higher, you may request to enroll in one additional concentration. You may choose a dual concentration option after your first semester. If you've been approved for a dual concentration option you must complete the course requirements for each concentration. Courses completed can only be counted once towards one concentration. If you're approved for a dual concentration then you will be required to meet the requirements for the catalog year in which your dual concentration is approved.
All concentrations are eligible for the dual concentration option.
Dual Concentration Options
Students in a dual concentration will complete a total of 39 credits.  Courses completed in the program can only be applied towards one required course in the program or concentration. Students seeking a dual concentration must complete a Dual Concentration Request Form (PDF).
---
Career Opportunities
Project Management
Information Systems Management
Public Management
Operations Management
Plant Management
Strategic Planning
Consulting and Entrepreneurship
---
Program Highlights
---
Total Credits
30 credits
---
Time Frame
While you can complete the program in as few as 2 years, you have 6 years to complete the program.
The MBA program inspired me to return to school. It provided me with a quality education in management related issues and expanded my career opportunities. I highly recommend this excellent, interactive learning experience.
John Donnelly, '16
Degrees and Other Information
Students will be able to demonstrate well-developed problem solving skills including the ability to recognize problems; analyze uncertain situations; interpret and use data and evidence in drawing conclusions; develop alternative solutions, and adapt and innovate in new setting.
Students will be able to integrate theory and practice across business functional areas and employ appropriate decision-support methods for the purpose of strategic analysis, planning, implementation, and control.
Students will be able to articulate the major theories and concepts in the areas of accounting, finance, management, and marketing.
Students will be able to employ and apply appropriate technical and quantitative techniques and methods in the analysis of real-world business situations.
Students will be able to communicate to relevant audiences, including the composition of clear, consistent, and effective written forms of communication and the composition and presentation of effective oral business presentations.
Students will be able to demonstrate well developed organizational, leadership, and teamwork skills for the effective implementation of organizational policy.
Students will be able to identify and analyze the ethical obligations and responsibilities of business.
Students will be able to identify the opportunities and challenges of globalization and apply managerial skills to global business issues.
Students will demonstrate strategic level knowledge of the fundamental activates of business management and apply critical thinking skills to managerial decisions.
Students will be able to demonstrate competencies in effective change management that drive measurable business results.
Completed applications are reviewed on a rolling admission basis. Admissions requirements are as follows:
Official transcript of a bachelor's degree from a regionally accredited institution
Official transcripts of graduate level course work from a regionally accredited institution (if applicable)
Online Graduate application and fee
Professional resume
If undergraduate GPA is less than a 2.8, One Letter of Recommendation will be required.
If you're an international applicant, you may be required to demonstrate English language proficiency and complete a transcript credential evaluation. For the most up-to-date information on applying and deadlines, please visit International Admissions. 
Still have questions? We're here to help!
We know you're busy, so we've given you a few different options to conveniently get the answers you need. You can…
Connect with us