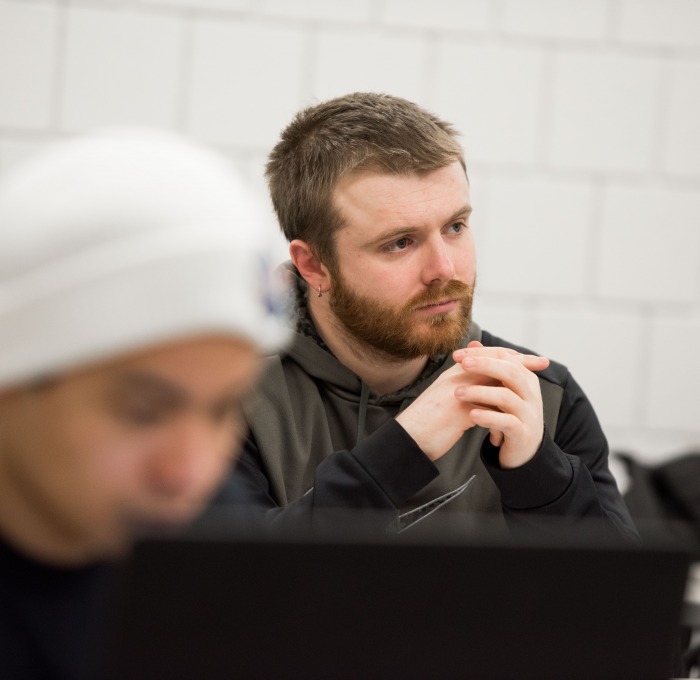 In Short
The management major prepares students to take a responsible position within the world of business equipped with a knowledge of accounting theories, policies, and procedures.
We've got you covered
What will I do?
Succeed in your chosen field - within six months of graduating, more than 93 percent of business graduates have found employment.
Get job placement - 83 percent of our graduates report finding full-time positions within six months of graduation, with an average salary of $42,000.
Graduate with long-term prospects - the skills, knowledge base and adaptability you acquire during your time on campus prepare you for the inevitable changes in the marketplace. Through coursework and co-curricular experiences, you can prepare for the one constant in your professional life: change.
Ranked among the Best Online Bachelor's Programs
by U.S. News & World Report.
Nationally ranked by Intelligent.com as one of the Top 60 Online Bachelor's Degrees in Business Administration based on the program's reputation, course strength and flexibility.
The job growth outlook for agents and business managers of artists, performers, and athletes through 2030 is 46%, with 8,600 new jobs in the field. This comes with a median annual wage of $116,410.*
Program Overview
The business administration curriculum is based in the liberal arts, coupled with professional courses and a variety of practical business experiences including the opportunity for experiential learning through internships, structured to give the participant an opportunity to apply the theory of the classroom to a specific work experience.
Accreditation
The graduate and undergraduate business administration programs at Fitchburg State University are accredited by the International Accreditation Council for Business Education (IACBE), located at 11374 Strang Line Road, Lenexa, Kansas, USA. The International Accreditation Council for Business Education (IACBE) is among the premier professional accreditors for business programs in student-centered colleges and universities throughout the world. The IACBE exists to promote, develop, and recognize excellence in business education. The IACBE accredits business degree programs in colleges and universities through the United States and internationally. The Business Administration Department acknowledges public notification of accreditation by IACBE and adheres to  Public Disclosure of Student Achievement.
*View the Bureau of Labor Statistics, Occupational Employment and Wage Statistics for Agents and Business Managers of Artists, Performers, and Athletes (visited May 20, 2022).
My internship at Fitchburg State was the beginning of my professional life. My program gave me the tools to step out into industry.
Mike Deitmeyer, '86, President of Omni Hotels
Experiential Opportunities
The Business Administration Department Internship Program provides you with an opportunity to gain practical experience in your major field of study. Any student may
apply for an internship assignment
. Your acceptance into the program depends on the availability of positions, your qualifications, and the department's ability to monitor the assignment. The Internship Directors, members of the Business Administration Department faculty, are responsible for the planning, organization and implementation of the Internship Program.
Read more about: Internships
Another opportunity available for Management majors is the opportunity to study abroad and you can do this one of three ways: short-term faculty-led programs, exchange/direct enroll programs, and outside provider-led programs.
Read more about: Study Abroad
Curriculum and Other Information
Students who graduate from the Business Administration program are equipped with a knowledge of business theories, policies, and procedures based on the following learning  outcomes:
Students will be able to integrate the major concepts in the functional areas of business to formulate informed decisions.
Students will be able to analyze the legal, social, and economic environments of business.
Students will be able to describe the global environment of business.
Students will be able to distinguish the legal and ethical obligations and responsibilities of business.
Students will be able to apply decision-support tools to business decision making.
Students will be able to demonstrate effective oral and written forms of professional communications.
Students will be able to collaborate and work in teams to solve business problems.
Business Manager
Customer Service Manager
Entrepreneur
Healthcare Manager
Hotel Manager
Manager/Executive
Marketing Manager
Non Profit Organizations
Retail Manager
Sales Manager
Sports Manager