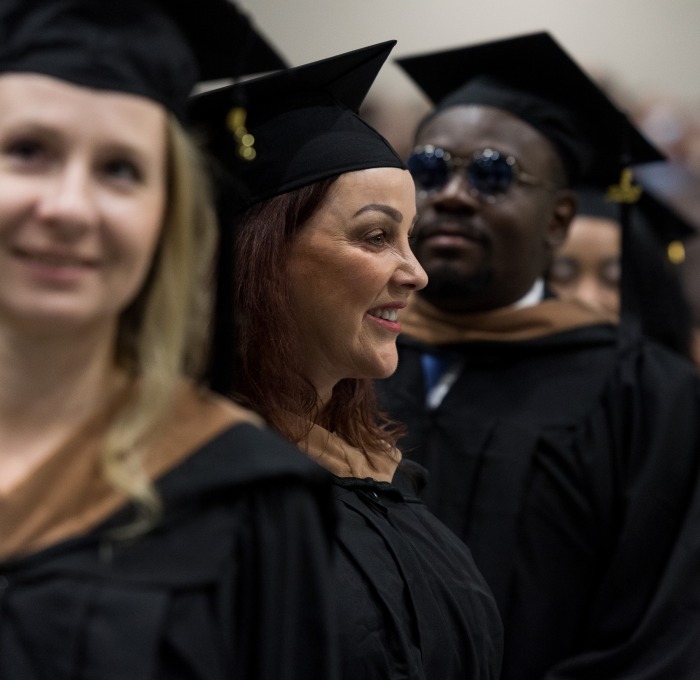 Get your career on track with an MBA
Expand your options for employment in the business world -- learn more about
our Master of Business Administration.

Request Information
The Master of Business Administration (MBA) Programs at Fitchburg State are designed to provide students with the skills and knowledge necessary to become leaders in business. Regardless of the specialization path you choose, we'll help you succeed in today's changing business market. Our courses offer the following features:
Classes offered in a cohort learning format — small groups provide maximum interaction with both peers and faculty
Classes designed and taught by full-time faculty and working professionals
24/7 tech support and online help desk
Web-based Blackboard technology — check out our demo online course
Students enrolled in the MBA program may request to enroll in one additional concentration if they are currently enrolled and have a GPA of 3.00 or higher. Students may choose a dual concentration option after their first semester. Students who have been approved for a dual concentration option must complete the course requirements for each concentration. Courses completed can only be counted once towards one concentration. Students approved for a dual concentration will be required to meet the requirements for the catalog year in which their dual concentration is approved.

The management and human resource management concentrations cannot be combined as a dual concentration option. Therefore, dual concentration options are:
Management/Accounting
Accounting/Human Resources Management
Students seeking a dual concentration must complete a Dual Concentration Request Form (PDF).
B.S. Business Administration and MBA
Students may take up to 6 graduate credits in the MBA 15-week campus-based program after reaching 90 credits in their undergraduate program. These 6 credits can be transferred into the online accelerated MBA if students choose to move to that program after the completion of their undergraduate degree. Students can complete their MBA program in under 12 months, saving time and money. Students must maintain an undergraduate GPA of 3.5 to be eligible. 
Students may apply to this program at the time of admission to their bachelor's degree or up until they have earned 90 or fewer credits. Current undergraduate students who wish to apply must complete the 4+1 program change form and forward to their advisor for approval. 
On-campus MBA degrees
Learn about our 100% Online MBA programs
100% Online Graduate Business Certificates