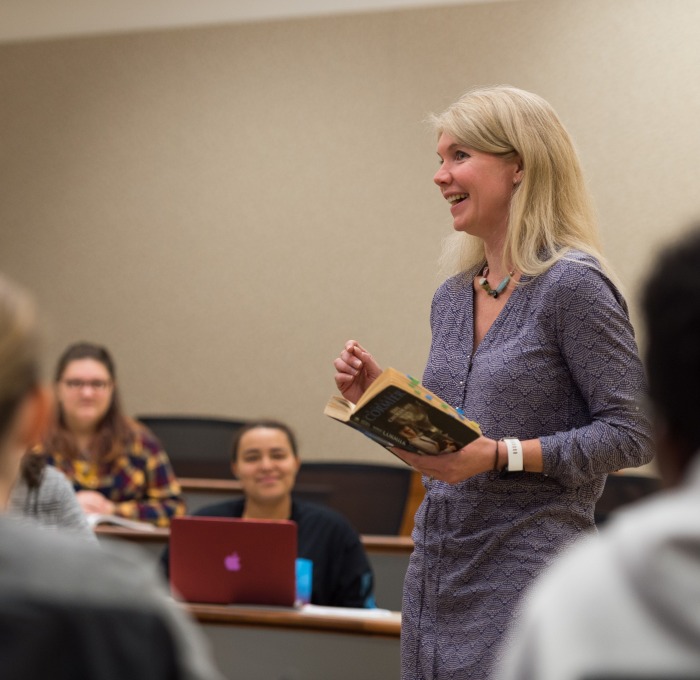 In Short
Introduces a graduate study in literature, culture, and teaching, connecting you to a diverse and impressive community of teachers, scholars, and writers.
We've got you covered
What will I do?
Explore major literary theories and the history of English as a discipline
Bridge the gap between cutting-edge scholarship and classroom practice
Enable practicing teachers to expand strategies for teaching literature through the application of current modes of criticism
What we're working on
We're shaping tomorrow's most dedicated English teachers and the brightest literary minds. 
Program Overview
The program has the following two possible emphases: (1) Literature and (2) Teaching. Students in each emphasis may take courses in both literature and teaching. This is a 30-credit program, including either 24 credits of coursework and 6 credits of thesis work, or 30 credits of coursework and an exit exam. 
The English MA's Literature emphasis intends to offer advanced graduate work in literary and cultural studies, featuring a range of diverse canonical and non-canonical authors and texts across multiple genres and media, connections to multiple academic and professional futures, and the opportunity to produce a culminating MA thesis. 
The English MA's Teaching emphasis develops the scholar-teacher by building on candidates' academic and professional experience to develop a strong specialization in traditional and newer canons of English literature and in the theories and methodologies for teaching English. Students have the opportunity to produce a culminating pedagogical action research thesis. Completion of this degree enables the teacher with an initial teaching license to self-petition to the Department of Elementary and Secondary Education (DESE) for professional licensure in the state of Massachusetts.
The Masters of Arts in English degree provides specialization in the study of the traditional and newer canons of literature, literary theories, and research writing. It is created for students pursuing careers in literary studies, writing, research and community college or college teaching. It provides a background for students planning to go on to doctorate programs. The program bridges teaching and scholarship by studying canons of literature alongside theories and methods for teaching English in middle and secondary schools.
---
Time Frame
While you can complete the program in as few as 3 years, you have 6 years to complete the program.
---
Career Opportunities
English teacher in middle or secondary schools
Writer
Literature or Research Specialist
Curriculum and Other Information
Completed applications are reviewed on a rolling admission basis. Admissions requirements are as follows:
Official transcript of a bachelor's degree preferably with (but not limited to) a major or minor in English from a regionally accredited institution
Three letters of recommendation
Professional resume
Official transcripts of graduate level course work from a regionally accredited institution (if applicable)
Graduate application and fee
Still have questions? We're here to help!
We know you're busy, so we've given you a few different options to conveniently get the answers you need. You can…