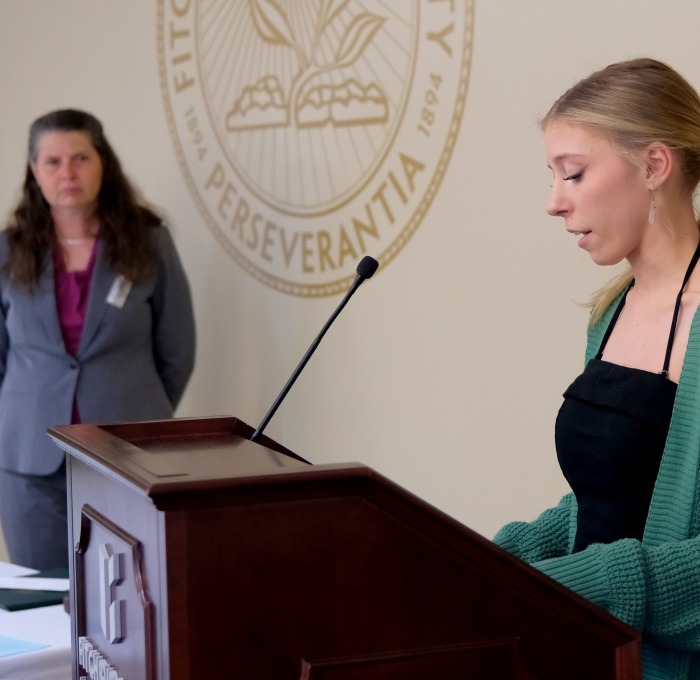 The department of English Studies offers yearly scholarships to qualified students. All English Studies majors who meet the criteria for a scholarship are voted upon by English Studies faculty, and students will be notified when they have been selected or if more application materials are required. Two awards are creative writing contests: the Louis P. Shepherd Creative Writing Award and the Matti Antila Poetry Award. Majors will be notified when applications for those awards open each spring.
Scholarships
Colin Bourn '63 English Scholarship ($500)
The Alumni Office awards the Colin Bourn Scholarship to a qualified undergraduate English major demonstrating academic excellence.
Louis Shepherd Memorial Scholarship ($500)
The Louis P. Shepherd Memorial Scholarship Award is presented to two qualified students who demonstrate outstanding performance in the Middle and Secondary Education or Professional Writing concentrations in English Studies. The scholarship was created by friends, family, and students in honor of Dr. Louis Shepherd, a dedicated professor of English at Fitchburg State (1952-1985). The prize is made possible by the Ruth and Louis Shepherd Fund for Teaching and Writing.
Patricia A. Hess Memorial Scholarship ($500)
The Patricia A. Hess Scholarship is awarded to a non-traditional female student. The candidate must be an undergraduate English Studies and/or History major with at least 30 earned credits.
Robert E. Cormier Memorial Scholarship ($500)
The Robert E. Cormier Scholarship in Literature for Young Adults is intended to promote excellence in the study and teaching of literature. The scholarship is awarded to two English Studies juniors demonstrating excellence in either the Secondary Education or Literature concentration. The award commemorates Robert E. Cormier, a premier writer of young adult literature and the author of such classic American novels as The Chocolate War and I Am the Cheese.
Department of English Studies Scholarship ($250)
The English Studies Department Scholarship is awarded to deserving a student for their promise in the discipline and demonstrated love of literature.
Leo J. Hines Memorial Scholarship ($100)
The Leo J. Hines Memorial Scholarship was established in honor of Leo J. Hines, a professor of Medieval and Renaissance Studies (1969-1988). The Award is presented to a student demonstrating academic excellence, who can "exemplify some of the zeal of Chaucer's Oxford Clerk, who took most care and heed of study, as well as the distinction of Castiglione's Courtier, who possessed courtesy of behavior, excellence in discourse, and wit and vitality in both speech and action."
Awards
Dr. Nancy R. Kelly '80 Memorial Award ($800)
The Dr. Nancy R. Kelly '80 Memorial Award is given to an English Studies Middle and Secondary Education graduating senior who demonstrates persistence, determination, empathy, and promise as a future English educator. The student must also have done meaningful community service. Recipients must hold a cumulative grade point average of 3.0 or higher.
Louis P. Shepherd Creative Writing Award ($250)
The Shepherd Award in Creative Writing is named in honor of the late Louis P. Shepherd, a longtime English professor at Fitchburg State. Funding for the award is made possible through a gift from Professor Shepherd's wife, Ruth, and his daughter, Rae Shepherd-Shlechter. To apply, English Studies majors should submit a minimum of two and a maximum of five pieces of writing. The writings may be short stories, novel excerpts, poetry, nonfiction, or drama.
Matti Antila Poetry Award ($100)
The Matti N. Antila Poetry Award is funded by Lauri and Signe Sipila in memory of Signe's parents, Matti N. and Fanny P. Antila. English Studies students can apply by submitting one or more of their best poems.
English Studies Prize ($100)
The English Department Prize is given to an outstanding senior who has demonstrated/accomplished the following:
Excellent academic performance
Superb scholarly skills
A high grade point average
A love of literature
Significant community contributions to the English Studies Department
High School Writing Contest
The English Studies department hosts an annual high school writing competition open to regional schools. Student essays are due in late January with the essay topic announced in October. Please contact Dr. Wendy Keyser for further details on the contest.
See some photos from our recent English Studies Writing Awards ceremony.