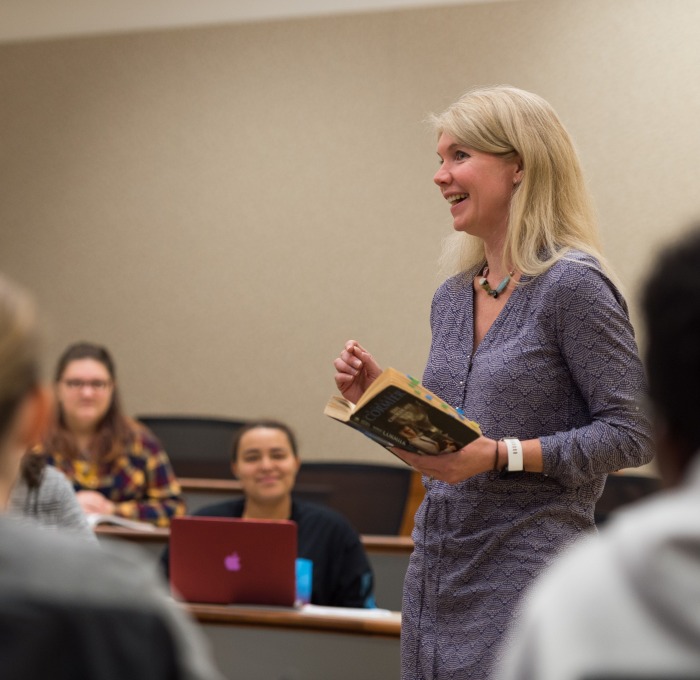 In Short
A graduate study in literature, culture, and teaching that connects you to a diverse and impressive community of teachers, scholars, and writers.
We've got you covered
What will I do?
Explore major literary theories and the history of English as a discipline
Study diverse voices from across the globe and over many different time periods from Medieval Literature and Shakespeare's Major Plays to 20th Century Women's Fiction and Africa through the Novel
Bridge the gap between cutting-edge scholarship and classroom practice
Enable practicing teachers to expand strategies for teaching literature through the application of current modes of criticism
Program Overview
The MA program grounds students in periods, genres, theories, and canonical authors, while at the same time paying attention to contemporary issues and developments in the discipline. Our program includes a strong representation of ethnic, multicultural, and world literature via film, graphic novels, and digital literature in addition to covering canonical English language literature. The program has the following two possible emphases: (1) Literature and (2) Teaching. Students in each emphasis may take courses in both literature and teaching. This is a 30-credit program, including either 24 credits of coursework and 6 credits of thesis work, or 30 credits of coursework and an exit exam. 
The English MA's Literature emphasis offers advanced graduate work in literary and cultural studies, featuring a range of diverse canonical and non-canonical authors and texts across multiple genres and media, connections to multiple academic and professional futures, and the opportunity to produce a culminating MA thesis. The MA is tailored for students interested in literary studies, writing, research, or college teaching and provides a background for those planning to go on to doctorate programs.
The English MA's Teaching emphasis develops the scholar-teacher by building on candidates' academic and professional experience to develop a strong specialization in English language literature and in the theories and methodologies for teaching English. Students have the opportunity to produce a culminating pedagogical action research thesis. Completion of this degree enables the teacher with an initial teaching license to self-petition to the Department of Elementary and Secondary Education (DESE) for professional licensure in the state of Massachusetts.
---
Time Frame
While you can complete the program in as few as 3 years, you have 6 years to complete the program.
---
Career Opportunities
English teacher in middle or secondary schools
College professor
Writer, editor, or publisher
Literature or research specialist
Curriculum and Other Information
Ethnic, multicultural, and world literature
ENGL 9048 Multicultural Children's Literature
ENGL 9061 Africa Through the Novel
ENGL 9064 Three American Literatures: Native American, African American, and Asian American
ENGL 9066 Latin American Novels
ENGL 9067 Asian English Literature in Cultural Context
ENGL 9004 Contemporary Ethnic American Literature
American and British literature
ENGL 9011 The Literature of the Middle Ages
ENGL 9020 Shakespeare's Major Plays
ENGL 9035 Revisiting the Romantics
ENGL 9040 Mark Twain and American Humor
ENGL 9052 20th-Century British and American Poetry
ENGL 9055 Modern Irish Literature
ENGL 9026 American Satire
Gender and cultural studies
ENGL 9060 Women Writers Around the World: Stories of Maturation and Initiation
ENGL 9025 Romantic Women Writers
ENGL 9036 The Quiet Revolution: 19th-Century American Women Writers
ENGL 9047 Women in European Literature
ENGL 9065 Women in Contemporary Society
ENGL 9072 British Representations of Disability and Disease
ENGL 9023 Women in World Cinema
Literature and media
ENGL 8085 Literature and Film
ENGL 9015 Folklore in American Culture
ENGL 9017 Genre, Adaptation and Hybridity
ENGL 9046 American Art and Literature 1800-1860
ENGL 9044 Graphic Novel as Literature
ENGL 9003 Resisting the Page: Media Conscious Literature
Teaching
ENGL 7010 Children's Literature
ENGL 7012 The Modern Secondary School
ENGL 7020 Teaching College Writing
ENGL 7850 Advanced Special Methods in English
ENGL 8000 Advanced Methods of Teaching at the Secondary Level
ENGL 8070 Literature in the Classroom
ENGL 8071 Literature for Young Adults
ENGL 8076 Creating Literacy Experience: Building Reading and Writing into the Content Areas
Our graduate student theses cover a wide range of topics and interests using literary, cultural, or rhetorical frameworks. Students develop their research projects with the liberty to follow their own inquiries and the security of faculty support. Some thesis titles of recent graduates include:
The Merry War: Love and Courtship in Much Ado about Nothing and Cinematic Adaptations by Joss Whedon
20th Century/Current Asian-American Writers and Motherhood
Sensibility, Sexuality, and the Woman in 18th Century Literature
The Battle for your Hearts and Minds: The Occupation of Iraq, information warfare, and American war culture
Protest and Promotion: Hip Hop's Oral Narratives of the Black American Identity Crisis
Native American Hybrid Leaders: Layers of Feminine Identity with the First Native American Women Writers Sarah Winnemucca and Mourning
Rage and Redemption in Boxing Films and Literature: An Analysis
Tomboys in the American South
As a graduate journal, The Falconer has published student and alumni essays and articles since 2010 since replacing our previous journal, The FSC Review. Journal volumes are thematically defined. Our most recent volume themes were:
Romantic Women Writers
Analyzing 21st Century America
Fringe Literature
American Art and Literature 1800-1806
Satire
The Art of Memory
You can view an archive of our graduate journals.
The English Studies department hosts a Graduate Colloquium series featuring talks by faculty, graduate students, alumni, and guest speakers. Some of our recent talks include:
Dr. Wafa Unus "Facts are not Truth: Why Journalism Education and Media Literacy Matter"
Dr. Kisha Tracy "Cultural Heritage, Image, and the Student of the Pre-Modern" 
Dr. Diego Ubiera "Critical Pedagogy and Paulo Freire's Pedagogy of the Oppressed" 
Dr. Steven Edwards "Critical Exploration: A Pedagogy of Listening" 
Dr. Albert Turner "Resistance Made Futile – African-American Vigilantism in the Post- Civil Rights Era Fiction of John Edgar Wideman, Chester Himes, and Toni Morrison"
Ross Caputi "Theory of Reparations: Extending Praxis to Theory"
Dr. Benjamin Railton "History, Hope, and Critical Patriotism in American Literature"
Dr. Heather Urbanski "Joyful Disruption: Narratology and the Science Fiction and Fantasy Franchise"
 
Students will produce graduate-level scholarship in the study of literature and culture.
Students will research and respond to fellow literary and cultural studies scholars.
Students will develop a wide range of literary knowledge, including a global perspective.
Students will polish and expand their writing style and techniques.
Students will explore major literary theories and the history of English Studies as a discipline.
Students will refine and expand their pedagogical philosophies and practices.
Completed applications are reviewed on a rolling admission basis. Admissions requirements are as follows:
Official transcript of a bachelor's degree preferably with (but not limited to) a major or minor in English from a regionally accredited institution
Three letters of recommendation
Professional resume
Official transcripts of graduate level course work from a regionally accredited institution (if applicable)
Graduate application and fee
Still have questions? We're here to help!
We know you're busy, so we've given you a few different options to conveniently get the answers you need. You can…