Join Professor Jane Huang in Peru to study the interactions of humans and the environment.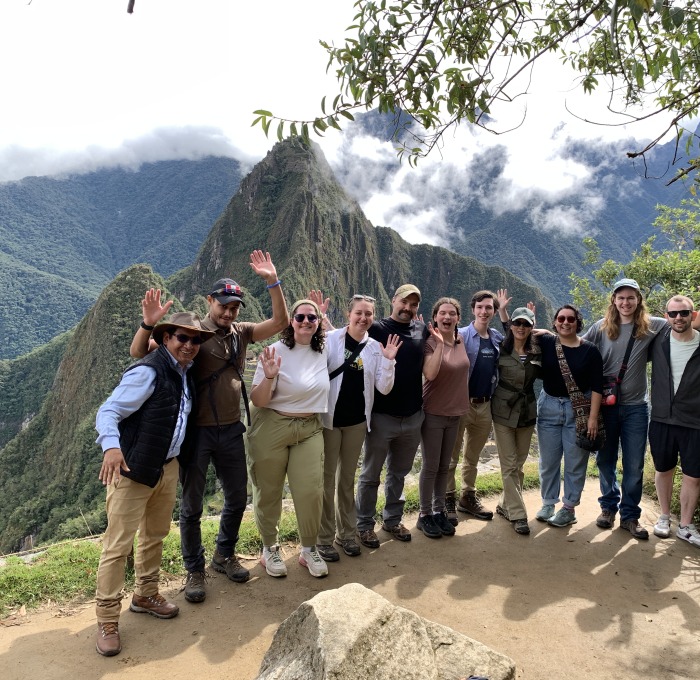 May 2025
Total Estimated Price (based on 2023 and subject to change): $3,510
PAYMENTS ARE NON-REFUNDABLE.
Students should apply for the Global Ambassador Scholarship in October 2024 on Academic Works and will find out what/if they received the scholarship before the first payment due date.
Includes: Flights, accommodations, on the ground transportation, some meals are included, flights from Lima to Cusco, insurance, on-site staff, 24/7 emergency support. Doesn't Include: Personal expenses, some meals
First Payment: December 2024 = $1,170
Second Payment: January 2025 = $1,170
Third Payment: February 2025 = $1,170
LAS Attributes: IHIP, DP, PL, GDCN, and/or SMT
Join Professor Jane Huang in Peru to study the interactions of humans and the environment. This Maymester course (3 credits) features a two-week study abroad program to Peru in May 2023. Students will study the interaction of humans and the environment in Lima and Cusco, Peru and conduct a community-based mapping project using geospatial technologies, specifically, GPS (Global Positioning System) for hands-on field surveys and GIS (Geographic Information System) for data processing and map production. Students will experience the incredible culture, history, and interaction of humans and the environment when they visit the beautiful beaches and award-winning community facilities and witness some of the most extraordinary human-impacted landscapes. Students will have the opportunity to visit Machu Picchu (a UNESCO world heritage site). They will also meet B-Green and LOOP (Life Out Of Plastic), the pioneer environmental organizations in Peru and learn about sustainable consumption and communities.
Students from all majors and years should apply.
GEOG 2007 Environment and GIS Mapping in Peru (CRN 36538, 3 Credits, M W at 2 p.m.)
Students meet after-spring break for this hands-on and outdoor-oriented course. They will learn to use GPS to conduct field surveys on campus and in the Fitchburg area. They will apply navigation skills, play geocaching games, process GPS data, and produce maps in a GIS. They will also go on field trips and have guest lectures. The course will provide intro-level training in geospatial technologies and prepare students for the program to Peru. Students may use this course as a prerequisite for upper-level GIS courses and as an elective for the GST, GIS, EES, and PHS major/minor requirements. The course counts for IHIP, DP, PL, GDCN, and/or SMT requirements.
Sample Itinerary* (based on 2023 and subject to change)
May 23
Flight departs from Boston and arrive at Lima, Peru
May 24
Historic Downtown Tour (Guided)
Museo Larco Tour (Guided)
May 25
Municipalidad de Surco Recycling Plant (visit subject to change)
Guest Lecture with Micaela Venancio from BE GREEN/LOOP NGO
May 26
Beach Clean-up with LOOP and BE GREEN NGO
Miraflores and Barranco Walking Tour (Guided)
May 27
Flight to Cusco
Coach to Ollantaytambo
Train to Aguas Calientes
May 28
Public shuttle bus to Machu Pichu
Guided Tour of Machu Picchu
May 29
Recycling plant of AJE in Aguas Calientes
Train to Ollantaytambo
Coach to Cusco
May 30
Cusco City Tour (Guided)
Guest Lecture with Dr. Ortega
May 31
River Visit with Dr. Ortega
Landfill Visit with Dr. Ortega
June 1
Depart from Lima, Peru and Arrive at Boston
Studying abroad isn't comparable to anything else. I was able to see environmental issues that I learned about in the classroom at the same time as seeing a new country, trying local foods, meeting new people, and visiting Machu Picchu.
Mary Kate Moreau
GIS/Environmental Mapping in Peru 2023
Questions? Get in touch!
The Office of International Education provides assistance to international students and students studying abroad.
Hammond Hall 316