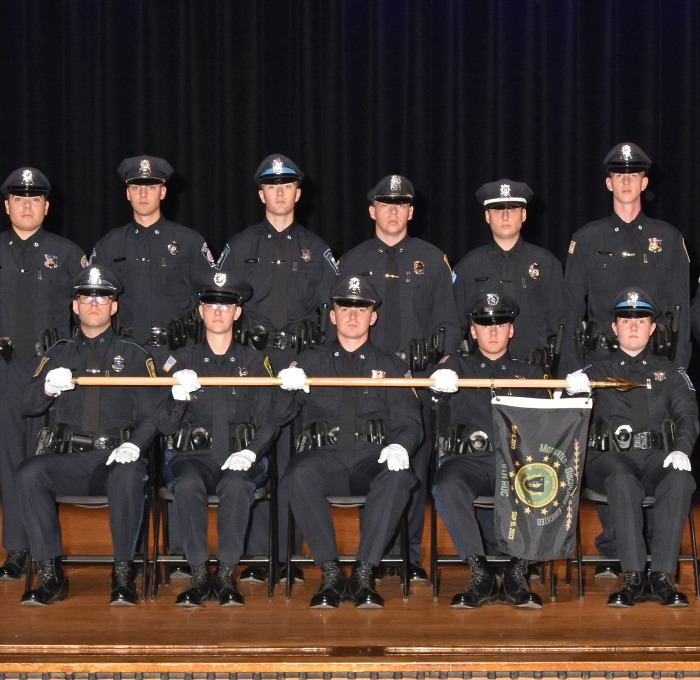 In Short
The Police Program is a one-of-a-kind model where, in 5 years total, you will obtain your bachelor's degree in Criminal Justice (BSCJ), your MPTC certification to become a full-time Massachusetts municipal police officer and your master's degree in Criminal Justice (MSCJ).
We've got you covered
What will I do?
Earn a Bachelor of Science in Criminal Justice (BSCJ)
Complete MPTC Police Academy Certification to serve as a Full-Time Municipal Police Officer in Massachusetts
Check out our campus tour to learn more about this program.
Launch Criminal Justice Program
If you're a Criminal Justice student interested in becoming full-time municipal police officer, you have the option to choose the Police Program as a concentration within the CJ major.
The Police Program is the only model of its kind in the country. We partner with, and are authorized by, the Massachusetts Municipal Police Training Committee (MPTC) to combine higher education and police training into a "4+1" educational design.
In five years, you will receive (in this order) a Bachelor's degree in Criminal Justice, an MPTC  full-time municipal police certification and a Master's degree in Criminal Justice.
Police Departments Where Our Recruits Work
| | | |
| --- | --- | --- |
| Acton | Haverhill | Portsmouth, NH |
| Ashburnham | Hopedale | Sherborn |
| Ayer (2) | Hopkinton | South Hadley |
| Belchertown | Lakeville | Stow |
| Bolton (2) | Littleton | Sturbridge |
| Bourne | Lunenburg | Sudbury |
| Clinton | Maynard | Sutton |
| Concord | Mendon (2) | UMASS Amherst |
| Fitchburg (4) | Middleboro | Walpole |
| Franklin | Nashua, NH | Waltham |
| Fitchburg State (4) | Natick (2) | Wayland (2) |
| Georgetown | Northborough | Wenham (2) |
| Groton (3) | Orange | West Brookfield |
| Harwich (3) | Pepperell |   |
Other Things to Know
You must have near perfect attendance in MPTC undergraduate classes, wear your uniform as directed, work on your physical fitness consistently, attend monthly Police Program meetings and conduct yourself with integrity and honor throughout your time in the program.
The Fitchburg State Academy is about 3-4 weeks shorter than a traditional academy because about one-quarter of the MPTC recruit curriculum is embedded in the undergraduate coursework. These courses are taught by MPTC-certified instructors.
After completing the police academy (which is worth 12 credits toward your Master's degree), you can finish the last 24 credits of your graduate degree at your pace. And all master's courses are offered online.
The Fitchburg State Academy is the only MPTC certification accepted by the N.H. State Police, N.H. Fish and Game and many other cities and towns in New Hampshire. They accept our academy in lieu of their requirement of Massachusetts' academy graduates first working in Massachusetts for at least two years.
Contact
The office is located at the McKay Complex, Room C236, please contact Academy Director Lisa Lane McCarty, llane2@fitchburgstate.edu.
For more information on the academic requirements of the Police Program, please contact Academic Coordinator and CJ Faculty Dr. David Weiss, dweiss@fitchburgstate.edu.
Experiential Opportunities
Upon completion of the Police Program, you are fully certified to serve as a municipal police officer in the Commonwealth of Massachusetts. New Hampshire also accepts our Police Program certification, while other states in the New England region are considering certification reciprocity.
All juniors and seniors in the Criminal Justice Program with an overall GPA of 2.50 or higher may avail themselves to an internship in the community, including potential placement in one of our many law enforcement agencies in the North Central region of Massachusetts. Students have also interned beyond Massachusetts, including New York state, Rhode Island, Connecticut, New Hampshire, and Washington, D.C.
Read more about: Internships
Faculty-led study abroad course opportunities increase student life-transforming experiences, as do student/faculty cooperative research projects.
Read more about: Study Abroad
Curriculum and Other Information
Enrollment in the Police Program is contingent upon successful completion of a background check which is conducted by the University police department.
Four years of adherence to all of the MPTC rules and regulations as outlined in the MPTC Student Officer Guide. This includes academic, conduct, uniform and appearance policies.
Wearing a uniform for designated Police Program classes and mandatory monthly meetings.
Meeting a specific GPA standard of 2.0 or above in all Police Program classes while maintaining an overall GPA of 2.5.
Learning to work together as a class – freshman to senior - by being placed in platoons and squads.
Exposure to Drill Instructors (DIs) who work with the police students at the mandatory meetings. This includes participating in uniform inspections and learning Drill and Ceremony in preparation for the Academy.
An opportunity to become a leader by applying for student leadership positions such as Class Leader, Platoon Leader or Squad Leader.
Participation in voluntary PT (physical training) sessions with other police students in preparation for the Academy.
Prior to beginning classes, police students are expected to have purchased the required Police Program uniform.
Uniform shirts and pants only must be purchased at the vendor designated by the Academy Director. The cost for the entire uniform is incurred by the police student.
Police students are required to purchase at least one short-sleeve and one long-sleeve 5.11 tactical blue polo shirt. Shirts will be embroidered with your name and the Fitchburg State University Police Program logo.
Police students are required to purchase at least one pair of 5.11 tactical khaki pants. 
Police students are required to wear a black leather belt with silver buckle.
Police students are required to wear black boots that will take a shine. Recommendations on boots will be provided.
Male police students must have hair that is short, neat, above the ears and off the collar. They cannot have any facial hair.
Female students must wear their hair in a tight, neat bun for all Police Program classes and for mandatory monthly meetings.
The Fitchburg State University Police Academy is an MPTC-authorized full-time municipal police academy.
Approximately one-quarter of the MPTC Recruit Curriculum is embedded into the undergraduate courses for the Police Program concentration. This is why the Academy is approximately 17 weeks.
The Academy typically begins the Monday following Undergraduate Commencement. It is held on campus except for off-site classes such as firearms training, Emergency Vehicle Operation Course (EVOC), Applied Patrol Procedures (APP), etc.
The Academy typically graduates the second week in September.
During their senior year, police students will need to pass a full background investigation, a full Commonwealth HRD physical, a Comprehensive Exam, the Massachusetts Civil Service Physical Ability Test (PAT) and the MPTC entry level standards Physical Fitness (PT) Test.  
In the spring of their senior year, police students will be required to buy their Academy equipment as designated by the Academy Director.
Police students are eligible for graduate loans through our Office of Financial Aid to pay for all of their out-of-pocket Academy expenses and for tuition for the Academy.
The Academy is worth 12 credits toward the 36 overall credits needed to complete the master's degree.
The remaining 24 credits of the master's degree are offered as online courses.
Classes are offered in the fall (following the Academy graduation), spring, and two in the summer.
Students may take the classes at their own pace, recognizing that many Academy graduates are hired and beginning Field Training at their respective police departments.