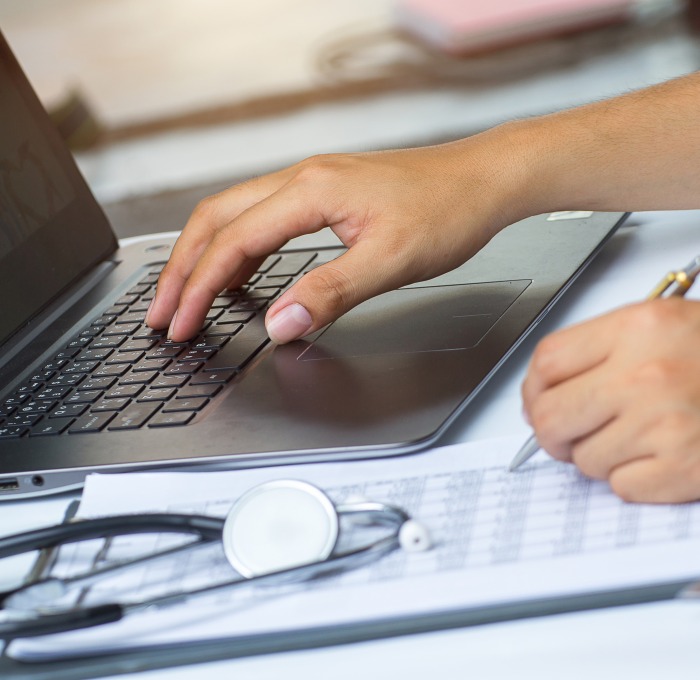 In Short
Be prepared to deal with the prevention, scientific investigation, and treatment of victims of trauma and/or death, as well as the investigation and treatment of perpetrators of abuse, violence, criminal activity and traumatic accidents with our 100% online graduate certificate in forensic nursing.
Student Outcomes
What will I do?
Acquire specialization in forensic nursing
Learn online without compromising quality for convenience
Complete a total of 360 clinical hours
Forensic Nursing Graduate Programs Online Information Session
Wednesday, July 19 at 12 p.m. (EST)
Register
Are you a registered nurse looking to pursue advanced leadership positions in the community and the health care system? Do you already hold a master's degree? Earn a graduate certificate in forensic nursing to gain a specialization in the nursing field.
Certificate Overview
This program provides an opportunity for advanced practice nurses who hold a master's degree in nursing from an accredited program to acquire specialization in forensic nursing. Forensic nursing is the application of nursing science to public or legal proceedings and the integration of the forensic aspects of health care with the bio-psycho-social education of the professional nurse.
Although you may complete this 21 credit program in as few as two years, you have six years to complete the program.
Career Opportunities
Death Investigator
Legal Nurse Consultant
Medicolegal Investigator
Advocate
Sexual Assault Nurse Examiner (SANE)
Forensic Nurse Hospital Based Expert
Risk Management Specialist
Forensic Mental Health Consultant
Curriculum and Other Information
Graduates will:
Integrate knowledge from the sciences and the humanities into the provision of advanced nursing care to diverse populations.
Design systems change strategies that improve the care environment.
Lead quality improvement initiatives that integrate socio-cultural factors affecting the delivery of nursing and healthcare services.
Integrate evidence-based strategies and interprofessional perspectives to improve practice and associated health outcomes.
Analyze current and emerging technologies to support safe practice environments, and to optimize patient safety, cost-effectiveness, and health outcomes.
Participate in the promotion of policies to improve public health and advance the nursing profession.
Employ collaborative strategies in the design, coordination, and evaluation of patient centered care.
Synthesize broad ecological, global, and social determinants of health to design and deliver population health interventions and strategies.
Students may begin this program in the fall or spring terms each year. Completed applications are reviewed on a rolling admission basis. Admissions requirements are as follows:
An official transcript of a master's degree in nursing from a regionally accredited institution
A current RN's license*
A personal statement of career goals
Professional Resume
Three Letters of Recommendation (References must be from professional sources, and one must come from a nurse academician.)
Graduate application and fee
*Applicants who reside and/or work outside the U.S. are not required to hold a U.S. RN License but instead must possess a current license from the country they reside in or in which they will complete clinical coursework hours.
The mission of the Forensic Nursing Fitchburg State University program is to prepare professional forensic nurses capable of leading and meeting the evolving societal healthcare needs in a variety of settings. In their teaching, the faculty models respect for diversity, social responsibility, and a commitment to excellence. Interprofessional, collaborative, and interactive teaching methods foster the use of critical thinking to build a strong foundation for the practice of holistic forensic nursing. Legal, ethical, and professional standards guide the faculty in teaching the art and science of forensic nursing.
Fitchburg State University Department of Nursing prepares students to assume healthcare leadership roles in the global society of the 21st century. The program uses continuous program evaluation and innovation to maintain an educational culture that fosters social responsibility, service commitment, client advocacy, and lifelong learning. Graduates are forensic nurse generalists who use critical thinking and current evidence to address problems using integrative, trauma-informed, patient-centered care to meet the evolving healthcare needs of populations and environments.
The Department of Nursing has full approval status from the Massachusetts Board of Registration in Nursing:
Commonwealth of Massachusetts
Board of Registration in Nursing
239 Causeway Street, Suite 500, 5th floor
Boston, MA 02114
Tel: 617.973.0900
Fax: 617.973.0984
In addition, the Department of Nursing is a member of the American Association of Colleges of Nursing (AACN), and the Massachusetts Association of Colleges of Nursing (MACN).
The New England Commission of Higher Education (NECHE) accredits Fitchburg State University.
Still have questions? We're here to help!
We know you're busy, so we've given you a few different options to conveniently get the answers you need. You can…