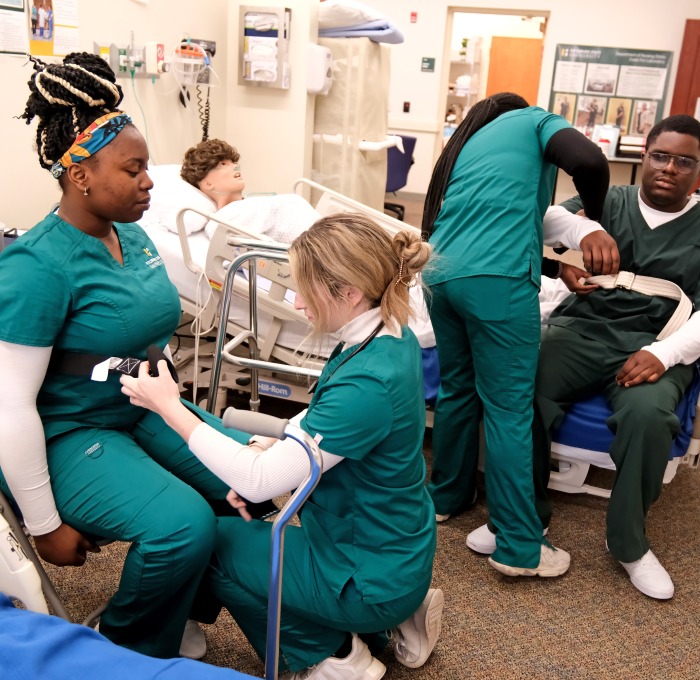 In Short
Learn science and nursing and be prepared to meet societal healthcare needs in a variety of settings.
Our graduates excel - averaging over 95% pass rate
on the NCLEX exam for the past 7 years*
Become part of our community of future healthcare employees and
fulfill your passion with a career in nursing.
 
Program Overview
The mission of the Fitchburg State University Department of Nursing is to prepare professional nurses capable of meeting societal healthcare needs in a variety of settings. In their teaching, the faculty nurtures respect for diversity, social responsibility, and a commitment to excellence. Collaborative and interactive teaching methods foster the use of critical thinking to build a strong foundation for the practice of holistic nursing. Legal, ethical, and professional standards guide the faculty in teaching the art and science of nursing.
As the first public state university in Massachusetts to offer a nursing program, Fitchburg State has a long distinguished history in nursing education. The Department of Nursing offers three undergraduate degree tracks: a four-year Bachelor of Science in nursing, an accelerated track for LPN to BS in nursing, and a RN to BS in nursing program for students with an Associate Degree in nursing or diploma and a valid RN license in good standing. The RN to BS in nursing program is an online program. The department also offers a Master of Science degree in forensic nursing.
Program Accreditation
The baccalaureate degree in nursing and master's degree in nursing at Fitchburg State University are accredited by the Commission on Collegiate Nursing Education.
---
Program Approval
Commonwealth of Massachusetts
Board of Registration in Nursing
239 Causeway Street
Suite 500, 5th Floor
Boston, MA 02114
Tel: 617.973.0900
*Data reported by the National Council of State Boards of Nursing.
My professors guided me to discover my passions. Who knew I'd study abroad in three countries or save a baby's life? If you told me four years ago I'd be walking across the stage as a confident nurse, I would have never believed you.
Isabelle Sargent '23
Nursing, BS
Experiential Opportunities
Faculty-led study abroad course opportunities increase student life-transforming experiences, as do student/faculty cooperative research projects.
Read more about: Study Abroad
Curriculum and Other Information
Nothing reflects more strongly on the Department of Nursing than the success of its graduates. For the past 3 years, 95 percent of first-time NCLEX test takers pass the licensure exam. Our alumni are qualified for entry-level positions in a variety of settings, such as hospitals, long-term care facilities and community health agencies. Graduates are in great demand in the professional job market, and many have earned advanced degrees and have progressed to leadership positions in practice, administration, research, and education.