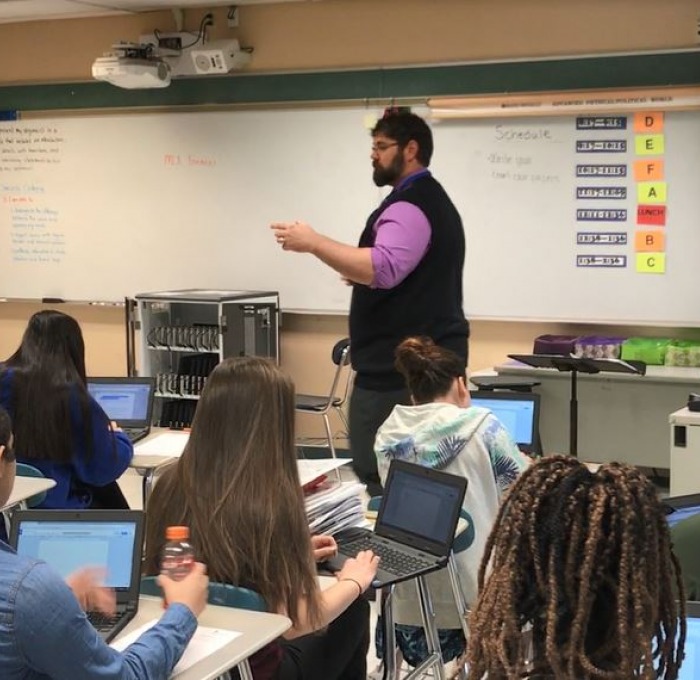 In Short
Within our English Studies major you can pursue initial licensure as a middle or high school English teacher.
Program Overview
This program provides you with a both a broad introduction to middle and high school teaching and specific instruction in the theory, research, and practice of secondary English teaching.
Throughout the program, you will engage in field-based experiences in the school setting supervised by our faculty, culminating in a formal teaching practicum.
If you're planning to teach you will have many fine models to emulate and will gain a solid grounding in both literature and in secondary school teaching methods. For practical teaching experience, you will be placed with some of the best high school teachers in the region, many of them graduates of our bachelor's or master's level programs.
Accreditation
Council for the Accreditation of Educator Preparation CAEP/NCATE
Experiential Opportunities
Whether you're looking to write fiction for our literary journal, contribute to the student newspaper, or develop lifestyle content for one of our other publications, there's so many ways to get involved.  
Read more about: Student Publications
The purpose of the student teaching practicum/internship is to provide candidates who have reached the teacher candidacy stage of their academic programs with hands-on experience in an approved school setting.    
Read more about: Practicum
Faculty-led study abroad course opportunities increase student life-transforming experiences, as do student/faculty cooperative research projects.
Read more about: Study Abroad
Curriculum and Other Information