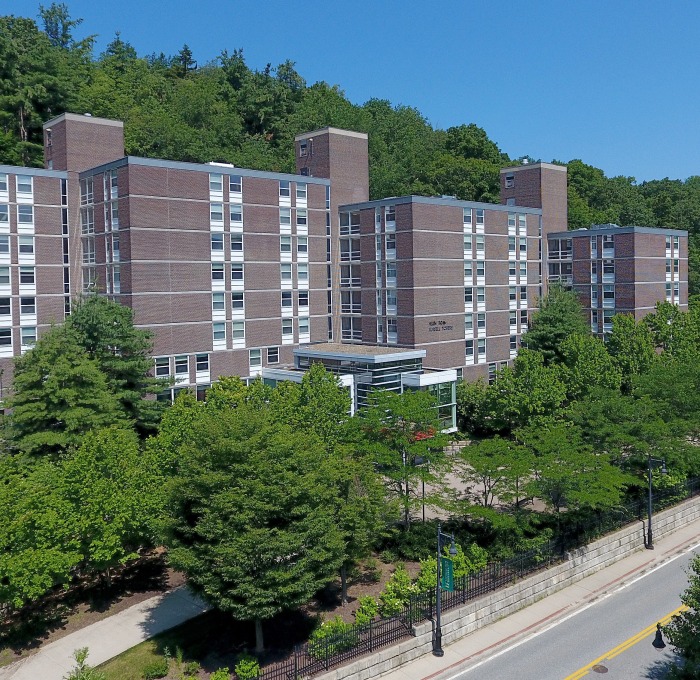 New Student Community
Russell Towers is the home to many of our new students. The creative design of the building provides a varied housing style for first year students to meet their individual needs including: single, double and triple occupancy rooms. Approximately 450 first-year students live in this nine-story building.
Russell Towers Unique Features:
4 Towers (A, B,C and D) that are interconnected creating 38 living areas
Towers A and D

Suite style, consisting of 6 rooms
Dedicated bathroom and lounge

Towers B and C includes

Common area Bathroom
Social Lounge and Study Lounge

Tower B

6 Single User bathrooms (Gender Neutral) in addition to the common area bathrooms

2nd Floor: Kitchen, TV/Social Lounge, Gaming Area
As a new student you can request a roommate, or self select into one of our Residential Learning Communities (RLCs). Roommate assignment through our housing operation system is gender based. Contact our office directly if you would like to learn more about our office support student requests to support gender identity. Living on campus the first-year of college is a great opportunity for you to learn, explore and identify your Fit at Fitchburg State!
*Housing assignments and community population are subject to change to support the overall on-campus living program. Residents are provided the opportunity to request a room change.