Science, technology, engineering and math (STEM) fields offer the highest starting salaries, best job prospects, and
predicted strong industry growth
according to the U.S. Bureau of Labor Statistics (BLS).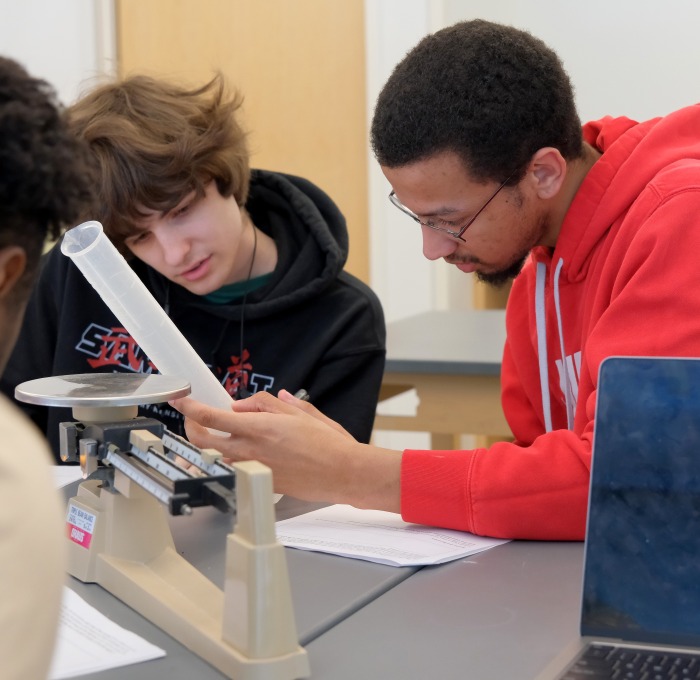 STEM Disciplines
STEM programs span many academic departments, meaning a wide range of available majors for students. See the departments below for the full list of all their majors offered here at Fitchburg State.
Hands-On Learning
Through hands-on learning opportunities such as field experience, internship, or practicum, you'll develop and hone your skills. It's your chance to take what you've learned and apply it in the real world.
Career Possibilities
Computer programmer/software developers - write and test code that allows computer applications and software programs to function properly. 
Front and back end developers - develop an application. Front-end developers focus on user engagement, experience and interface, and back-end developers concentrate on the functionality of the site or application between the database and the browser. 
Mobile app developers - design applications for mobile devices and make sure they work properly. You need the ability to code.
Web developers - build and maintain websites. Develop, create, and test websites or interface layouts, functions and navigation for maximum usability. 
Cybersecurity analysts - focus on safeguarding information and network security.
Information security analysts - plan and execute security measures aimed to protect an organization's computer networks and systems. 
IT auditors - analyze a company's network infrastructure and regularly conduct risk assessments and test for compliance.
Database administrators and architects - design or organize systems that store and secure data. 
Operations research analysts - solve business, healthcare or logistics problems by gathering and analyzing data gleaned from computer databases, sales histories and customer feedback.  
Game artists - focus on the design aspect of game development by creating virtual game worlds or designing the characters that appear in games.
Game developers - work on teams to write code for video game software. They bring video games to life on computers and gaming consoles.
Conservation scientists and foresters - study the land quality of forests, parks, rangelands and other natural resources. 
Environmental scientists and specialists - apply what they've learned in the natural sciences to protect the environment. They may clean up polluted areas, develop policies or work with companies to reduce waste.
Environmental protection technicians - work in the field as consultants for various projects from construction to clean-up efforts. 
Geophysical data technicians - draw upon their data analysis skills to better understand the earth to help locate and evaluate natural resources. 
Health information technologists and medical registrars - advise organizations, such as hospitals, on digital healthcare systems and analyze clinical data. 
Medical records specialists - compile, process and maintain patient files. 
Computer and information systems managers - plan, coordinate and oversee all computer-related activities in an organization. 
Actuaries - apply mathematics, statistics and financial theory to assess financial risk. 
Mathematicians and statisticians - analyze data and apply computational techniques to solve problems.
More Information
Visit the online course catalog for more information on all majors and minors.
If you are interested in the health professions, learn more information about our Health Professions Meta Advising and Mentorship Program. 
Visit
Come see what Fitchburg State has to offer. Visit us today! 
Got questions about STEM? Get in touch.
Dr. Jennifer Hanselman
Dean, School of Health and Natural Sciences
Thompson Hall 108
Trish LaFountaine
Administrative Assistant to Dean
Thompson Hall 108