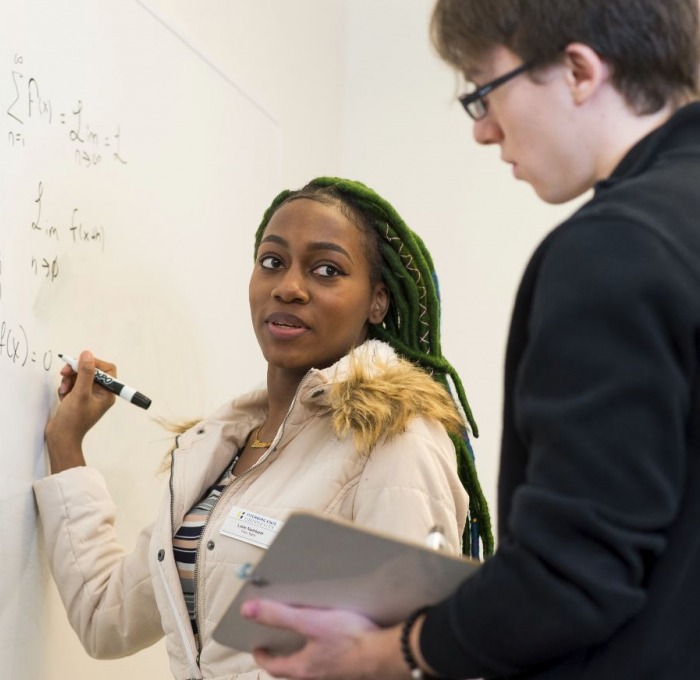 In Short
Mathematics majors receive a comprehensive foundation in abstract and applied mathematics as preparation for graduate school or a professional career.
We've got you covered
What will I do?
Develop effective thinking and communication skills
Learn to link applications and theory
Learn to use technological tools
Develop mathematical independence and experience open-ended inquiry
The job growth outlook for mathematical statisticians through 2030 is 35%, with 15,000 new jobs in the field. This comes with a median annual wage of $99,450.*
Program Overview
Students earning a bachelor's degree in mathematics take a variety of courses and have a strong background in mathematics that will lead them to a wide range of careers or graduate school. A mathematician's well-developed reasoning ability and precision can be applied in a variety of careers in business, industry, government and education. Mathematicians work as statisticians or biostatisticians, quality control analysts, financial analysts, insurance actuaries, teachers, operations research professionals, technical writers and high tech entrepreneurs. Mathematics majors are frequently preferred over computer scientists by agencies such as NASA and NSA. Professionals in all of these diverse careers are supported by the knowledge and skills they gained by having a strong background in mathematics.
*View the Bureau of Labor Statistics, U.S. Department of Labor, Occupational Outlook Handbook, Mathematicians and Statisticians (visited May 20, 2022).
Experiential Opportunities
Internships are a great opportunity to get valuable, real-world experiences before entering a competitive job market.
Read more about: Internship
Faculty-led study abroad course opportunities increase student life-transforming experiences, as do student/faculty cooperative research projects.
Read more about: Study Abroad
Curriculum and Other Information
Note: Students pursuing a bachelor of arts as opposed to a bachelor of science will also be required to obtain proficiency of a foreign language at the intermediate level. This can be done by completing appropriate coursework and/or a sufficiently high score on the CLEP exam. For more information on the CLEP go to the Placement Testing page.
Accountant
Biostatistician
Computer Programmer
Engineer
Financial Analyst
High-tech Entrepreneur
Insurance Actuary
Investment Analyst
Operations Research Professional
Quality Control Analyst
Statistician
Teacher
Develop effective thinking and communication skills
Present information in a clear, precise and organized manner both verbally and in writing.
Use and compare analytical, visual, and numerical perspectives in exploring mathematics.
Recognize and make mathematically rigorous arguments.
Approach mathematical problems with curiosity and creativity and persist in the face of difficulties.
Work creatively and self-sufficiently with mathematics.
Learn to link applications and theory
Understand and apply motivating examples that illustrate the ideas they are studying.
Apply mathematical ideas to problems in those areas of study.
See mathematical theory as useful and enlightening in both pure and applied contexts.
Recognize and integrate connections between mathematical courses and theory.
Learn to use technological tools
Use technology effectively, both as a tool for solving problems and exploring mathematical ideas.
Use technology with increasing sophistication throughout a major curriculum.
Develop mathematical independence and experience open-ended inquiry
Be able to explore mathematical ideas and problems beyond the classroom.
Explore increasingly more difficult and open-ended questions.
Speak and write about mathematics with increasing depth and sophistication.