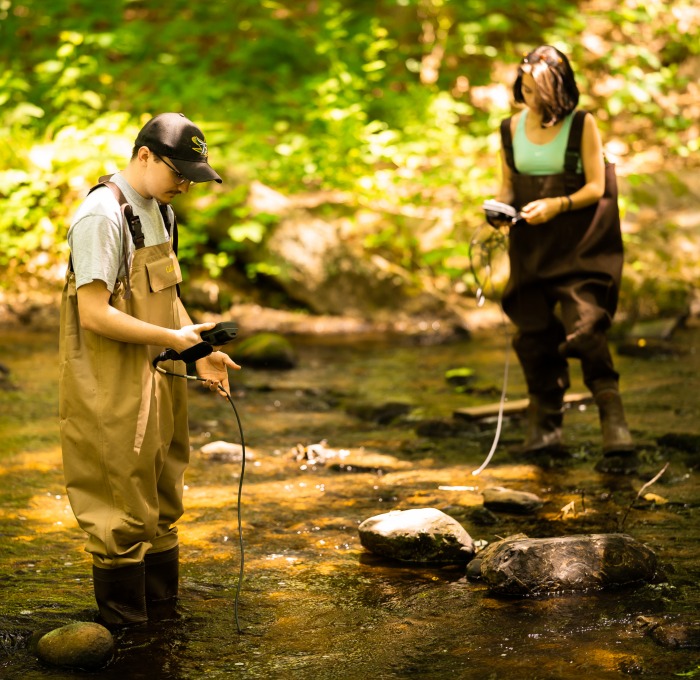 In Short
The Environmental Public Health concentration focuses on the intersection between human health and the environment, promotes human health and well-being, and fosters healthy and safe communities.
Employment of environmental scientists and specialists is projected to grow 11 percent from 2016 to 2026, faster than the average for all occupations. Heightened public interest in the hazards facing the environment, as well as increasing demands placed on the environment by population growth, are expected to spur demand for environmental scientists and specialists.*
Program Overview
Environmental Public Health science focuses on the relationships between people and their environment. It promotes human health and well-being; and fosters healthy and safe communities. Environmental health is a key part of any comprehensive public health system.
The field works to advance policies and programs to reduce chemical and other environmental exposures in air, water, soil and food to protect people and provide communities with healthier environments.
Practitioners in the field also work towards strategies and education that prevent widespread transmission of communicable and other diseases.
This major has no special requirements. Any day student in good academic standing may enroll.
*View the Bureau of Labor Statistics, U.S. Department of Labor, Occupational Outlook Handbook, Environmental Scientists and Specialists (visited April 29, 2019).
Experiential Opportunities
You'll be required to complete a capstone project for this major, such as an internship. Some example include working in public health departments, not-for-profit organizations focused on food access, water treatment facilities, and parks and services.
Read more about: Internships
Faculty-led study abroad course opportunities increase student life-transforming experiences, as do student/faculty cooperative research projects.
Read more about: Study Abroad
Curriculum and Other Information
Students who complete the Environmental Public Health concentration will use the scientific method in the context of environmental and public health investigations, including experimental design, analysis and critical evaluation of information, and integration of evidence from relevant sources; apply an interdisciplinary approach to analyze and propose solutions to environmental science and public health problems; and understand the interactions between human and the environment they are exposed to, including natural hazards, air and water pollution, global environmental issues, and use and conservation of Earth's resources.
Specifically Environmental Public Health students will:
discuss the history and philosophy of public health.
use appropriate methods and tools to analyze public health data and will discuss the importance of evidence based approaches.
explain the science of human health and disease, and discuss opportunities for promoting health.
describe the socioeconomic, behavioral, biological, and environmental factors that affect human health.
describe the characteristics of health systems in the US as well as other countries
explain the basic concepts of, and responsibilities of government in, the legal, ethical, economic, and regulatory dimensions of public health policy

describe fundamental scientific principles related to environmental health

explain how the built environment influences human health and contributes to health disparities
Community Health
Conservation Officers
Emergency Management
Environmental Health Technicians
Environmental Scientists
Health Program Coordinators
Health Promotion and Communication
Public Health Researchers
Public Health Information Officers
Public Education Outreach Specialists
Public Policy Administration