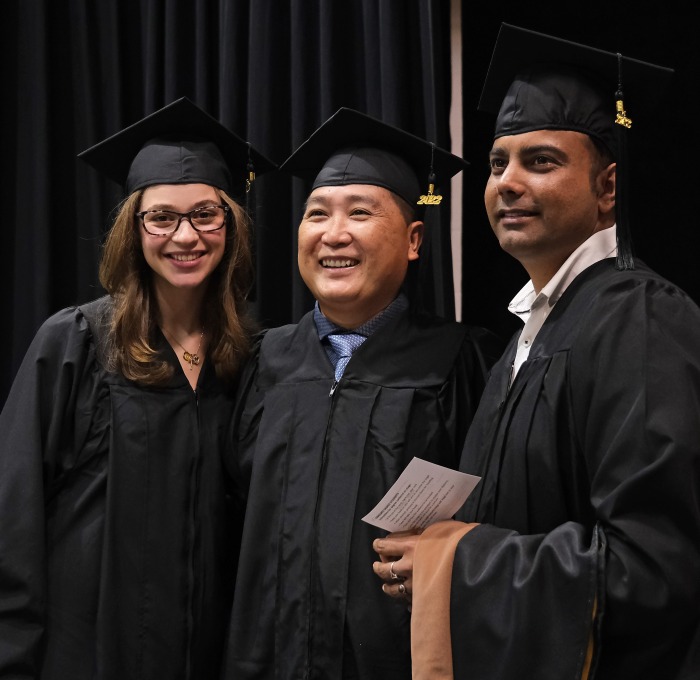 Action Items for Graduation
Graduate Commencement Booklet (PDF)
Clearance for Graduation and Confirmation of Attendance
To confirm you have been cleared to participate in graduation as well as to indicate if you will attend, please log in to your Web4 account. Click on Student>Student Records>View Graduation Application.
It is essential that we know the exact number of students attending the ceremony. If you will not be able to attend, please contact the Registrar's Office by Friday, May 5 at 978.665.4196 or registrar@fitchburgstate.edu.
Transcripts
If you took courses at another university, transcripts must be received by June 2.
Caps and Gowns
All cap and gown packages can be purchased through the bookstore in Hammond Hall or through the bookstore's website. Packages will be available to purchase approximately 4 weeks prior to graduation and will appear on the bookstore website when available. Masters packages are $65 and CAGS packages are $67. The hood distinguishes the institution from which the wearer is graduating and the degree being awarded. The bookstore hours the week of commencement will be Monday 9 a.m. to 5 p.m., and Tuesday - Thursday 9 a.m. to 6 p.m. Please contact the bookstore with any questions regarding graduation regalia at 978.665.4026.
Diplomas
At graduation, you will receive a diploma cover with a certificate enclosed. All diplomas will be mailed to graduates by early July. Your name will be engraved on your diploma as you indicated on your commencement application.
Ceremony Information
Commencement Ceremony Schedule
Commencement is scheduled for Thursday, May 18 at the Athletics and Recreation Center. There is no commencement rehearsal. Please arrive no later than 5:30 p.m. Volunteers will be available to assist you. The ceremony will be approximately an hour and a half.
The ceremony will also be streamed live on FATV (and digital downloads of the ceremony will be posted later at fatv.org/fsu).
Guest seating area will open at 4:30 p.m. Graduates will be lined up alphabetically within their school and by graduate degree. You will be given an index card on which your name has been typed. If you have a name that is difficult to pronounce, please provide the phonetic spelling. When you approach the platform, this card will be handed to the reader. The chair of your program will lead the graduates on stage and present them to the president and school dean. Your name will be read as you cross the stage and receive your diploma cover from President Richard S. Lapidus. Please return to your seat promptly upon exiting the stage.
Commencement Ceremony Decorum
Commencement is a true milestone for each and every student. We welcome your excitement and enthusiasm as we celebrate this grand occasion. We also ask that our graduates and their guests respect the importance and dignity of the proceedings by staying for the entire ceremony. Guests who leave early may distract from the event, which would be disrespectful to the other graduates and their families.
Parking
Directions to the campus and parking lots can be found on our maps and directions page. Shuttle buses will be in operation between the Intermodal Center parking garage and the Athletics and Recreation Center from 5 to 9 p.m.
Graduates and Guests with Disabilities
Graduates and any guests who have a disability can request accommodations through Disability Services. To request accommodations, please complete the disability accommodations form by May 2 or contact Disability Services by phone 978.665.4020 or email aernst2@fitchburgstate.edu. All requests will be reviewed, and seating and/or parking passes will be mailed to the address provided.
The ceremony will be ASL interpreted. Please contact Disability Services to discuss seating near the ASL interpreter. Large print and Braille copies of the commencement program are available with advance notice. The event will be captioned live online at fitchburgstate.edu/captioning. Guests requesting accommodations are allowed to have one additional guest seated with them.
Photographs
During the ceremony, access to the stage area for picture taking or videotaping by guests will be prohibited. Please relay this information to your guests. A professional photograph will be taken as you receive your diploma cover and congratulations from the president, and a free digital download will be sent to your university email address courtesy of the Fitchburg State University Alumni Association.
Graduate Student Leadership Award Recipient - Stephanie Tsacogianis
Stephanie Tsacogianis has worked in healthcare for more than 14 years, her service spanning many roles and settings. 
Beginning her career as a surgical technologist, she worked while pursuing her undergraduate degree. She held operations management roles in which she oversaw personnel, managed acquisitions and payroll, and was a lead in implementing new technology and devices. Beyond her job duties, she volunteered with professional associations to support educational programs and advance technology in her field. 
In all of these pursuits she has sought opportunities to mentor others, from providing informational interviews and reviewing resumes to offering career advice (when asked). 
In looking to grow her own professional opportunities, she began exploring MBA programs. Fitchburg State's online program, with a concentration in healthcare management, fit the bill, and she began the program in 2021. 
Balancing full-time obligations and schooling was a challenge, but came with rewards. With each class she took, she gained knowledge about theory and leadership but also found practical applications to her job. 
Now in her role as a project manager in Sports Medicine at Mass General Brigham, Tsacogianis focuses on developing initiatives and programs aimed at promoting sports medicine research, technology, innovation, and patient access. 
She lives with her husband in Stoneham. 
Important Contact Information